Xbox One, PC & PS4 GTA 5 Release Adding First Person Mode
The PC, Xbox One and PS4 GTA 5 release adds a much requested feature that could convince many gamers to upgrade from Xbox 360 or PS3 to the new GTA 5 release. For years GTA delivered a third-person view, but a new development shows the game's developer is working on a First Person GTA 5 feature for the PC, Xbox One and PS4.
Over the weekend a support page on Rockstar went live showing what's new in GTA 5 for PS4, Xbox One and PC. This includes the graphical upgrades we already knew about, and two specific mentions of a First Person GTA 5 mode in cars and on foot. Currently if you play GTA 5 you can only view the game from behind the character in third-person.
The Xbox One & PS4 GTA 5 release date is November 18th and the GTA 5 PC release date is January 27th, 2015. You'll need to wait a little while to experience this new first person GTA 5 mode, but is an interesting addition.
Rockstar pulled the support page soon after it went live and the Google Webcache of the page is also missing, but Reddit user DrOversight saved the relevant information. The most important part of the document appears below;
A brand new first person mode for vehicles that shows the interior of the vehicle, including working speedometers, tachometers, dash lights, and more
A brand new first person mode while on foot
Although this is not an outright announcement by RockStar the leak is much easier to believe than a random rumor. This information did appear on the official GTA 5 support page, not on a third-party forum. Rockstar did not confirm the GTA 5 First person mode yet in any official announcement.
You can get an idea of what this might look like, although without the graphical upgrades in the GTA 5 first person video below, captured using a mod on what appears to be the Xbox 360.
If you wan to see how incredible this could be at some point in the future, check out what first person mode, plus an Oculus Rift and a Visualizer can do to the GTA experience.
The ability to play GTA 5 in first person may be what Rockstar needs to sell the update, but it seems the standard mode will remain for users that don't like the change to the classic GTA play style.
You can [easyazon_link asin="B00KVSQ848″ locale="US" new_window="default" nofollow="default" tag="gbm-ea-20″ add_to_cart="default" cloaking="default" localization="default" popups="default"]pre-order GTA 5 for Xbox One, PS4 and PC at Amazon[/easyazon_link] and other locations. If you pre-order you get $1 million in bonus cash for GTA online. You can bring your old GTA online character to the new consoles when you upgrade. There is no trade-in promotion to cut the cost of GTA 5 for PS4 & Xbox One down at this time.
Top PS4 Games to Buy in 2014
Call of Duty Advanced Warfare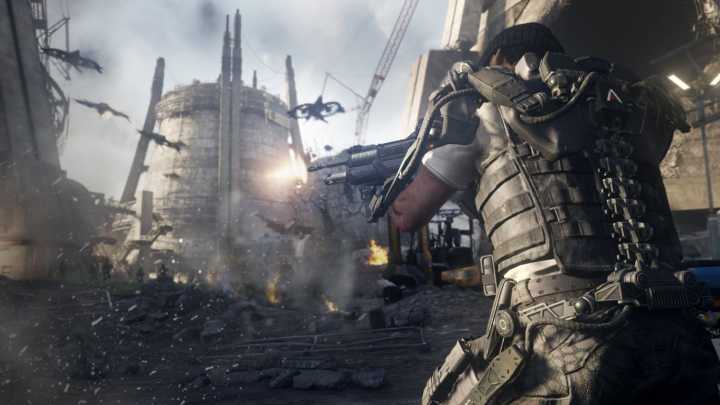 PS4 Call of Duty Advanced Warfare Details:

Call of Duty Advanced Warfare Release Date: 11/4/14
Pre-Order Bonus: Brass exoskeleton, EMP Weapon
Special Editions: Yes
Exclusive: No

Call of Duty Advanced Warfare is one of the top PS4 games to buy in 2014 not only becuase it is a new Call of Duty game, but because it is ready for a PS4 lacking fun shooters.

Yest it arrives into a fall filled with Destiny, but Killzone didn't live up to the excitement and there is no Titanfall for PS4.

Instead gamers get this Kevin Spacey filled Call of Duty Advanced Warfare release that delivers a super soldier with smart weapons and access to technology like never before including drones and hoverbikes.

Call of Duty Advanced Warfare Gameplay Video

As an Amazon Associate I earn from qualifying purchases.