10 Amazing iPhone 6 Concepts (Videos)
This collection of amazing iPhone 6 concepts bring the new iPhone for 2014 to life through the eyes of talented designers who marry rumors with Apple style to deliver realistic looking visions of a new iPhone.
Many of these iPhone 6 concepts include aspects of the iPhone 5s, Apple patents and of course the iPhone 6 rumors that we hear on a regular basis.
The latest iPhone 6 details suggest the we will see a larger screen, and tradition tells us that with this change will come a new look. Apple may, of course, not deliver a fundamentally new design, but it is a good bet that with the new screen and other new iPhone 6 features rumored we will see something new.
With a possible iPhone 6 release date six months away, new rumors continue to shape our vision of this device, and these iPhone 6 concepts are the best way to visualize what a new iPhone could look like.
As investors and consumers wait for the iPhone 6 to see if Apple can innovate from the iPhone it released two years ago, there is special attention paid to this device.
Our iPhone 6 concept roundup includes designs that are essentially Apple, with designs that borrow heavily from current Apple products, as well as those that borrow from other devices to add features like water-resistant designs and features from competing smartphones.
While some of the iPhone 6 specs shown on these concepts are not realistic, we continue to hear that Apple plans to offer an iPhone 6 with a 4.7-inch display and one with a 5.5-inch or 5.7-inch display. This will likely include a higher resolution, which some concepts also include. Many iPhone owners hope Apple will allow users to buy an iPhone 6 with more storage, but that remains mostly a hope without a solid leak to back it up.
iPhone 6 Concept Shows Small, Medium and Large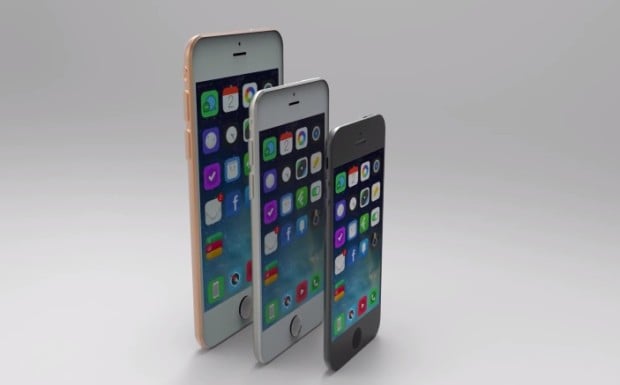 iPhone 6 rumors point to a larger display and this iPhone 6 concept is one of the first to show us what the iPhone 6 might look like with three sizes. If Apple introduces two new iPhone 6 models, it is likely that one smaller iPhone 5s type device will remain at a cheaper price.
This iPhone 6 concept from ConceptsiPhone on YouTube shows us what two larger iPhone 6 models could look like next to a mini model that offers a 3.5-inch display. We typically see Samsung and HTC offer three sizes with different versions of a similar phone, so it would not be out of the question. Still, it is more likely that Apple would stick with a 4-inch display on the smallest iPhone they sell in 2014.
Check out more about this iPhone 6 concept.

As an Amazon Associate I earn from qualifying purchases.