13 Things to Know About Battlefield 1 In The Name of The Tsar
New Maps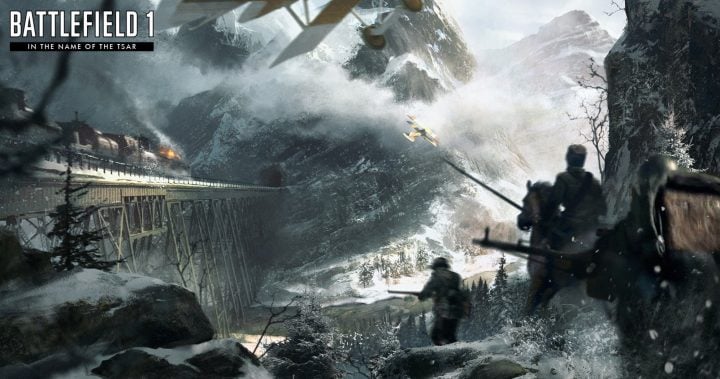 In the Name of the Tsar DLC comes with six brand new maps.
Xbox One, PS4 and PC owners will fight skirmishes in the snow-covered ravines of Lupkow Pass, take part in the Albion assault on a freezing archipelago, and a whole lot more.
Lupkow Pass: Fight in the snow-covered ravines of the treacherous Lupkow Pass. Against this dramatic backdrop, the vertical fights are as bitter as the cold.
Head here for a good look at the map overview and here for a look at the map's deploy screen. These screenshots show it running on the best settings and the video below showcases the map in action.
Albion: Partake in the skirmishes of the Albion assault in a freezing archipelago. In this massive invasion of the Baltic peninsula, the German Empire attacks with infantry, dreadnoughts, and aircraft against the heavy coastal gun batteries of the Russian forces.
This screenshot will give you a feel for Albion's Conquest spawn points and these screenshots showcase the map on ultra high settings.
The In the Name of the Tsar DLC also includes Galicia and Brusilov Keep:
Galicia: In the midst of the epic Brusilov Offensive, the Russian Empire is fighting to push back the Austro-Hungarian forces in the Russian countryside. Take on an open map focused on infantry, cavalry, and light vehicles.
Brusilov Keep: The Russians have pushed their enemy into a small mountain town, but the Austro-Hungarians are making a strong stand. Experience close-quarter fights by the Carpathians on an infantry-focused map.
These screenshots showcase the map on ultra settings and the video above will give you a more thorough look at the map. If you're curious about the spawn points in Conquest, take a look at this overview.
DICE revealed two additional maps at Gamescom and here's how the developer describes the two new levels:
Tsaritsyn: The Bolsheviks and the Imperials enter the fray among barricaded streets as the old and new regimes fight for the soul of Russia. This up-close and personal infantry fight is as ruthless as they come. Use the house-to-house fighting to your advantage by setting up ambushes for overextending enemies.
For an overview of this map, check out this image and the video above.
Volga River: A ruined rural battleground sets the stage for a tank fight between the Bolsheviks in red and the Imperial Army in white. Makeshift shelters provide cover from the freezing cold and the constant exchange of heavy firepower. As you trade salvos with enemy tanks, remember to keep yourself from being outnumbered. A strategic retreat can give you time to regroup and prevent losing vehicle resources.

This article may contain affiliate links. Click here for more details.