11 Things to Know About the Fallout 4 Nuka World DLC
We continue our look at Bethesda's Fallout 4 DLC with a look at the Nuka World DLC for PS4, Xbox One and PC.
As we push deeper into the year, Bethesda continues to add more content to Fallout 4, a game that's already packed to the brim with hundreds of hours of content.
The company released its massive Far Harbor DLC in May and there's still hope for PS4 Fallout 4 mods. PS4 mods have been delayed since June and are currently under "evaluation."
Bethesda released the Contraptions Workshop DLC on June 21st and its new Vault-Tec Workshop DLC on July 26th.
And now, after a stint in beta, the developer's released a much larger piece of DLC content called Nuka World.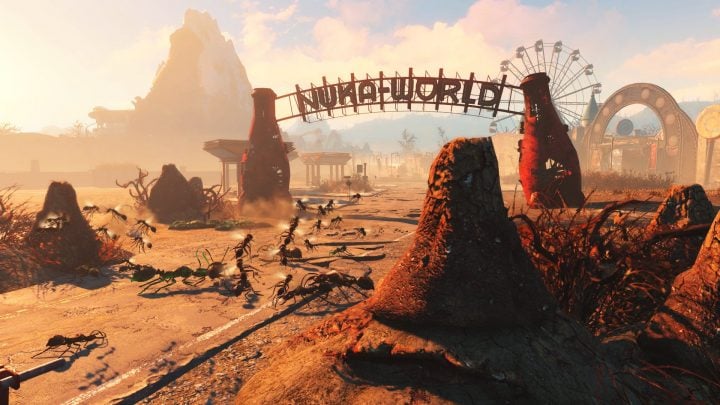 At its E3 2016 event in June, Bethesda outlined the next three pieces of Fallout 4 DLC. The most exciting of the bunch is the Nuka World DLC and it's now available on the Xbox One, PlayStation 4 and Windows PC.
There are some important things to know about Fallout 4's Nuka World DLC, the Nuka World achievements/trophies, Nuka World deals, and more. This roundup also takes a look at what's coming after the Nuka World DLC.
Here's what Fallout 4 Season Pass owners and prospective buyers need to know about the Fallout 4 Nuka World DLC as we push away from the release date.
We'll continue to update this with new information as it becomes available so check back for frequent updates.
Nuka World Problems
Nuka World went through a beta but problems have slipped through the cracks on the PC, Xbox One and PlayStation 4.
As we push away from the Nuka World release date we're starting to hear about the problems plaguing the latest piece of Fallout 4 DLC. Let's start with the download process itself.
Some gamers are reportedly having problems downloading the Nuka World DLC. If you own the DLC and you can't get it to work, close Fallout 4 and re-open it. We also recommend a hard reset of your system. This worked for us when Vault-Tec Workshop failed to download.
We're also seeing the usual array of texture problems, performance issues, random crashes, and various other bugs impacting the DLC and its features.
Bethesda's outlined a few solutions for perceived Nuka World problems and that's one of the places you'll want to look if you run into trouble.
Bethesda has permanently squashed two Nuka World problems. Several weeks ago the developer trotted out a new 1.7.15 update that killed a nasty monorail bug.
More recently, the developer pushed out a new Fallout 4 1.7.19 update to tackle an issue with a Nuka World quest. The update fixes an issue "where "The Grand Tour" could not be completed if Gage was your active companion when the quest started."
While we wait for the next Nuka World bug fix update for PS4, Xbox One and PC, please take a look at our list of fixes for common Fallout 4 problems and Bethesda's support forums for assistance.
You'll also want to report any bugs you see as you play the Nuka World DLC. To do that, head here to submit a bug via Bethesda's website.