10 Things to Know About the Star Wars Battlefront Outer Rim DLC
Today we want to continue our look at the first Star Wars Battlefront DLC for PS4, Xbox One and PC. Here's what you need to know, right now, about the Star Wars Battlefront Outer Rim release on all three platforms.
Last year, EA DICE confirmed plans to release a substantial amount of downloadable content (DLC) for Star Wars Battlefront, their new game that takes gamers across planets like Hoth and Endor and puts them into the shoes of famous characters like Han Solo and Boba Fett.
The company didn't reveal much until January when it took the curtain down and disclosed some concrete and exciting details. We still don't have every bit of Star Wars Battlefront DLC info but we finally have release windows, names, and more.
EA DICE plans to release four paid expansions for Star Wars Battlefront. The first paid Star Wars Battlefront DLC will be called Outer Rim and it's now out for Season Pass holders and anyone else who wants to add new content to their game.
With that in mind, we want to highlight a few of the most important things to know, right now, about the Outer Rim DLC expansion.
This outlines what we know about the Star Wars Battlefront Outer Rim release including its size, problems, and some new details about a free Outer Rim DLC trial that's going to kick off soon for Battlefront owners.
Free Outer Rim Trial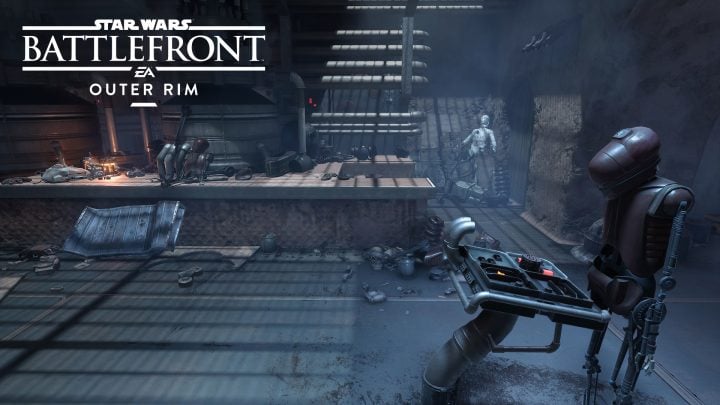 Now that Star Wars Battlefront has been out for several weeks, EA DICE is promoting it with a free trial.
The developer recently confirmed an Outer Rim free trial that will kick off on May 12th and last through May 15th. During those three days, all Battlefront players will have access to Outer Rim DLC content. Once May 16th strikes, you'll need to buy Outer Rim to enjoy the goods.
The company also notes that "while you will be able to access the free Hutt Contract weapons the Outer Rim specific weapons and Star Cards will only be accessible to our Season Pass and Star Wars Battlefront Outer Rim Digital Standalone Pass holders during the free trial event."
If you've been thinking about picking up Outer Rim, you'll definitely want to give the free trial a go to see if it's worth your time and money.