175 Awesome Things Samsung Bixby Can Do
It might not be Siri or the Google Assistant, but Samsung's Bixby can do some pretty cool things. In fact, this virtual assistant could be the best one. In this guide we'll show you everything you need to know about Bixby Voice commands on the Galaxy S8, Galaxy Note 8, and Galaxy S9. In fact, we'll share an awesome list of over 175 voice commands Bixby can do. Things that will help you do more with your phone.
Bixby isn't just another Alexa, and it actually has a few cool tricks up its sleeve. One is that it's open to 3rd party developers, and will get better over time. Then, instead of only doing small tasks like Siri or Google Assistant, Bixby can interact with almost every app, setting or option on Galaxy phones. Essentially turning your voice into a powerful automation tool.
Read: How to Download Bixby Voice on your Galaxy
The competition can turn on WiFi or use the camera flash as a flashlight, and Bixby can too. However, Bixby can also order an Uber, take and send a screenshot, open and install apps, find specific vacation photos and more. Bixby can take a photo and upload it to Instagram with a filter and a hashtag. Seriously. These hands-free controls are one voice command away.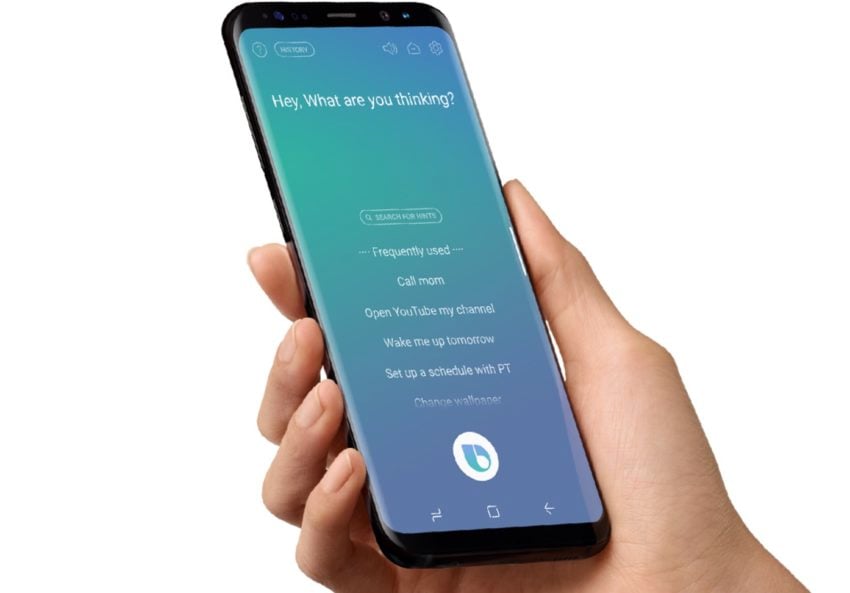 Once you install Bixby and go through the setup, you're ready to start talking. We recommend turning on wake-up so you can do this all hands-free. In addition to the "enhanced voice recognition" where Bixby will have you read aloud 5 sentences to learn how you talk.
With that out of the way, what can Bixby do? First, we'll list off 15 or so of the best Bixby Voice commands, then share a huge list of over 150 more commands you'll want to learn and master.
15 Best Bixby Voice Commands
Open the camera and record a video
Install Clash of Clans from the Google Play Store (it does everything, 100%)
Take a selfie and send it to David (take a screenshot and send it as a message to David)
Open Gmail and show me unread emails (or show me emails from David)
Open Gallery and find pictures from Chicago (at the lake, pictures of my car, etc)
Read aloud my last notification
Call the last number that called me
Open Instagram and post the last photo I took (post my last photo with the caption "vacation"
Keep my screen on for 5 minutes
Turn up ringtone volume to 70% (Turn on do-not disturb, turn up the brightness to 50%, etc)
Call me an Uber to take me to the Airport
Open YouTube and show my history page (or subscriptions)
Clear all notifications
Open Pandora and play my 90's station
Decline call and send a text saying I'll call back in 5 minutes
Those are just a few of the hundreds of commands you can ask, then watch them magically happen. Seeing the phone automatically open apps, navigate the settings menu, or write comments is pretty neat. We recommend opening the Bixby app by pressing the dedicated button under the volume keys on the left side of most new Galaxy phones. From here, tap the three dots button at the top right and select My Bixby. In here you'll get more information, full instructions for some commands, and help understanding everything Bixby can do.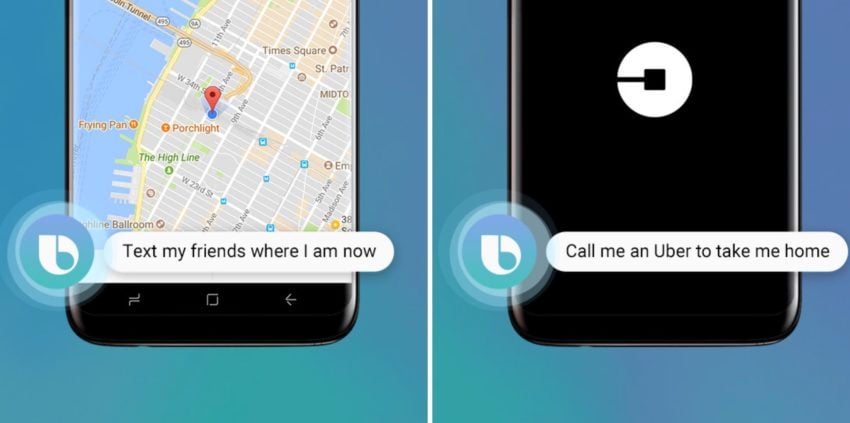 We also recommend customizing Bixby as you see fit. You can change the background color, set up voice wake-up strength and then get started with any and all the commands below.
175 Helpful Bixby Voice Commands
Bixby can do essentially everything we can do on a smartphone, as long as you ask the right way. This includes changing settings, turning up volumes, scrolling on web pages, or recording video and uploading it to YouTube. It's pretty powerful, and it's only getting better over time.
Without enabling the "Hi Bixby" wake-up command, you'll have to press and hold the button to try any of these, taking away the magic of it all. So do that in settings first, then you can do these commands without ever touching your phone.
https://www.youtube.com/watch?v=34-LYLuq-aI
Popular Voice Commands
Open Instagram (or any app)
What time is it?
Turn the volume up/down
Restart my phone
Flashlight on/off
Turn on do not disturb
Open Google Play Music (play music)
Stop the music
What song is this?
Turn up the music volume to 80%
Remind me to take out the trash tomorrow at 6 PM
What's the weather like?
How will the weather be tomorrow?
Will it rain today?
What time is it in New York City
Show me today's reminders
Delete the doctor visit reminder
Install Pokemon Go from the Google Play Store
Hi Bixby, remember where I parked
And much more, you get the idea
Control Samsung Apps
Bixby can control, navigate and use any Samsung app on your phone. Start each of these commands with "Open gallery and" or Open Browser and" or other commands. It works with most other apps too.
Open Gallery and Find pictures taken in Chicago
Show me the last picture I took
Delete this picture
Send my last picture to David
Open Gallery and show me my California Vacation album
Show me the most recent pictures as a slideshow
Rotate this picture to the right
Play the most recent video
Add the most recent picture from Friends album to Favorites
Add auto adjust effects to my last picture (remove effects from my last picture)
Delete the location info from the most recent picture
Delete the travel album
Move Photos that taken in Chicago to a new album
Open Video Player and edit my last video
Open Video Player and share an animated GIF
Play the next video, delete this video
Make an animated GIF from this video
Move the Play position forward by 20 seconds
Now we'll share some controls you can do inside the contacts or phone application.
Create a new contact as David with the number 123-4567
Search for David and call him on speakerphone
Search for David and call his cell (mobile)
Call this number on speakerphone
Call my office number
Call John
Text John
Show profile updates for John
Video call John's mobile phone
Show my friends group
Change my status message to busy
Link David to Jane
Add David to favorites
Send a message to everyone in Friends
Merge all contacts with the same info
Turn on Google account sync
Decline call and send David a message I'll call back after my meeting
Send call to voicemail
Add John to speed dial 2
Open phone and call 123-4567
Open phone and block the last number that called
etc
These same neat controls and options are available in messages, Samsung's text message app. Sadly it doesn't look like Bixby supports most 3rd party text message applications right now. I tried Textra and it failed, but Samsung recently opened access to 3rd party developers. For now, try these if you use Samsung's Messages app.
Show me my most recent message
Show me pictures from my conversation with David
Delete the last message or conversation
Pin the most recent conversation to the top
Block the most recent conversation
Delete all texts with the word ex, or Jessica
Show me notification settings for my last conversation
Turn off notifications for the conversation with John
Copy the most recent text and send it to John
Mark all unread messages as read
Delete all conversations
Take a photo and send it to David
Show me settings
Send my last photo to David and say, "Hey, I'm on vacation"
Save the most recent text to my reminders
Navigate to the address in my last message
Forward my last text to John
and much more
Control Settings With Bixby
One of our favorite aspects of Bixby is how advanced the automation tools are. Bixby can do just about everything, and that includes changing any settings on your phone. While Siri or Google Assistant can turn on WiFi or your flashlight, take a look at what Bixby can do.
Turn on WiFi, Turn off WiFi
Search for nearby WiFi networks
Disconnect from WiFi network
Turn on Bluetooth
Turn on Blue light filter
Turn on Do Not Disturb
Scan for Bluetooth devices
Go to dual audio
Show me my Data usage
Turn on Data saver
Turn on Performance mode
Show me my battery usage
Turn on Airplane mode
Turn up ringtone volume to 80
Increase the system volume
Keep my screen on for 5 minutes
Set the display brightness to 50
Make the screen brighter
Turn on One-handed mode
Open my last two apps in split-screen
Turn off the LED indicator light
Turn on battery saver mode
Uninstall Clash of Clans (confirm)
Use your Camera with Bixby
Bixby can control the camera and manage any settings inside the camera app, too. Whether you want to record a video for YouTube, take photos, or send your friend a selfie, it does it all.
Take a picture
Take a Selfie and send it to Jessica
Record a video
Turn on the front camera
Turn on HDR
Turn on Flash
Show me pictures
Set the timer for rear camera to 10 seconds
Apply an effect
Turn on Save RAW and JPEG files for rear camera
Turn on video stabilization
Adjust the ISO of Pro mode to 200
Adjust the exposure value of Pro mode to 1
Turn on grid lines
Take a Panorama photo
Twitter, Facebook & More
Open Facebook and post a recent picture
Post the last photo I took
Post a recent picture with the message "birthday party"
Post a message that I'm going on vacation to Hawaii
Show all posts
Open Facebook and display my notifications
Write on John's wall that we should go grab a beer
Open Facebook and search for Amanda
Open Twitter and show recent tweets
Show Twitter notices
Open Twiter and show me recent messages
Search Twitter for Donald Trump memes
Open Instagram and post my last photo with hashtag "no filter"
Smart Home Products
In the future, Samsung Smart TV's and appliances will all have Bixby built-in, for now though, we can use the Galaxy phones and Bixby to control certain smart home products. More will slowly arrive throughout 2018. These include anything that works with Samsung Connect or robot vacuums. Once Bixby 2.0 gets going more, we'll see it in everything from Samsung.
Turn on the Robot cleaner
Turn off the Robot cleaner
Recharge the Robot cleaner
Change Robot cleaner suction power to high
Show me the Robot cleaner battery life
Add a new Robot Vacuum cleaner to Samsung Connect
Add a Rule
Show my rules
What's the thermostat temperature set at
Turn on the TV
Open Samsung Connect and go to ESPN
Open Samsung Connect and open YouTube on my TV
Turn off the thermostat
Turn the Air conditioner down to 75 degrees (change cooling point temperature to 75)
Open Samsung Connect and turn on my outlet
Open Samsung Connect and turn off power cool for the fridge, etc.
Other Details
This is just a small sample of what Bixby is capable of doing on our smartphones and devices. Samsung promises that the service will learn over time, understand the context in conversations, and slowly learn to work with any and all apps and services. It's already starting to learn my habits, when I turn off WiFi, and other things. And with 3rd party developer access, unlike Siri or the Google Assistant, apps, games, and almost anything can take advantage of Bixby.
Again, this is just the beginning for Bixby. Right now it's only available on Galaxy smartphones, but more products are coming soon From a Bixby 2.0 smart speaker to take on HomePod, Samsung Smart TVs, refrigerators, washing machines and other appliances in the future. Not to mention the upcoming Galaxy Note 9.
Keep in mind that as more Bixby products arrive this list will grow substantially. For now, most of them are geared for smartphones or smart home items. If you'd rather not use Bixby at all, or have the button wake up your phone, Samsung lets you disable it with the most recent update. We'll update this list with more voice controls and options as they become available.

As an Amazon Associate I earn from qualifying purchases.