How to Download Bixby Voice on the Galaxy S8
This quick guide will explain how to download Bixby voice for the Galaxy S8 and help you get started and using Samsung's virtual assistant. After a nearly three-month delay and following a short beta period, Samsung officially released Bixby Voice in the United States on July 18th.
Samsung's Bixby is a virtual assistant like Amazon Alexa, Siri or Google Assistant. And while it looks like a copy of Google Now at first glance, there are plenty of differences that make it worth trying.
Read: How to Turn Off Bixby Notifications & Reminders
For the past month, select users were able to enjoy Bixby Voice early after signing up for the beta. However, it wasn't available to everyone. Now that it's officially here, you'll want to follow our instructions to download it now and do more with your phone.
https://www.youtube.com/watch?v=34-LYLuq-aI
How to Download Bixby Voice on the Galaxy S8 and S8+
Getting Bixby Voice is actually extremely easy. Simply start by hitting the dedicated Bixby button on the left side of the phone, located under the volume up/down keys. Launch Bixby and the update will immediately arrive on your phone.
Press the physical Bixby button on the Galaxy S8
Wait for the update to pop-up or head into Bixby settings and select Update
The Bixby Voice update should automatically pop-up on all devices in the US
Download and install the 45MB update
Once Finished, Tap Next to choose your language and set everything up
Tap Confirm
Agree to the Terms & Conditions
Once you've installed Bixby Voice and setup a language you can now get started with Samsung's version of a virtual assistant. Bixby has the same "hot-word" detection as Google and others, but you'll need to enable it first. By default, Bixby Voice only works when you press and hold the button to talk and ask commands. We recommend setting up the wake-up command, which is "Hi Bixby". This works even when the screen is off, and Bixby can hear you even if your phone is playing music or a YouTube video.
Samsung's assistant is always ready and waiting to help you perform tasks on the Galaxy S8. We recommend setting up the wake-up command, as well as enhanced voice recognition. Enabling enhanced voice requires you to read aloud five sentences. This allows Bixby to better understand you personally, and how you talk. Everything from talking style, pronunciation, speed and more.
What Makes Bixby Voice Unique?
We know what you're thinking, you already have one or two voice assistants on your phone already. There's Cortana, Amazon Alexa, and of course the Google Assistant. And while they all work somewhat similar, Bixby Voice has a few unique features that help him/her stand out.
With Bixby Voice, you can control things on your phone, not just ask questions and let the internet answer. Instead of checking the weather, asking to see photos or typical voice controls, Bixby is far more powerful. In fact, tap the Bixby button and hit the three dots at the top of the screen. This is settings, now tap My Bixby. In here you'll see a huge (as in hundreds and hundreds) of potential voice commands you can do.
https://www.youtube.com/watch?v=HSGRWYgGUd4
Bixby has a lot of potential and this is only the beginning. Samsung looks to improve the service over time, then integrate it into everything they sell. From Samsung appliances, smart TV's, a speaker like the Amazon Echo and more.
Additionally, Samsung encourages users to use Bixby and setup the rewards system. Turning this voice assistant into a little game. There are leaderboards, achievements, and you can even earn Samsung Pay Reward points and use them for vacations, or buy accessories like headphones and cases.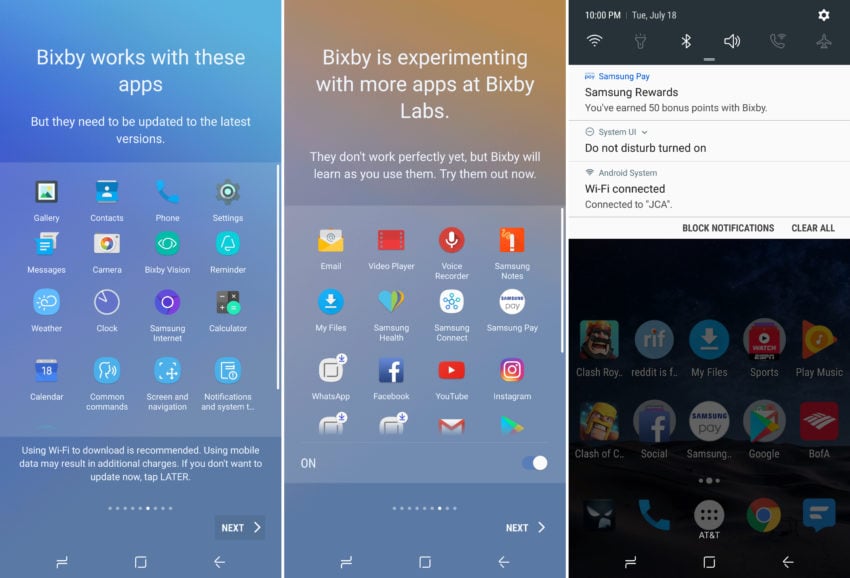 There is a lot going on with Bixby, and apps like the camera, gallery, browser and more will all need an update to work properly with your new assistant. We recommend updating everything over WiFi, then giving Bixby Voice a try. In the near future apps in our middle photo above should work with it too.
It's confusing at first, but just know that Samsung's powerful new voice assistant is finally here for the Galaxy S8. Samsung added plenty of customization too, so we can set up Bixby exactly how we want to use it. That said, there's still no way to remap the Bixby button to do other tasks. Like open the camera, take a screenshot, or use the Google Assistant instead.