The 2017 Kia Niro EX is a small crossover with a surprising amount of room, many must-have features and great fuel economy. This is a hybrid, but it's not one you need to plug in.
Apple CarPlay & Android Auto are standard alongside a nice infotainment system and the Technology package that adds in smart cruise control and autonomous emergency braking, as well as other great features, is affordable at $28,895 with destination. If you don't need those features the Kia Niro starts at $22,890 and the EX trim at $25,700. This is a very affordable hybrid crossover and you get a lot of bang for your buck.
The Kia Niro offers seating for five, 40-49 MPG highway and 46-52 MPG city. Each trim level offers a different fuel economy, so pay attention as you shop. It's front wheel drive with a start and stop system to increase fuel economy. The Niro is all new for 2017.
[letsreview]
Is the Kia Niro a Good Crossover SUV?
The new Kia Niro is a very nice SUV option if you are looking for a smaller SUV, typically called a crossover, that can haul four adults comfortably with cargo room in the back or five passengers total if at least one of them is a child. Thanks to the hybrid setup. fuel economy is very good, which helps pay off the higher price you pay up front and can help you feel better about the time you are on the road. There is plenty of legroom and headroom in this SUV. The seats fold down to allow you to use the back for hauling larger items. The biggest catch is that you cannot configure the Kia Niro with all wheel drive, which could be a dealbreaker depending where you plan to take your small SUV.
Once you factor in Apple CarPlay, Android Auto and the available safety features, the Niro stands out as a good buy for many shoppers.
2017 Kia Niro EX Driving Performance
The 2017 Kia Niro EX is a very practical SUV that offers a great deal of room with very good fuel economy. While driving the Niro EX we found that the small SUV delivers a good ride and pleasant driving experience. It also does a very good job of absorbing road bumps.
The hybrid drive system often uses the electric motor to complement the engine, giving you a more gas-like driving experience than in a hybrid like the Prius, but you still get very good fuel economy. Most of the time you will not notice the Niro adjusting between the source of power and, if you do, it feels much like a regular car shifting. Pay attention to this on your test drive, but for many shoppers this will not be an issue. When you brake, the Niro captures some of that energy to charge the battery. Often times this type of braking is very grabby, but it feels quite natural on the Niro.
Kia's new Niro aims to deliver better fuel economy, which means you trade-off some responsiveness and acceleration. Despite the concessions to fuel economy I never felt that I was struggling to get up to highway speeds to merge, even though I occasionally wished for a little more speed in traffic. Kia surprised me with better than expected performance on curvy roads with a driving feel much like a car. That means little body roll when taking corners and good grip.
2017 Kia Niro EX Design & Interior
Inside and out the new Kia Niro looks great and comes with a design that works very nice as a driver and a passenger. One of the biggest considerations you need to make when comparing the Niro to other SUVs is that it sits much lower and so will you as the driver. If you're used to sitting up high in a typical SUV, you will need to adjust to sitting higher than a car, but lower than a typical SUV.
The Niro also shaves some length which helps with fuel economy by keeping the weight down. This means there is less cargo room then you'll find in larger SUV's. If you are coming from a larger SUV and you typically haul certain cargo, bring it with you on a test drive or measure it so you can make sure there is enough room.
The interior is nice with comfortable seats and all the controls the driver needs are located within reach, about where you would expect to see them. The driver and all passengers have plenty of legroom and even headroom in the back seat, which is often a tradeoff on smaller SUVs like this.
Kia's overall design language comes across in the Niro with a modern and stylish looks inside and out. While it's not going to stand out and draw attention to itself, it certainly looks and feels like more than an appliance to get you from point a to point b, which is a common downside to many hybrids.







2017 Kia Niro EX Tech & Safety
When it comes to tech, the Niro has everything we need in a new car, and if you add the $2,300 Technology package you end up with a ton of much essential safety and driver convenience features.
A 7-inch touchscreen on the center of the dash comes with UVO, which is Kia's infotainment system. It's nice and it works very well, but the big win is that it supports Apple CarPlay & Android Auto. This allows you to plug your iPhone or Android phone in and use voice control, maps and select apps on the dash without touching your phone. It's an essential new car feature. You also have Bluetooth support, Sirius XM and Line in.
Blind Spot Monitoring is standard on the 2017 Kia Niro EX and it works very nicely. You also get rear cross traffic alert standard, which lets you know if someone is driving past as you attempt to back out of a parking spot. The Technology package adds a power sunroof, power adjustable driver seat with lumbar and the following safety features;
Autonomous Emergency Braking
Forward Collision Warning System
Land Departure Warning System
Smart Cruise Control
Smart Cruise Control is a must have if you travel on the highway a lot. This will let you set your cruise speed, and then keep you a safe distance behind someone in front of you even if they are going slower or are not using cruise control.




















You Need These 10 Must Have Car Features: Find Out Why
Smart Cruise Control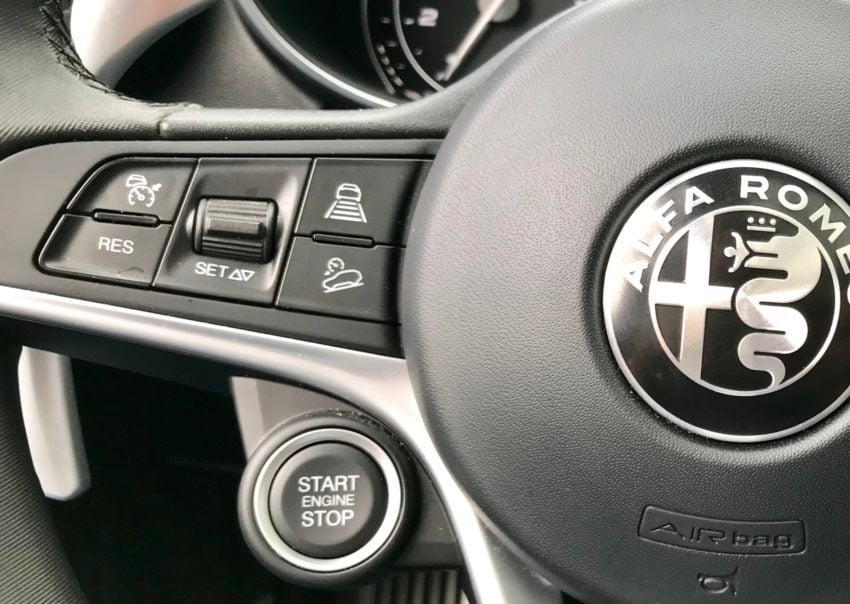 Do you hate constantly adjusting your cruise control, or giving up on cruise control because of traffic or due to a driver in front of you who keeps changing speed? You need a smart cruise control system.
Smart cruise control goes by many different names. You may see it listed as Radar Cruise, Adaptive Cruise or Intelligent Cruise control. Whatever it is called, it will allow you to set your cruise control and then stay with the flow of slower traffic.
Here's why we love it and why you need it. You get on the highway and set the cruise at 76 miles per hour. You also set the distance you want kept between you and the car in front of you. There are typically three or four settings so you can be close or keep a lot of space. Now you simply steer and your car will go 76 mile per hour when traffic allows it or there is no one in front of you. When someone is in front of you going 73 mph, the car automatically slows down to keep you the distance you choose from that car. This is indispensable in traffic and on long road trips.
Not all smart cruise control systems are the same. Some of work at all speeds, while others only work above a specific limit. Some systems can bring you to a complete stop in traffic and then restart without you needing to touch a pedal.
You can find adaptive cruise control on cars as cheap as $18,500 like the Toyota Corolla, and as an option on many cars below $30,000. Even on pricier cars you may need a higher trim level or special package to get this feature.