The 2017 Kia Sorento is an excellent mid-size SUV that includes great technology features like Apple CarPlay, Android Auto, new safety features like adaptive headlights and a long warranty.
You can buy the Kia Sorento in a five passenger or seven passenger setup with a third row. The Sorento is available with three engine options and available in front wheel or all wheel drive. Kia gave the mid-size SUV a major redesign in 2016 and it still delivers a modern, appealing look.
The 2017 Kia Sorento received a five-star overall safety rating from NHTSA. The Autonomous Emergency Braking is rated Superior by IIHS, with great performance stopping the car at low speeds and at high speeds.
The 2017 Sorento starts at $25,600 and is available in seven trim levels up to a starting price of $44,100 for the SXL V6. We tested the 2017 Kia Sorento SXL V6 with AWD priced at $46,980 with Snow White Pearl Paint, metallic Nappa leather and destination charges.
[letsreview]
2017 Kia Sorento Driving Performance
The 2017 Kia Sorento handles very nicely. It's something you can easily drive around the city hauling kids or cargo, or take a longer trip in. The V6 is plenty powerful for this mid-size SUV. The high-end engine option delivers enough acceleration to easily merge onto the highway and zip into an opening in traffic around town.
Even with larger wheels on the higher trim levels, the ride is smooth and pretty quiet on the EX trim and up, which include a sound reducing windshield. You can choose from three drive modes: Normal, Sport and Eco. These change the shift points and steering. We could feel the changes in shifting, but not much change in steering. The SX and SXL trim levels use a different steering system than the lower trim levels.
There are three engine options, from a 2.4L four-cylinder on the L and LX to the 2.0 L turbocharged four cylinder engine on the EX 2.0T and the 3.3L V6 that is an option on the LX and EX and standard on the SX and SX Limited. We tested the SX Limited (SXL) with the V6 that delivers 19 MPG combined (17mpg city and 23mpg highway).
If you need to haul a small trailer or other gear, the front wheel drive Sorento is rated for 3,500 pounds while the all wheel drive models can haul 5,000 pounds.
2017 Kia Sorento Design
The 2017 Kia Sorento carries over the looks from the 2016 model. It's a visually appealing model with a nice grille that doesn't draw too much attention to this mid-size SUV. If you are looking for a modern mid-size SUV, with good looks and an upgraded interior, the SXL trim level is an SUV you need to test drive. When you approach the car with the key in your pocket, the mirrors fold out and exterior lighting turns on. On select models you'll find a hands free smart powergate that can open easily when you are behind the vehicle with the key in your pocket.
We like that most of the interior is covered in soft touch materials and textured so it's pleasing to touch. The SXL trim level comes in at $45,000 and the interior certainly feels like it's designed for a vehicle in that price range. The dash looks modern and controls are laid out in a very nice way, so that everything you need to do is right where you expect it.
The front seats are quite comfortable and the second row offers good legroom for passengers. The middle row includes a fold down center console with cupholders and there are charging points available for the second row. Kia also includes built-in window shades for the second row. You can recline these seats slightly and they fold down for more cargo area. The third row provides seating for up to seven in the vehicle, but you're limited to kids or very small adults in this section. There are vents and controls for the third row AC on the EX V6 and up. Access to the third row is good and you still have room to haul groceries with the third row in use. You can fold this down for more cargo area.
In the cargo area there are a few tie down points, clips to keep the third row seat belts from getting in the way and handy releases to lower the seats from the back of the vehicle.






























2017 Kia Sorento Tech
Kia offers a range of technology and safety features across the seven trim levels. We recommend buyers at least upgrade to the LX and add the Convenience package so they have UVO services plus Android Auto and Apple CarPlay. This is an option on the LX and LX V6 and standard on the EX and EX V6. The SX and SXL come with a larger 8-inch screen and an Infinity 10 speaker system with subwoofer.
We tested the 8-inch touch screen and found it looked very nice and was very responsive to touch. The speakers sound good, with the upgraded sound system. You can connect your phone with Bluetooth or Aux on any of the trim levels. Calls sound good on this system. We like the option to use Apple CarPlay or Android Auto for calls, music, audiobooks and navigation.
2.1amp USB ports are available on all models from the LX up, which can charge your phones without the need for a car charger. There are 12V outlets on all models and there is even a 110 V power inverter as an option on the EX and EX V6 and standard on SX and SXL which allows you to charge a laptop or other standard plug device.
2017 Kia Sorento Safety
A rear view camera is standard on all trim levels LX and up. With the SLX you get a surround view monitor that gives you a bird's-eye view of your car so you can maneuver out of spots easier. An available Blind Spot monitoring system and rear cross traffic alert make you a more confident driver. You get alerts while backing out of parking spots and changing lanes on the highway.
The Advanced Smart Cruise Control system is standard on the SXL and an option on the LX through SX V6. This lets you set your top speed and keeps you in the flow of traffic if the people in front of you are going slower. This feature is a must have for road trips. Combined with the Autonomous Emergency Braking it's a good reason to opt for the Advanced Technologies package. Smart braking can stop the car when it senses a crash that you aren't going to respond to. This earned high marks at low and high speeds.
You Need These 10 Must Have Car Features: Find Out Why
Smart Cruise Control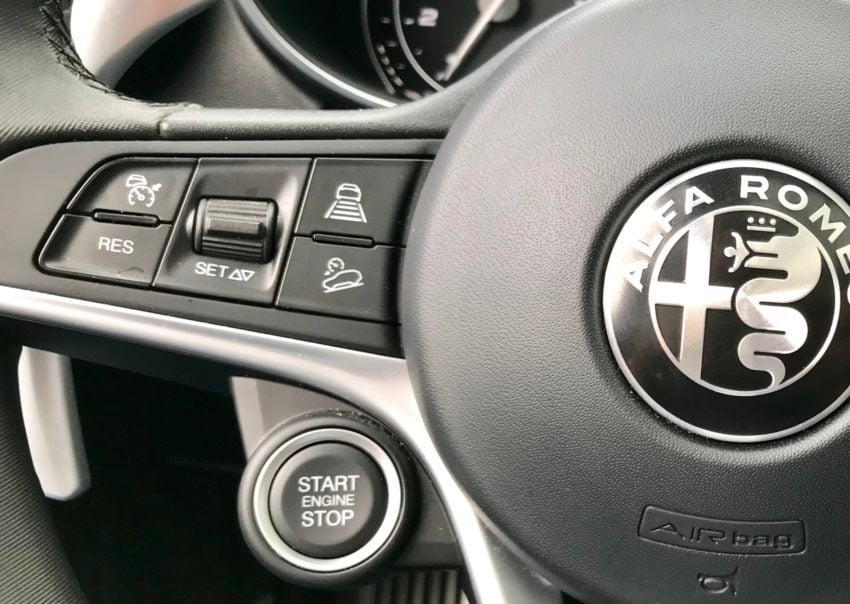 Do you hate constantly adjusting your cruise control, or giving up on cruise control because of traffic or due to a driver in front of you who keeps changing speed? You need a smart cruise control system.
Smart cruise control goes by many different names. You may see it listed as Radar Cruise, Adaptive Cruise or Intelligent Cruise control. Whatever it is called, it will allow you to set your cruise control and then stay with the flow of slower traffic.
Here's why we love it and why you need it. You get on the highway and set the cruise at 76 miles per hour. You also set the distance you want kept between you and the car in front of you. There are typically three or four settings so you can be close or keep a lot of space. Now you simply steer and your car will go 76 mile per hour when traffic allows it or there is no one in front of you. When someone is in front of you going 73 mph, the car automatically slows down to keep you the distance you choose from that car. This is indispensable in traffic and on long road trips.
Not all smart cruise control systems are the same. Some of work at all speeds, while others only work above a specific limit. Some systems can bring you to a complete stop in traffic and then restart without you needing to touch a pedal.
You can find adaptive cruise control on cars as cheap as $18,500 like the Toyota Corolla, and as an option on many cars below $30,000. Even on pricier cars you may need a higher trim level or special package to get this feature.

As an Amazon Associate I earn from qualifying purchases.