2017 Lexus RX 350 F Sport Review
The 2017 Lexus RX 350 is one of the best luxury mid-size SUV's you can buy and it gains serious attitude when buyers opt for the upgraded F Sport version with more aggressive looks, more power and more fun on the road.
Lexus' bold style helps this luxury SUV stand out in a very crowded market. The interior is as luxurious as the exterior is stylish and it handles quite well, with a very car-like driving experience. It's not perfect, but the Lexus RX 350 F Sport does a lot of things right.
New for 2017, Lexus adds more standard safety equipment and now offers the F-Sport in a front wheel drive option. We tested the 2017 Lexus RX 350 F Sport in All Wheel Drive.
The 2017 Lexus RX 350 starts at $43,220 with FWD and the RX 350 F Sport starts at $49,120 in FWD. The review vehicle provided by Lexus retailed for $58.760, including delivery. This All Wheel Drive model includes Blind Spot Monitoring, a 360 view camera system, cross traffic braking and parking sensors, a color heads up display, touch free power rear door, panorama moonroof and the 12.3-inch Navigation System with 15 Speaker Mark Levinson Premium Audio Package
[letsreview]
2017 Lexus RX 350 F Sport Driving
We enjoyed driving the 2017 Lexus RX 350 F Sport on the road and down back a gravel lane to get to a secluded cabin. With All Wheel Drive this is a vehicle that is capable on many surfaces and it's an option that will help with winter driving.
The 3.5L V6 and 8-speed automatic transmission pair up really well and the RX 350 handles almost like a car. Even with the F-Sport, the ride is pretty comfortable thanks to an adaptive suspension. We appreciate that you get a little more road feel than in some crossovers, since the F Sport is still fun to drive and faster than your mom's SUV.
While it's not going to play with the Jeep Trackhawk or Dodge Durango SRT as a Sport SUV, it's just the right amount of fun for what it is without getting away from nailing what you need out of a luxury SUV.
Acceleration is good, getting you through an intersection or merged onto the highway with ease. When you need more power the transmission does a good job of downshifting, which is pretty rare as many vehicles will stick with a higher gear. Braking is good, though if you panic brake there is a significant amount of nose dive as you bring this SUV to a halt. Steering and handling are good. There is some body roll if you are pushing the car through corners, but you can feel it build and this isn't meant to drive like a sports car.
There's very little road and wind noise inside the RX 350 and engine noise is kept to a decent level. The F-Sport uses the same V6 as the base model, so you're not missing out on thrilling engine noise and exhaust notes due to the dampened cabin.
Expect to get around 22 MPG combined with 19 MPG in the city and close to 26MPG on the highway.
2017 Lexus RX 350 F Sport Design
The bold looks of the 2017 Lexus RX 350 F Sport are what draws us to it. A longer, larger and bolder grille sets the stage of a more aggressive front end that accentuates the rest of the great body lines and styling. While the rest of the body looks much the same on the base version, the front end changes and 20-inch F Sport aluminum wheels dramatically transform the RX 350.
The front seats are incredibly comfortable; you get heated and ventilated options to keep you at the right temperature no matter what it's doing outside. The F-Sport has slightly more aggressive side bolsters, but as a bigger driver they aren't too tight. Take a seat in both to get a feel for seat comfort and fit. The seat position is very nice and it's easy to get in and out of the RX 350 F Sport. The doors open quite wide and the vehicle height is just right.
There's plenty of room up front and the back seat is pretty accommodating. If there is a tall driver the passenger in the back will be left wanting more room for their knees, but headroom is good. The optional rear infotainment screens will take up significant space in the back seat.
The cargo space is somewhat limited and there is no third row like we see in some competing SUVs. Packing a third row into a vehicle this size often leads to very little space for third row passengers, so we think the lack of a bench in the way back is a plus on the RX 350 and similarly sized models. The back seat folds down, but doesn't fold completely flat.
The interior looks and feels very nice. Soft touches, beautiful accents in metal and controls where you expect them to be all deliver the upscale interior that draws buyers to the Lexus brand.






















The mouse-like pointer control is frustrating to use while in motion.



2017 Lexus RX 350 F Sport Tech & Safety
The Lexus infotainment system looks cool on the 12.3-inch screen and you can even put two different pieces of information up on-screen at the same time. But the Remote Touch Interface, which is essentially a Pointer you move around using a large joystick, is unintuitive. The large screen doesn't support touch, so you need to use this to control your sound, navigation and other technology options.
Lexus does not support Android Auto or Apple CarPlay and there are no plans to add support, so don't buy this luxury SUV expecting to get the gift of an upgrade to put Siri and your apps or Google Assistant and Waze on the screen. The Lexus Enform App suite offers access to Pandora, Slacker, iHeartRadio, Yelp, OpenTable and Facebook Places. You can also check on gas prices, see traffic, sports and even stock info. You can use voice controls for navigation and calls.
The upgraded 15 speaker Mark Levinson sound system delivers good sound, though we'd love a little more low-end to really fill out the experience. There is a CD player, USB connection and Bluetooth connectivity. Steering wheel controls allow easy access to volume and track changes.
The Lexus Safety System + includes a ton fo safety features and convenience features that we think your new car needs to have. This includes:
Pre-Collision System with Pedestrian Detection
All Speed Dynamic Radar Cruise Control
Intelligent High Beams
Lane Departure Alert with Steering Assist and Lane Keep Assist
We especially enjoy the smart cruise control, which keeps a distance you choose behind the car in front of you and speeds up or slows down as they do up to your set cruise speed. It makes long trips way more enjoyable.
The optional Blind Spot Monitor lets you know if someone is in your blind spot, and will alert you if you attempt to change lanes when someone is there. This system also provides an alert if traffic is coming while you are backing out and will apply the brakes if the vehicle senses a collision. With the Panoramic View Monitor you get a birds-eye look at your vehicle and surroundings so entering or exiting tight spaces is not a problem at all. Even though it's $1,865, we recommend upgrading to the Blind Spot and 360 camera package, as these are very useful features.
You Need These 10 Must Have Car Features: Find Out Why
Smart Cruise Control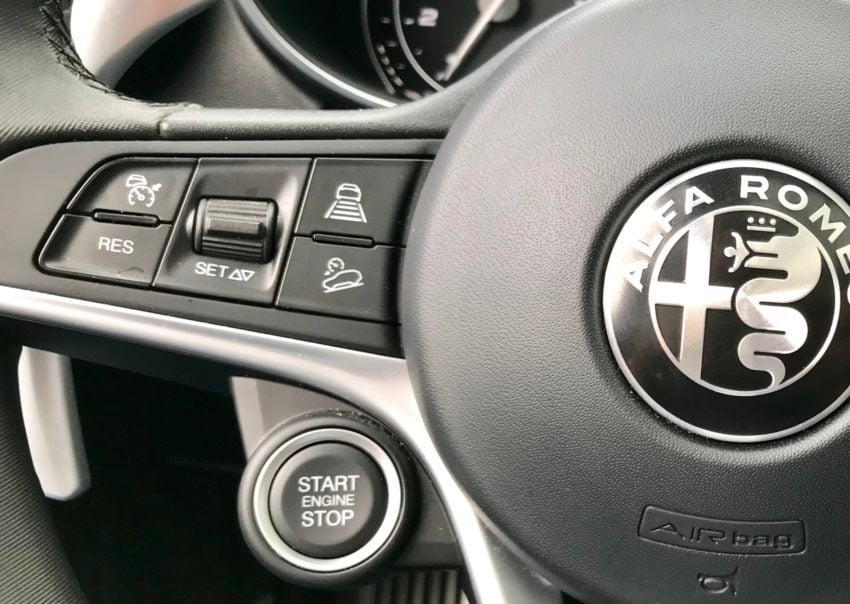 Do you hate constantly adjusting your cruise control, or giving up on cruise control because of traffic or due to a driver in front of you who keeps changing speed? You need a smart cruise control system.
Smart cruise control goes by many different names. You may see it listed as Radar Cruise, Adaptive Cruise or Intelligent Cruise control. Whatever it is called, it will allow you to set your cruise control and then stay with the flow of slower traffic.
Here's why we love it and why you need it. You get on the highway and set the cruise at 76 miles per hour. You also set the distance you want kept between you and the car in front of you. There are typically three or four settings so you can be close or keep a lot of space. Now you simply steer and your car will go 76 mile per hour when traffic allows it or there is no one in front of you. When someone is in front of you going 73 mph, the car automatically slows down to keep you the distance you choose from that car. This is indispensable in traffic and on long road trips.
Not all smart cruise control systems are the same. Some of work at all speeds, while others only work above a specific limit. Some systems can bring you to a complete stop in traffic and then restart without you needing to touch a pedal.
You can find adaptive cruise control on cars as cheap as $18,500 like the Toyota Corolla, and as an option on many cars below $30,000. Even on pricier cars you may need a higher trim level or special package to get this feature.

As an Amazon Associate I earn from qualifying purchases.