2018 Ford F-150: 7 Things Buyers Need to Know
The 2018 Ford F-150 delivers a new look, new features and new options to users starting later this year. This is what you need to know about the 2018 Ford pickup including the 2018 F-150 specs, powertrain and engine.
This is what you need to know about the 2018 Ford F-150 and a quick look at how it compares to the 2017 Ford F-150 that is currently on sale.
Ford also announced a hybrid F-150 earlier in the year alongside a Hybrid Mustang, but neither will arrive until 2020. This is in addition to the Ford Bronco and Ranger coming back as well.
2018 Ford F-150 Release Date
The 2018 Ford F-150 release date is set for fall 2017. There is no specific date yet, but expect to see the new F-150 roll out to dealers early in the fall. If you want to be one of the first to get your hands on the new Ford F-150, you should make your presence known at a local Ford dealer.
Ford is holding a contest to be one of the first to drive the 2018 F-150 starting in late June and running through October 22nd. It is possible that dealers will see delivery before the end of this event, but it's not guaranteed.
2018 Ford F-150 Price
The 2018 Ford Price is not confirmed at this time. We typically learn this information much closer to a release as Ford spends time determining the exact costs and observing the competition.
That said, you can expect to pay a similar amount to the current Ford F-150. We could see some small price changes for 2018 Ford Trim levels thanks to new carbon fiber accents and other trim level upgrades.
You can expect to see 2018 Ford F-150 prices start around the amounts listed below. Pricing and trim options will likely change as the launch nears.
Expect the 2018 Ford F-150 base price to come in between $26,700 and  $27,700. The 2018 Ford F-150 Limited price will likely start just under, or near $60,000.
2018 Ford F-150 Trim Levels
Ford confirms a handful of 2018 Ford F-150 trim levels already. So far we know of 8 different trim levels for the 2018 Ford F-150.
Ford F-150 XL
Ford F-150 XLT
Ford F-150 XLT Sport
Ford F-150 Lariat
Ford F-150 Lariat Sport
Ford F-150 Limited
Ford F-150 Platinum
Ford F-150 King Ranch
The 2018 Ford F-150 Platinum gains a new Dark Masala seating color and the F-150 Limited gains a Navy Pier interior option. Ford confirms carbon fiber appearance appliques for the F-150 XLT Sport and Lariat Sport as well as new Kingsville Appointed seats in the 2018 F-150 King Ranch.
2018 Ford F-150 Specs
We're seeing substantial upgrades to the 2018 Ford F-150 engines and the power they are able to deliver. Here's a quick breakdown of the 2018 Ford F-150 power that you get with the multiple engine options.
Base 3.3 V6 – 290 horsepower(+8) and 265 lb-ft. of torque(+12)
2.7L Ecoboost V6 – 325 horsepower(same) and 400 lb-ft. of torque(+25)
5.0L Coyote V8 – 395 horsepower(+10) and 400 lb-ft. of torque(+13)
3.5L V6 EcoBoost – 375 horsepower and 470 lb-ft. of torque – Unchanged
Raptor V6 Ecoboost – 450 horsepower and 510 lb-ft. of torque – Unchanged
The presence of the V6 that is in the current Ford Raptor could appear in the 2018 Raptor, but rumors indicate it could arrive with a V8, instead of the current Ecoboost V6. Ford officially announced these numbers and you can learn more about the breakdown from the video above.
2018 Ford F-150 Walk Around Video
Take a closer look at the 2018 Ford F-150 inside and out at the Detroit Auto Show. Your best look at the new 2018 F-150 until it arrives at a dealer near you later this year.
2018 Ford F-150 Photos
Below you can see a number of 2018 Ford F-150 photos that show you what's new in the looks department of the new truck.
2018 Ford F-150 vs 2017 Ford F-150: What's New
Although Ford just recently delivered an all-new F-150, the company is dedicated to mid-cycle refreshes like this that bring bigger changes than we typically see in between a total makeover.
https://www.youtube.com/watch?v=lIyYKLdMqnQ
There is a new standard 3.3-liter V6 engine with direct injection, reduced internal friction and better efficiency. With this 3.3-liter V6 you can expect the same 282 horsepower and 253 lb.-ft. of torque as on the 3.5L V6 found in the 2017 Ford F-150. Ford is not discussing the 2018 Ford F-150 fuel economy yet.
Another engine option is the all-new second-generation 2.7-liter EcoBoost engine. this includes dual port and direct injection to deliver better efficiency and durability. Ford pairs both engine options with a 10-speed automatic transmission.
Buyers can also choose a 5.0-liter V8 that includes upgrades for more power and torque. This is also coming with the 10-speed automatic.
Rounding out the engine options there is a new 3.0-liter Power Stroke diesel engine. This is the first diesel F-150 to come to market.
Every engine includes standard automatic start/stop technology to improve fuel economy. This is built-in for all the models listed above, including diesel. Other new Ford F-150 features and options include;
New enhanced segment-first available adaptive cruise control with stop-and-go functionality allows drivers to set a cruising speed. They then use radar and camera technology to monitor traffic ahead to maintain a set distance between vehicles – even following a vehicle down to a complete stop.
Segment-first available Pre-Collision Assist with Pedestrian Detection helps the driver avoid or mitigate collisions with vehicles and pedestrians.
With a new available embedded 4G LTE modem for a Wi-Fi hot spot, customers can connect up to 10 mobile devices at one time, virtually anywhere.
New B&O PLAY available audio system takes advantage of high-end speakers, sound and tuning to deliver a richer, more engaging listening experience.
Available SYNC® and SYNC 3 with FordPass enables compatibility of Apple CarPlay and Android Auto – plus mobility services to help customers move more efficiently
Optional 360-degree camera technology helps improve driver confidence when parking and can help reduce stress when connecting a trailer – allowing customers to see more so they can focus on specific tasks such as lining up a hitch
Available lane-keeping system is designed to help reduce unintentional drifting of the vehicle outside the intended lane
Available Blind Spot Information System with trailer tow technology is optimized for F-150 to include the length of a trailer up to 33 feet; BLIS® uses radar sensors in the taillamps to monitor areas that may not be visible to the driver
Expect to learn more about the features, options, trims and fuel economy later this year.
2018 Ford F-150 Raptor Rumors
There was no mention of the 2018 Ford F-150 Raptor in the announcement or at the Detroit Auto Show. The 2017 F-150 Raptor just went on sale last fall and it already includes a 10-speed transmission. In the Future Motoring podcast Brian Bell of the Ford F-150 team shares that the "Raptor will be unchanged, appearance wise for '18 model year." We hope to learn more about this special F-150 later in 2017.
You Need These 10 Must Have Car Features: Find Out Why
Smart Cruise Control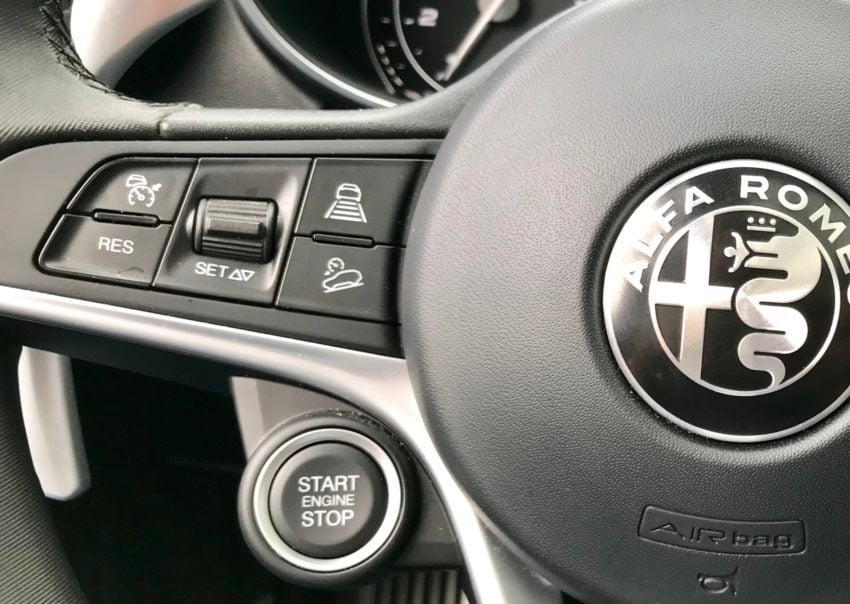 Do you hate constantly adjusting your cruise control, or giving up on cruise control because of traffic or due to a driver in front of you who keeps changing speed? You need a smart cruise control system.
Smart cruise control goes by many different names. You may see it listed as Radar Cruise, Adaptive Cruise or Intelligent Cruise control. Whatever it is called, it will allow you to set your cruise control and then stay with the flow of slower traffic.
Here's why we love it and why you need it. You get on the highway and set the cruise at 76 miles per hour. You also set the distance you want kept between you and the car in front of you. There are typically three or four settings so you can be close or keep a lot of space. Now you simply steer and your car will go 76 mile per hour when traffic allows it or there is no one in front of you. When someone is in front of you going 73 mph, the car automatically slows down to keep you the distance you choose from that car. This is indispensable in traffic and on long road trips.
Not all smart cruise control systems are the same. Some of work at all speeds, while others only work above a specific limit. Some systems can bring you to a complete stop in traffic and then restart without you needing to touch a pedal.
You can find adaptive cruise control on cars as cheap as $18,500 like the Toyota Corolla, and as an option on many cars below $30,000. Even on pricier cars you may need a higher trim level or special package to get this feature.

As an Amazon Associate I earn from qualifying purchases.