2018 Kia Rio Hatchback Review
The 2018 Kia Rio is a super affordable car with a lot to offer. I hesitate to call it a cheap car despite the $13,900 starting price, because it's a car that offers a lot of value. Specifically, the 2018 Kia Rio EX is punching above its weight class with Apple CarPlay, Android Auto, important safety features and an interior that doesn't look and feel like it's on a $18,000 Kia.
When it comes to subcompact cars, the 2018 Kia Rio Hatchback offers a lot in a small and affordable package. Buyers will want to compare to the 2018 Honda Fit and the 2018 Chevy Sonic, but both of those cars start at $1,400 to $2,300 more than the 2018 Kia Rio.
I spent a week in the Kia Rio 5 Door EX which starts at $18,700. This is the hatchback version of the Kia Rio which opens up the storage capacity of this subcompact. With a fifth door and fold down seats, you get quite a bit of room inside a small and affordable package.
[letsreview]
2018 Kia Rio Hatchback Driving
It can be a challenge to switch to a small car, but when it comes to driving this subcompact you're in for a treat. I like that the small size makes maneuverability easy and simplifies parking downtown. A small car like the 2018 Kia Rio actually opens up parking opportunities thanks to other people parking horribly. Even drivers who didn't grow up parallel parking every day in high school, like me, will be able to park almost anywhere.
The 2018 Kia Rio 5 Door is actually pretty fun to drive thanks to the small size and decent power. The 130 horsepower engine is extremely capable and it actually feels like you have more power than that on tap to zip into traffic, get up hills and get around town.
Overall ride quality is very good, with a suspension that delivers a very stable ride and that absorbs impacts from potholes or uneven roads incredibly well. Fuel economy is rated at 28 mpg in the city and a pleasing 37 mpg on the highway. Not only is this a car that is affordable to buy, it's affordable to own.
2018 Kia Rio Hatchback Design
When you first think about a an $18,000 subcompact you probably expect to see and feel a lot of tough plastic, but that isn't what you'll find inside the 2018 Kia Rio EX. Kia delivers a modern looking hatchback on the outside and an impressively refined interior that left me questioning what car I just got into. My loaner came equipped with the $500 Launch Edition package that swaps out a single color interior for one with red accents.
The front seats offer plenty of legroom and headroom for the driver and passenger. The instrument cluster is easy to see and use and buttons are where you would expect them. Heated seats and manual controls for the climate offer fast access. There is no dual zone heating system, which is a sacrifice that comes with a sub $20,000 car like the Rio Hatchback.
The back seats are a tight fit, as is standard in most subcompact vehicles. This would be challenging to use on a longer trip with four adults, but it works for short trips around town. The back seats fold down to offer up more cargo space. The seats don't fold totally flat, which limits some of the usefulness. The Honda Fit offers more rear cargo space and fold flat seats. If hauling lots of cargo is important, you'll want to test a sample load in both of these vehicles.
Kia puts together a modern take on the classic hatchback design with just the right amount of sporty flourishes on the front of the car to complement the overall style without the 2018 Rio Hatchback looking like it's trying to be a Hot Hatch. The rear of the car evokes a slightly VW Golf-esque look, which is a good thing.























2018 Kia Rio Hatchback Tech & Safety
To get the best technology features you will need to opt for the EX level trim package on any of the Kia Rio models. The Rio LX comes with a 5″ touch screen. The Kia Rio S keeps that same touch screen and adds in Bluetooth, but to get Apple CarPlay and Android Auto you'll need to go with the EX trim level that upgrades to a 7-inch screen and adds in Kia's UVO infotainment system.
With the 7-inch touchscreen system in the EX, you'll get a responsive touch screen and an easy-to-use system that offers Bluetooth for calls and music, Sirius XM and voice controls. You can plug in your iPhone for Apple CarPlay or an Android device for Android Auto and you'll have access to your apps, calls, texts and navigation on the car's screen. You can even use the steering wheel voice control with Siri or Google Assistant.
I love the flexibility this provides in a budget vehicle like the 2018 Rio EX. It lets me use the system I want, with access to navigation by Apple or Google that is constantly up to date. This is helpful since there is no navigation option for the 2018 Rio.
On the Safety side, Kia offers Forward Collision Warning. The EX trim level includes Autonomous Emergency Braking which can automatically apply the brakes if the vehicle detects an crash is imminent. Kia does not include many driver convenience features like Blind Spot Monitoring, Rear Cross Traffic alert or radar cruise control. This isn't a shock at the price, but it would be nice to see a technology or convenience package as an option in future models.
You Need These 10 Must Have Car Features: Find Out Why
Smart Cruise Control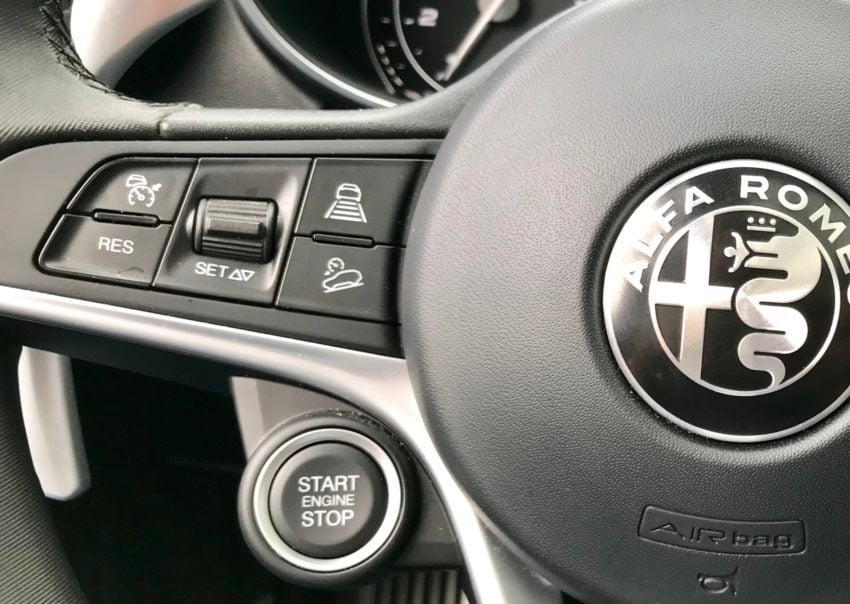 Do you hate constantly adjusting your cruise control, or giving up on cruise control because of traffic or due to a driver in front of you who keeps changing speed? You need a smart cruise control system.
Smart cruise control goes by many different names. You may see it listed as Radar Cruise, Adaptive Cruise or Intelligent Cruise control. Whatever it is called, it will allow you to set your cruise control and then stay with the flow of slower traffic.
Here's why we love it and why you need it. You get on the highway and set the cruise at 76 miles per hour. You also set the distance you want kept between you and the car in front of you. There are typically three or four settings so you can be close or keep a lot of space. Now you simply steer and your car will go 76 mile per hour when traffic allows it or there is no one in front of you. When someone is in front of you going 73 mph, the car automatically slows down to keep you the distance you choose from that car. This is indispensable in traffic and on long road trips.
Not all smart cruise control systems are the same. Some of work at all speeds, while others only work above a specific limit. Some systems can bring you to a complete stop in traffic and then restart without you needing to touch a pedal.
You can find adaptive cruise control on cars as cheap as $18,500 like the Toyota Corolla, and as an option on many cars below $30,000. Even on pricier cars you may need a higher trim level or special package to get this feature.