2018 Kia Stinger GT2 Review
The all new Kia Stinger is an eye-catching sports sedan with a hatchback design that adds to the practicality when you need to haul more than passengers. The Kia Stinger GT2 performance with the upgraded twin-turbo 3.3L V6 engine delivers an impressive amount of power and connects to a nice 8-speed transmission.
Torque is fun, and there's a lot of torque tucked away in the Stinger GT2 that is ready to propel you down the street or tightly around a corner. Available in RWD as tested or AWD, Kia offers an impressive sports sedan with a beautiful interior and plenty of tech options like Apple CarPlay & Android Auto.
Is the 2018 Kia Stinger GT2 a Good Sports Sedan?
The 2018 Kia Stinger GT2 delivers an impressive ride, offers up plenty of power on tap and checks the boxes for a fun driving experience. It also looks great inside and out and manages to deliver on the practical side of things with a roomy interior and cargo space.
The total package isn't quite at the same level as the german competition, specifically in the small touches throughout the cabin and the overall driving experience, but it's delivering a quick, powerful sports sedan experience at an attractive price.
With a 0-60 time of 4.7 seconds and an engaging ride, the Kia Stinger GT is not what you think of when you hear Kia, but it's one that you need to test drive to fully appreciate.
The 2018 Kia Stinger starts at $31,900 for the 2.0L, but if you want the more powerful engine, Brembo brakes and other upgrades you will need to bump up to the GT which starts at $38,350. The Kia Stinger GT2 as tested is $49,200.
[letsreview]
Driving the 2018 Kia Stinger GT2
The Kia Stinger GT models all come with the Twin Turbo 3.3L V6 engine with 365 HP and 376 lb-ft. of torque on tap. This is a pleasing amount of power that delivers the fun driving experience promised by the sporty exterior.
I tested the rear wheel drive Stinger GT2 model, which was well composed and the eight speed automatic transmission responded quickly while driving and manual modes offer a little more control. I occasionally had issues getting the Stinger to shift into reverse with the sometimes finicky shifter knob.
While composed throughout most of my testing, the Stinger GT2 isn't a perfect mix of value and driving prowess. Even with multiple driving modes the Sport mode doesn't go far enough to deliver that ultimate connected to the road feel that you want when pushing a car to the limit.
Inside the Kia Stinger engine noise sounds great in sport mode because it is enhanced by noise pumped in through the car's speakers. Ultimately I'd prefer a better exhaust note from outside the car.
The zip and overall value help take away this downside, and it's still a pleasant driving experience with a lot of power under the hood.
Fuel economy is rated at 19 mpg city and 25 mpg highway, which a combined 21 mpg. Combined with the smallish gas tank, the overall range of the car is about 250 miles in the city.
2018 Kia Stinger GT2 Design & Interior
"What car is that?", is a question I heard regularly while driving the 2018 Kia Stinger GT2 around. This sports sedan strikes a dominating pose from the front all the way to the rear end, and it's sure to draw attention.
The attention to detail on this first generation Stinger's appearance pays off as it's impossible to find an angle where the Stinger doesn't look great. The sharp looks carry over into a comfortable and well-appointed cabin.
The Kia Stinger GT2 trim level upgrades the interior to a Nappa leather trim that looks very nice and complements the comfortable seats. The dash is angled slightly towards the driver to complete the cockpit feel of a sports car and I am a big fan of the simple metal trim, the speaker grilles that would look at home in a Mercedes and the cool vents that remind me of a fighter jet intake.
This is a spacious and comfortable cabin that offers a great experience for the driver and for passengers. On the GT2 trim level you get heated and ventilated front seats.
Passengers get a surprising amount of room in the backseat, and two adults can ride back there with no issues. The hatchback design allows for quite a bit of cargo room inside the Stinger and that expands greatly with the rear seats folded down.















2018 Kia Stinger GT2 Tech & Safety
All Kia Stinger trim levels come with Apple CarPlay and Android Auto support. The 2.0L and GT trim levels include a 7-inch screen, while the other trim levels offer an 8-inch screen with Navigation.
The 8-inch touch screen in the Stinger GT2 is easy to see, it's quick to respond to touch and it served as a perfect place to use both Apple CarPlay and Android Auto. The stereo system is good on the GT2, where you're treated to a 15 speaker Harmon/Kardon sound system, and Bluetooth calls sounded very good as well.
On the GT2 trim level you get a heads up display that is easy to read and includes information you want at a glance while driving. It's a nice touch, but not available on any other trims.
From a safety and convenience standpoint, the Kia Stinger offers a lot of optional features, which are standard on the GT2. These include;
Blind Spot Collision Warning with Lane Change Assist
Rear Cross Traffic Collision Warning
Forward Collision Avoidance Assist w/ Pedestrian Detection
Advanced Smart Cruise Control with Stop and Go
Lane Departure Warning System
Lane Keep Assist System
Driver Attention Warning
All of these come together to deliver a smoother driving experience and to help the driver feel confident on longer trips and on the highway. The Blind Spot system and smart cruise control work very well, and are worth considering as part of the Kia Drive Wise Package on any of the lower trim levels.
You Need These 10 Must Have Car Features: Find Out Why
Smart Cruise Control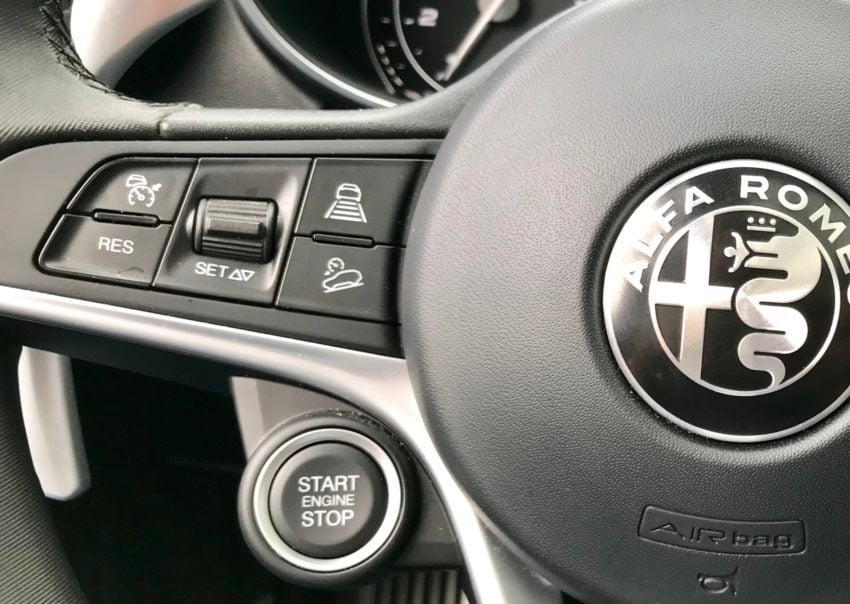 Do you hate constantly adjusting your cruise control, or giving up on cruise control because of traffic or due to a driver in front of you who keeps changing speed? You need a smart cruise control system.
Smart cruise control goes by many different names. You may see it listed as Radar Cruise, Adaptive Cruise or Intelligent Cruise control. Whatever it is called, it will allow you to set your cruise control and then stay with the flow of slower traffic.
Here's why we love it and why you need it. You get on the highway and set the cruise at 76 miles per hour. You also set the distance you want kept between you and the car in front of you. There are typically three or four settings so you can be close or keep a lot of space. Now you simply steer and your car will go 76 mile per hour when traffic allows it or there is no one in front of you. When someone is in front of you going 73 mph, the car automatically slows down to keep you the distance you choose from that car. This is indispensable in traffic and on long road trips.
Not all smart cruise control systems are the same. Some of work at all speeds, while others only work above a specific limit. Some systems can bring you to a complete stop in traffic and then restart without you needing to touch a pedal.
You can find adaptive cruise control on cars as cheap as $18,500 like the Toyota Corolla, and as an option on many cars below $30,000. Even on pricier cars you may need a higher trim level or special package to get this feature.