"What is that?" That was the question we heard all week while driving the 2018 Lexus LC 500. The aggressive looks hide a beautiful interior and under the hood is a raucous V8 engine that sounds positively thrilling while driving. Downshifting draws even more attention on Main Street.
It's quick, but it's not a sports car. It's luxurious, but it's not a grand tourer. The Lexus LC 500 brings Lexus' new design language to fruition in a car that's fun to drive, but that could use a little more power for the high price tag. Some buyers will want to opt for the Lexus RC F or hold out for the LC F in 2019 with more power.
The polarizing front end gives way to an amazing style that draws looks anywhere you take it. Inside, you'll slip into a super luxurious interior where bolsters cradle you for the long haul or the fast trip.
The 2018 Lexus LC 500 price start at $92,000 for the base model. We tested the 2018 LC 500 equipped with the Performance package, all-weather trim package, a color heads up display, Torsen Limited Slip Rear Differential and Mark Levinson Surround Sound. The performance package is a must have to take a little weight away with a Carbon Fiber roof as well as for the active rear steering, speed activated spoiler and variable gear ration steering.
[letsreview]
Driving the 2018 Lexus LC 500
The 471 horsepower V8 engine that powers the LC 500 sounds phenomenal. If the car hasn't caught someone's attention by looks alone, a quick downshift is sharp and loud enough to turn heads. It doesn't get old.
The catch to this engine is that while it is a lot of power, the LC 500 is a heavy car. That means, despite loads of power, you aren't going to see sports car level acceleration. If you're lusting after super fast acceleration, hold off for a lighter LC F.
Lexus offers a range of driving modes including Eco, Comfort, Normal, Custom, Sport and Sport+ that adjusts steering and suspension to match the driving experience you are looking for. Acceleration doesn't come all at once, starting slow and building faster as you deliver more pressure to the throttle. While you adjust to the car, you'll likely spin your wheels while leaving a stoplight at least once or twice.
In Sport and Sport+ mode shifts happen with a snap when you want them and you can pull out a massive amount of power by sticking to just over 7,000 RPM where full power lives. Downshifting happens just as fast and rewards you with access to more acceleration when you need to pass or come out of a corner. Truthfully we downshifted even when driving didn't call for it just to hear the sharp crack from the exhaust and the satisfying rev from the engine.
Overall the steering is good, with very quick response to your movements, though it doesn't deliver a ton of connected feeling to the road. While pushing the car on corners you'll feel some body roll but, again, this is a heavier car. The brakes are very grabby. You'll appreciate this when you're at high speeds, but it means stopping at city speeds may be more abrupt than you plan.
Count on about 16 MPG in the city and around 26mpg on the highway with a combined fuel rating of 19 mpg. Of course this also depends on how often you're driving in Sport+ mode with a lead foot.
2018 Lexus LC 500 Design & Interior
When you pull up in the Lexus LC 500 people stop and look. They might even take pictures, much to the chagrin of their friend who parked his new Camaro in the next spot over. Lexus absolutely nails the design of the LC 500 inside and out.
At first glance you might think this is a sports car, but it's about luxury inside and bold looks outside. The large and ostentatious grille fits this car perfectly. From there the aggressive front gives way to swooping lines that, at times, look impossibly melded together to deliver jaw dropping lines down the sides that blend into a wide rear end.
It's impossible to find a bad angle to look at the LC 500. The side profile speaks to me on a completely different level as the design aligns perfectly.
Inside you don't find sparse choices designed to nail top speeds like a sports car or any interesting design choices due to an Italian heritage. No. The LC is here to cradle you in comfortable and luxurious seats. Technically there are four, but the back seat is essentially space to put a carry on or a backpack, not a passenger. The front seats are heated and ventilated, but you have to control this with the touchpad infotainment system instead of with a button. Thankfully the car remembers your seat setting for the next drive.
The driver sits in a focused cockpit with controls easily in reach and very nice shifters mounted to the steering wheel when you want to drive with more fervor. There's even a small separator that comes up from the center console to complete this cockpit feel while leaving the cabin inviting enough for your passenger.
2018 Lexus LC 500 Tech
One of the biggest downsides to this otherwise luxurious car is that you need to use the Lexus Enform system with the remote touchpad for controls. This system is better than earlier versions. There are more buttons to use commonly used features and the touchpad is more responsive, but it is still awkward to use while driving. A touchscreen would be better and support for Android Auto & Apple CarPlay even more so.
The giant screen looks great and we like that you can put two different windows on it so that you can see the most important information for your current task. We found that it reverts to the map while in motion, which may frustrate some users. The Enform app Suite 2.0 includes I Heart Radio, Pandora, Yelp and other apps. You can use Siri Eyes free to turn Siri on from the steering wheel and interact with your iPhone. The Mark Levinson Reference Surround Sound system is very good and it's definitely on our list of upgrades you want to add-on to the LC 500.
We really like the heads up display that allows you to see important information while you are driving so you can keep your eyes on the road. It would be nice if the RPM indicator was more prominent on the HUD while in Sport or Sport+ mode.
2018 Lexus LC 500 Safety
The LC 500 includes the Lexus Safety System+ which includes car features to keep you safe and provide some convenience and driver confidence. You'll find dynamic cruise control that works at all speeds and includes automatic braking. It will even stop the car completely at speeds up to 24 mph and then resume when the person in front of you starts driving again.
Blind Spot monitoring makes it easy to know if there is anyone in nearby lanes when you are ready to pass and pick up the speed, and it's very much appreciated in this car that practically begs to go on a road trip anytime you start it up.  Lane Keep Assist will help keep you in your lane by actively steering if the car detects that you are drifting out of your lane.
Smart high beams automatically turn on when you need them and turn off when the car detects other traffic. The LC 500 also includes a pre-collision system with pedestrian detection that can automatically apply brakes if it detects a potential crash. Parking sensors and a backup camera round out safety features.





























You Need These 10 Must Have Car Features: Find Out Why
Smart Cruise Control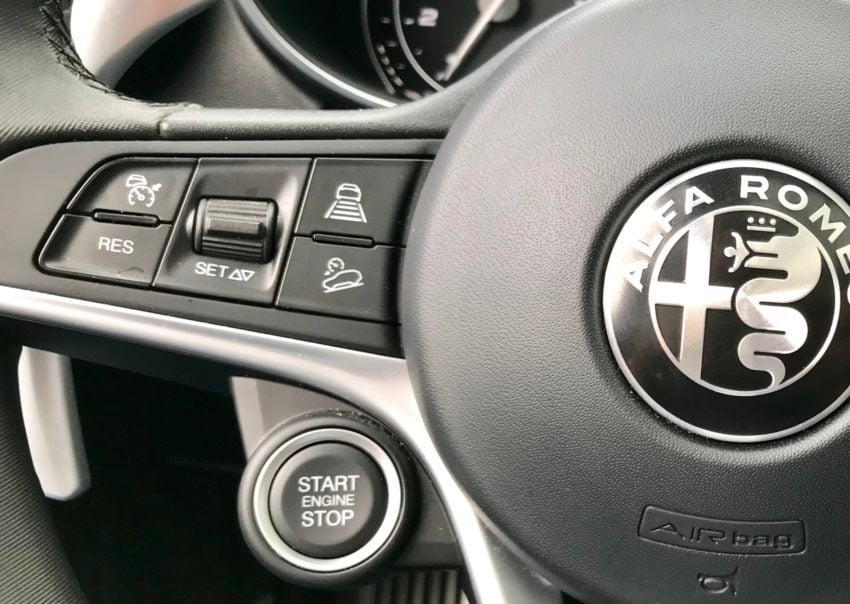 Do you hate constantly adjusting your cruise control, or giving up on cruise control because of traffic or due to a driver in front of you who keeps changing speed? You need a smart cruise control system.
Smart cruise control goes by many different names. You may see it listed as Radar Cruise, Adaptive Cruise or Intelligent Cruise control. Whatever it is called, it will allow you to set your cruise control and then stay with the flow of slower traffic.
Here's why we love it and why you need it. You get on the highway and set the cruise at 76 miles per hour. You also set the distance you want kept between you and the car in front of you. There are typically three or four settings so you can be close or keep a lot of space. Now you simply steer and your car will go 76 mile per hour when traffic allows it or there is no one in front of you. When someone is in front of you going 73 mph, the car automatically slows down to keep you the distance you choose from that car. This is indispensable in traffic and on long road trips.
Not all smart cruise control systems are the same. Some of work at all speeds, while others only work above a specific limit. Some systems can bring you to a complete stop in traffic and then restart without you needing to touch a pedal.
You can find adaptive cruise control on cars as cheap as $18,500 like the Toyota Corolla, and as an option on many cars below $30,000. Even on pricier cars you may need a higher trim level or special package to get this feature.