The 2018 Toyota Camry XSE is an amazing-looking sedan with a spacious, beautiful interior and options that add our favorite driver convenience features. With stylish body lines and an optional two color interior the new Camry turned heads and caught the attention of a surprising amount of people. To go along with the bolder look, the SE and XSE come with a sportier suspension and the XSE can be equipped with a 3.5L engine.
This is not your father's Camry.
If you are simply looking for a stylish new sedan that starts at an affordable price with packages that add must-have car features, the Camry needs to be at the top of your list. The only thing missing from the 2018 Toyota Camry is support for Apple CarPlay and Android Auto. Toyota is adding support to some models, but it is not a feature on the 2018 Camry.
[letsreview]
What's New
The Toyota Camry is completely redesigned for 2018. The new Camry features a longer wheelbase, dramatically upgraded exterior styling and a new rear suspension. You'll also find distinct styling differences depending on the trim level you pick.
2018 Toyota Camry Trim Levels & Features
The 2018 Toyota Camry is available in five trim levels and there are two engine options. The five trims are L, LE, SE, XSE and XLE. The main differences are in the features available and packages you can add, but if you pick the XS or XSE, you also get an upgraded suspension that is sportier. All trims are available with a 2.5L four cylinder engine and you can opt for the 3.5L V6 on the XSE and XLE trims.
2018 Toyota Camry Tested
While the 2018 Camry shares many aspects across the trim levels it is important to note the subtle differences. I spent a week testing the 2018 Toyota Camry XSE with the 3.5L V6, Driver Assist Package and Navigation Package. The 2018 Camry XSE with the 3.6L starts at $34,950 and, as tested with a special paint color, two tone body color and metallic roof and accents plus delivery, it came to $39,253.
2018 Toyota Camry Tech
The 2018 Toyota Camry technology and infotainment isn't up to par with the competition because it lacks Apple CarPlay or Android Auto. This means you cannot put your apps, music and messages on the screen for easier use while driving. Toyota is finally adding support for other cars, but the 2018 Camry isn't on the list. This means you will need to use the Entune 3.0 system that is standard on the Camry.
With Entune you can connect your phone with a USB cable or by Bluetooth to stream music or make calls, but you still need to interact with the phone to pick music and use Navigation. Toyota opts for the Scout GPS Link app to add navigation to the Camry, which removes the need to pay for map updates, but it's still not as useful as Google Maps or Apple Maps integrated as part of CarPlay or Android Auto.  The Premium Audio option is good, but lacks enough punch to be great.
Inside you'll find a decent number of USB ports to charge devices as well as an optional Qi wireless charging dock that allows you to charge newer smartphones without a cord.
I love the heads up display on the Camry. it's one of the easiest to see and it is even visible with polarized sunglasses on. The Camry includes available WiFi powered by Verizon, which allows you to connect up to five devices to your car for Internet access. It also allows Remote Connect, which lets you use your phone to locate your Camry and remote start it.
2018 Toyota Camry Safety
The 2018 Camry comes standard with Toyota Safety Sense, which includes many of the new car features I recommend looking for in your next car. These include:
Pre-collision system with Pedestrian Detection
Lane Departure Alert with Steering Assist
Automatic High Beams
Dynamic Radar Cruise Control
This is in addition to the available Birds Eye View cameras, parking sensors with rear cross-traffic braking and optional blind spot monitoring. I found the radar cruise control to be very useful while testing the Camry and appreciate the abundance of standard safety features as well as the availability of the optional features on most models. The entry Level 2018 Camry L misses out on many options, but the LE can be equipped with most of these features.
2018 Toyota Camry Driving
The 2018 Toyota Camry XSE is fun to drive. With the 3.5L V6 and sportier suspension it's got enough pep for daily driving and it's fun on the open road. It's not as fun as jumping into a Honda Civic Type R, but it is a nice car to drive.
An eight speed transmission shifts smoothly, delivering power when you need it. You can also use paddle shifters to shift on demand. There are three driving modes: eco, normal and sport. In sport mode the shift points change slightly. Even when you are already at speed, there is enough power left to give you a satisfying pull when you press the gas to the floor.
Ultimately the 2018 Camry checks all the boxes for a daily driver that is comfortable to drive, easy to keep in your lane and still offers a little fun on a windy road.
2018 Toyota Camry Design & Interior































The first thing I noticed when I stepped outside to look at the new Camry is how nice it looks. The 2018 Camry XSE with a Midnight Black Metallic Roof and Wind Chill White body paint is an epic combo and the body lines accentuate the sporty look of the car. On the rear of the XSE a dual exhaust is split into a quad tip system that looks great. From the front to the back, the Camry XSE looks fantastic.
I found the Camry comfortable for long drives thanks to a very configurable driver seat. The back seat is slightly smaller than the previous model, but still comfortable. If you regularly drive taller passengers around, you may want to look at the Mazda6, which has a little more headroom. The Camry seats 5, with one passenger in the middle of the back seat with limited legroom.
The 2018 Camry XSE I tested came with a red leather interior that looks very nice. The interior quality is very nice with soft touch materials throughout the cabin and a nice build quality. There is a lot of cargo space in Camry Trunk, though it is a little smaller than previous models.
You Need These 10 Must Have Car Features: Find Out Why
Smart Cruise Control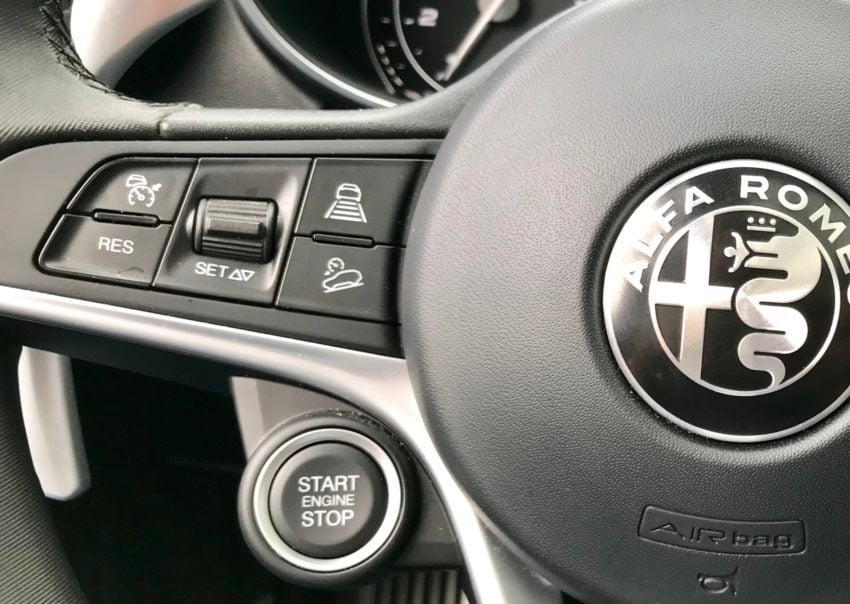 Do you hate constantly adjusting your cruise control, or giving up on cruise control because of traffic or due to a driver in front of you who keeps changing speed? You need a smart cruise control system.
Smart cruise control goes by many different names. You may see it listed as Radar Cruise, Adaptive Cruise or Intelligent Cruise control. Whatever it is called, it will allow you to set your cruise control and then stay with the flow of slower traffic.
Here's why we love it and why you need it. You get on the highway and set the cruise at 76 miles per hour. You also set the distance you want kept between you and the car in front of you. There are typically three or four settings so you can be close or keep a lot of space. Now you simply steer and your car will go 76 mile per hour when traffic allows it or there is no one in front of you. When someone is in front of you going 73 mph, the car automatically slows down to keep you the distance you choose from that car. This is indispensable in traffic and on long road trips.
Not all smart cruise control systems are the same. Some of work at all speeds, while others only work above a specific limit. Some systems can bring you to a complete stop in traffic and then restart without you needing to touch a pedal.
You can find adaptive cruise control on cars as cheap as $18,500 like the Toyota Corolla, and as an option on many cars below $30,000. Even on pricier cars you may need a higher trim level or special package to get this feature.