2019 GMC Sierra Tailgate: World's Smartest Tailgate
The 2019 GMC Sierra tailgate is a phenomenal upgrade to one of the most used parts of the pickup. Taking a look at the annoyances of a standard tailgate, the new MultiPro Tailgate comes with six features and functions that make using your pickup's bed easier. While we typically think of tech inside the cabin, the 2019 Sierra's tailgate is too cool to miss.
This is not your grandpa's tailgate and it isn't some fancy feature you'll only use if you take your truck to a tailgate party. This is a full featured upgrade designed to make working with your pickup easier and we can't wait to try it out. Here's what you need to know about the smartest tailgate ever made.
The 2019 GMC Sierra arrives in fall 2018. There is no specific pricing announced yet, but expect a starting price similar to the current model. The 2019 GMC Sierra Denali will go on sale later with an optional carbon fiber bed. Here's what we thought about the 2017 GMC Sierra Denali HD.
2019 GMC Sierra Tailgate Features
The 2019 GMC Sierra MultiPro tailgate comes with six built in features that will help you do more with your truck. here's a quick look at the features and then we'll explain how the Sierra MultiPro Tailgate works.
Primary Tailgate – This is the standard tailgate you'll find on any truck.
Primary Tailgate with Load Stop – Flip up a back stop so you can ual longer cargo easily.
Easy Access – Drop the inner tailgate to get closer to the pickup truck bed.
Full Width Step – Open a step from the inner tailgate that can hold up to 350 pounds.
Inner Gate Load Stop – A second load stop for items you need to stack on top of your primary cargo.
Inner Gate Work Surface – With the Load stop closed you have a work surface for your laptop or gear.
There are two buttons on the tailgate. One operates the inner tailgate and the other operates the primary tailgate. You can also open the primary gate with the keyfob. When you press the bottom button the primary tailgate opens. It is damped, so it will open slowly. From there you can pull up the load stop.
With the primary gate down, you press the top button to drop the inner tailgate. This offers the easy access and then you can fold down the step if you want to use it to get into the bed.
If you leave the primary gate closed, you can press the upper button to fold down the inner tailgate into a work surface. You can also pull the same load stop to use it for second level cargo or for a wider piece of cargo that doesn't fit between the wheel wells.






This is the smartest tailgate we've seen. It's not the first multi-purpose tailgate, but it definitely is the one with the most options. The MultiPro tailgate is standard on the Denali and SLT trim levels. The 2019 GMC Sierra is available with 6.2L and 5.3 L V8 options as well as a new 3.0L inline six turbo diesel.
Other 2019 GMC Sierra smart features include a huge 3″ x 7″ multicolor heads up display, new ProGrade Trailering features including an app that helps with pre-departure checklists and can help you check your trailer lights right from your phone. You also get a rearview camera mirror, surround vision on the infotainment screen and loads of safety features including Side Blind Zone Alert, Pedestrian Detection and Low Speed Forward Automatic Braking.
The new 8-inch GMC infotainment screen offers a new experience that responds faster, features better voice control and includes support for Android Auto and Apple CarPlay.
You Need These 10 Must Have Car Features: Find Out Why
Smart Cruise Control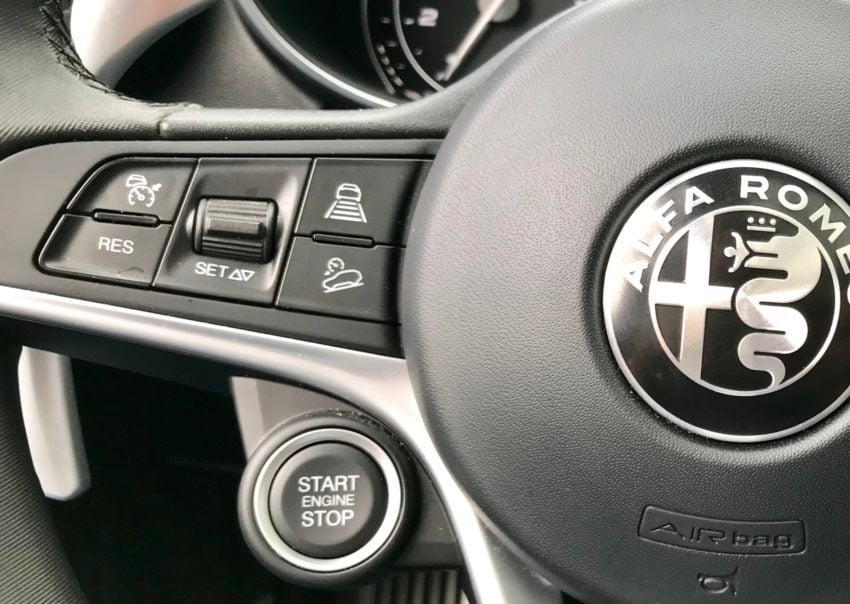 Do you hate constantly adjusting your cruise control, or giving up on cruise control because of traffic or due to a driver in front of you who keeps changing speed? You need a smart cruise control system.
Smart cruise control goes by many different names. You may see it listed as Radar Cruise, Adaptive Cruise or Intelligent Cruise control. Whatever it is called, it will allow you to set your cruise control and then stay with the flow of slower traffic.
Here's why we love it and why you need it. You get on the highway and set the cruise at 76 miles per hour. You also set the distance you want kept between you and the car in front of you. There are typically three or four settings so you can be close or keep a lot of space. Now you simply steer and your car will go 76 mile per hour when traffic allows it or there is no one in front of you. When someone is in front of you going 73 mph, the car automatically slows down to keep you the distance you choose from that car. This is indispensable in traffic and on long road trips.
Not all smart cruise control systems are the same. Some of work at all speeds, while others only work above a specific limit. Some systems can bring you to a complete stop in traffic and then restart without you needing to touch a pedal.
You can find adaptive cruise control on cars as cheap as $18,500 like the Toyota Corolla, and as an option on many cars below $30,000. Even on pricier cars you may need a higher trim level or special package to get this feature.

As an Amazon Associate I earn from qualifying purchases.