2019 Lexus IS 350 F Sport Review
The 2019 Lexus IS 350 is fun to drive with a sharp exterior, luxurious inside and with four doors cargo space it's more practical than many quick cars but it's missing out on technology options that are expected on a luxury car in 2019.
I spent a week testing the 2019 Lexus IS 350 F Sport AWD and like Goldilocks, this is the perfect size car for me. With the F-Sport upgrade you get a sharper exterior design and flashy rims as well as an upgraded suspension.
The IS 350 is quick and fun to get off the line with good handling the turns mundane trips into an excuse to take the corner a little harder. Inside, road noise is minimal and the materials are nice, but it's missing Apple CarPlay or Android Auto, and you need to use the frustrating remote touch interface.
[letsreview]
Driving the 2019 Lexus IS 350 F Sport
The Lexus IS 350 is fun to drive and with the AWD option quite capable on slick roads that persisted as winter hung around way too long. The model I spent the week with featured the 3.5L V6 engine with 311 horsepower and 280 lb.-ft of torque. Lexus says the 2019 Lexus IS 350 F Sport 0-60 is 5.7 seconds for the AWD model and 5.6 seconds for the RWD version.
This small and nimble IS 350 definitely feels quick off the line and satisfies the need for initial zip. The steering is engaging, offering a very connected to the road feel. The suspension is impressive because even though it helps deliver that connected feel and responsiveness it's great at absorbing potholes and construction bumps. The F Sport offers an enhanced suspension over the base model with adaptive dampers when you toggle on the Sport or Sport+ modes.
It's an impressive mix of driving characteristics that handle fun trips as well as a slog down the highway. It definitely played a part in my decision to take the windy river road for the last 15 miles of my trip.
Paddle shifters allow you to choose when the IS 350 F Sport shifts, which is handy for quickly downshifting to pass on the highway.
The IS 350 F Sport AWD EPA estimates are 19 MPG city, 26 MPG highway and 21 MPG combined. That's pretty spot on, though I found slightly higher highway fuel economy during my testing.
Lexus IS 350 F Sport Interior & Design
Lexus really nails the design of the 2019 IS 350 F Sport with a sleek and stylish design that really stands out on this compact frame. I'm always drawn to small sports sedans and the IS 350 F Sport is a great example of what I'm looking for.
With the F Sport package you get appearance upgrades that are most noticeable on the front end. the sweeping lines on the side of the car and the 18-inch F-Sport split 5 spoke wheels create a gorgeous side profile.
Inside Lexus' experience in luxury stands out and the F-Sport heated and ventilated seats are comfortable with just the right amount of bolster to hug you into the seat when you decide it's time for a spirited drive.
The instrument panel looks impressive and it's packing a secret. With the push of a button it slides to the side to show you more options on the screen. It's unnecessary, but oh so cool.
The back seat is tight, but it is there and usable for passengers on shorter trips and for cargo. The trunk is small, but still manageable.








Lexus IS 350 F Sport Tech & Safety
Where the 2019 IS 350 starts to feel dated is in the technology department. There is no support for Apple CarPlay or Android Auto, even though Lexus supports CarPlay in many other 2019 models including the Lexus ES.
A 7-inch screen is standard, but with the Navigation and Mark Levinson upgrade package you get a 10.3-inch display. The screen looks great and you can split the screen to show two different parts of information like navigation and music at the same time.
The downside is that this is not a touch screen. Instead, you need to use the Remote Touch interface to control the Lexus system. The joystick version on the IS 350 is easier to use than the touchpad found in other Lexus models, but still distracting to use while driving and ultimately not as nice as a touch screen.
Bluetooth phone calls sound good and it is easy to carry on a conversation thanks to very little road noise in the car.
With the 15-speaker Mark Levinson sound system and a small cabin you get an excellent experience that lets you immerse yourself in your music.
The Lexus IS 350 includes a nice selection of safety and convenience features thanks in part to the Lexus Safety System + which includes a Pre-Collision System with Pedestrian Detection, High Speed Dynamic Radar Cruise Control, Lane Departure warning with Steering assist and Intelligent High beams.
The radar cruise is amazing on long trips and our model came with Blind Spot monitoring, which is a free option on the IS 350 F Sport, but you have to choose it. I also tested the adaptive front lighting, which turns the headlights slightly as you take a corner to keep the road illuminated.
You Need These 10 Must Have Car Features: Find Out Why
Smart Cruise Control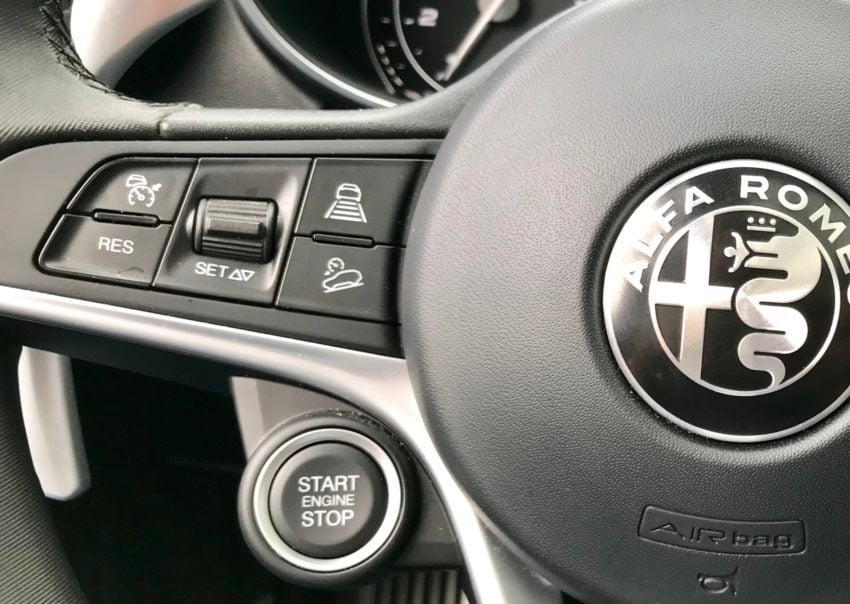 Do you hate constantly adjusting your cruise control, or giving up on cruise control because of traffic or due to a driver in front of you who keeps changing speed? You need a smart cruise control system.
Smart cruise control goes by many different names. You may see it listed as Radar Cruise, Adaptive Cruise or Intelligent Cruise control. Whatever it is called, it will allow you to set your cruise control and then stay with the flow of slower traffic.
Here's why we love it and why you need it. You get on the highway and set the cruise at 76 miles per hour. You also set the distance you want kept between you and the car in front of you. There are typically three or four settings so you can be close or keep a lot of space. Now you simply steer and your car will go 76 mile per hour when traffic allows it or there is no one in front of you. When someone is in front of you going 73 mph, the car automatically slows down to keep you the distance you choose from that car. This is indispensable in traffic and on long road trips.
Not all smart cruise control systems are the same. Some of work at all speeds, while others only work above a specific limit. Some systems can bring you to a complete stop in traffic and then restart without you needing to touch a pedal.
You can find adaptive cruise control on cars as cheap as $18,500 like the Toyota Corolla, and as an option on many cars below $30,000. Even on pricier cars you may need a higher trim level or special package to get this feature.