2019 Toyota Avalon Review
The 2019 Toyota Avalon is a great sedan that delivers good looks, a comfortable ride, plenty of power, a taste of new tech with Apple CarPlay and smart driver convenience features that you don't want to miss.
Toyota delivers a much improved Avalon that's an inch closer to the ground, two inches longer and an interior that is ready to compete with entry-level luxury sedans. While the Avalon is only two inches longer there is 2.3-inches of extra leg room in the back seat, without crunching the front seat.
This all comes together to deliver a sportier, more modern Avalon designed for adults who need room for more adults and who want something with smart looks inside and out.
Available in a variety of trim levels with a hybrid option on three trim levels including the Limited that I spent the week testing.
[letsreview]
How Does the 2019 Toyota Avalon Drive?
The Toyota Avalon comes with plenty of power thanks to a V-6 that is shared across the trim levels. If you opt for the hybrid that I tested you get a 2.5-liter 4 cylinder paired with dual electric motors. This puts out less power than the standard models, but there is still plenty of pep for getting around town, merging into traffic and enjoying your time behind the wheel. The Avalon Limited Hybrid is only $1,000 more than the standard Limited and it nearly doubles the city fuel economy from 22 mpg to 43 mpg, so you'll recoup the grand in no time through gas savings. You don't lose any trunk space when you opt for the hybrid.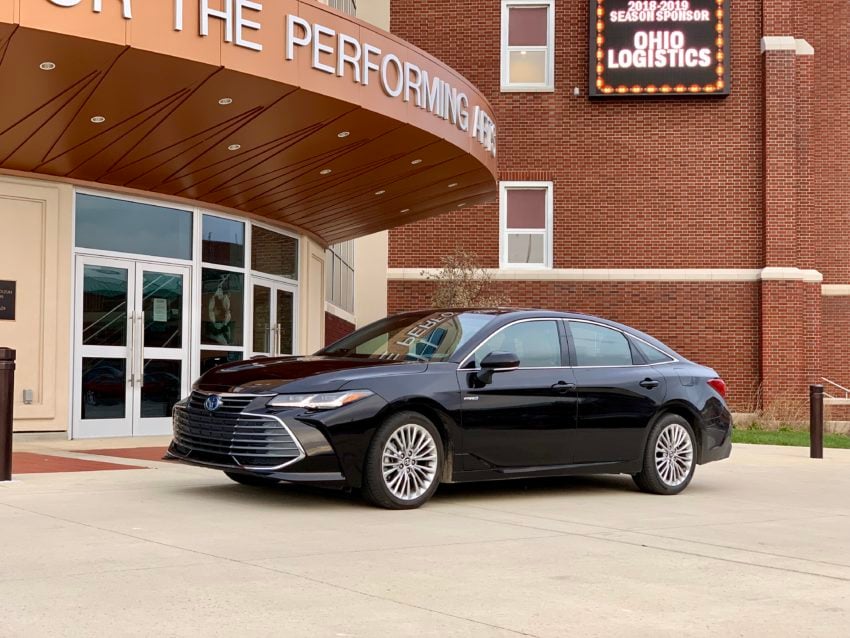 Despite the sporty look, the ride is tuned more for comfort. This is especially true on the Limited trim level. The Touring features an adaptive variable suspension that may prove more lively. Even with the ride dialed into comfort, the handling is good and the Avalon performed well on snowy and icy roads as I drove to the airport.
If you opt for the standard V6 engine the Avalon MPG is rated at 22 mpg city and 31 mpg highway. With 43 mpg for city and highway on the Hybrid, it's a tempting option for buyers to upgrade to at the XLE, XSE or Limited trim levels for only $1,000 more.
2019 Toyota Avalon Interior & Design
The 2019 Avalon arrives with a bolder style a huge grille on the Limited trim and a spacious interior made of high quality materials. Toyota upped their game with the new Camry and keeps this going with the new Avalon. Thanks to a bold angular design on the sides and rear, the Avalon is able to pull off the huge grille on the front end.
With a new lower stance and a roofline that flows smoothly from the front to the rear, the Avalon looks amazing in profile. Up front angles add a hint of sporty styling to the massive grill and the slim LED daytime running accents do a great job of highlighting the style. Speaking of lights, on the Touring and Limited the adaptive cornering lights are an excellent upgrade.
The new Avalon interior uses aluminum on the XSE and Touring or real wood accents on the Limited. The interior design flows nicely and the premium materials match up well with the new design. Controls are easy to reach and soft materials are throughout. A 7-inch display in the center of the instrument cluster allows you to see key information about your trip or about the car.
Up front there is plenty of room for the driver and passenger, but the backseat is the star here with more leg room and space than on the previous Avalon. You get an increase of over two inches of leg room in the back. That makes this a sedan where there is plenty of room for passengers. In the back seat of the Limited, you get two USB ports and heated seats. It's a car that offers the space you'd typically need to upgrade to a crossover for, and that's becoming harder to find.
2019 Toyota Avalon Tech and Safety
The Toyota Avalon is one of the first Toyota's with Apple CarPlay support. This is a great feature that puts your phone, Siri, maps and more within easy reach while driving. It's especially handy to use with Waze while driving, to get routed around traffic and to get other alerts. There is no Android Auto support.
CarPlay works very well, and the standard screen and system is good. It's a very welcome upgrade for 2019, and it works alongside apps that are built in like Yelp, Slacker, NPR One and others. Connectivity includes support for the Apple Watch and Android watches to find your Avalon, lock or unlock the car and start the engine. Wireless charging in the center console can keep your phone charged up without the need for a cable.
The Limited came equipped with the 14 speaker JBL Clari-Fi speaker system that sounds very nice. Phone calls worked well with little road noise creeping into the cabin.
Toyota Safety Sense P is standard with the 2019 Avalon. This includes a number of safety and convenience features that help keep you safe and help take the toll out of long trips. This includes Pre-Collision with Pedestrian Detection, Lane Departure Alert that will also steer you into your lane if it senses you going outside of it. This also includes radar cruise control that keeps a safe distance between your car and a car in front of you while keeping as close to your cruise speed as possible. This system works at slow speeds and at highway speeds. Automatic high beams round out this set of features, turning the brights on when you can use them and off automatically when traffic is detected. These standard features make the Avalon safer and work very well.
On the Touring and Limited trim levels adaptive cornering lights help illuminate turns, which is a huge help during night driving. Overall the headlights are very good, and the cornering feature takes them up a notch.
You Need These 10 Must Have Car Features: Find Out Why
Smart Cruise Control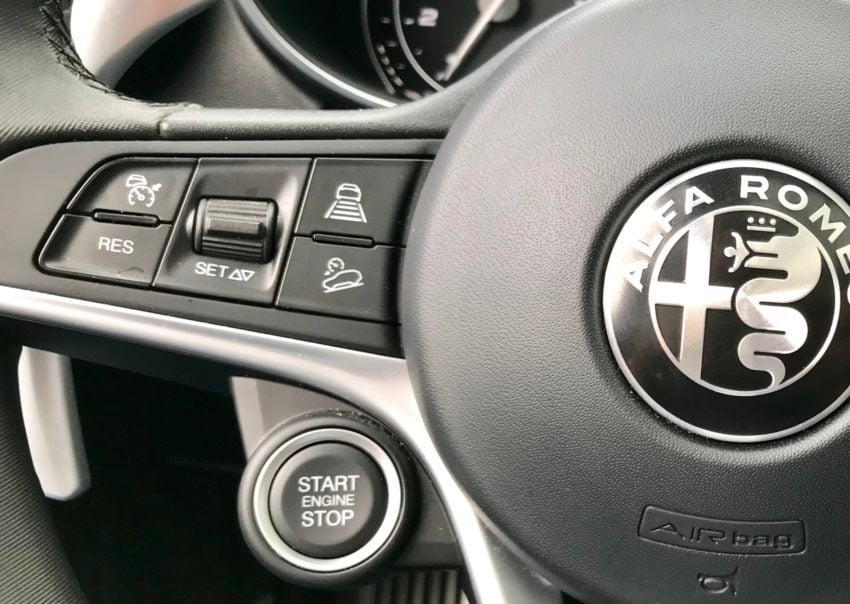 Do you hate constantly adjusting your cruise control, or giving up on cruise control because of traffic or due to a driver in front of you who keeps changing speed? You need a smart cruise control system.
Smart cruise control goes by many different names. You may see it listed as Radar Cruise, Adaptive Cruise or Intelligent Cruise control. Whatever it is called, it will allow you to set your cruise control and then stay with the flow of slower traffic.
Here's why we love it and why you need it. You get on the highway and set the cruise at 76 miles per hour. You also set the distance you want kept between you and the car in front of you. There are typically three or four settings so you can be close or keep a lot of space. Now you simply steer and your car will go 76 mile per hour when traffic allows it or there is no one in front of you. When someone is in front of you going 73 mph, the car automatically slows down to keep you the distance you choose from that car. This is indispensable in traffic and on long road trips.
Not all smart cruise control systems are the same. Some of work at all speeds, while others only work above a specific limit. Some systems can bring you to a complete stop in traffic and then restart without you needing to touch a pedal.
You can find adaptive cruise control on cars as cheap as $18,500 like the Toyota Corolla, and as an option on many cars below $30,000. Even on pricier cars you may need a higher trim level or special package to get this feature.