4 Reasons Not to Install iPadOS 13.7 & 11 Reasons You Should
Install iPadOS 13.7 for COVID-19 Support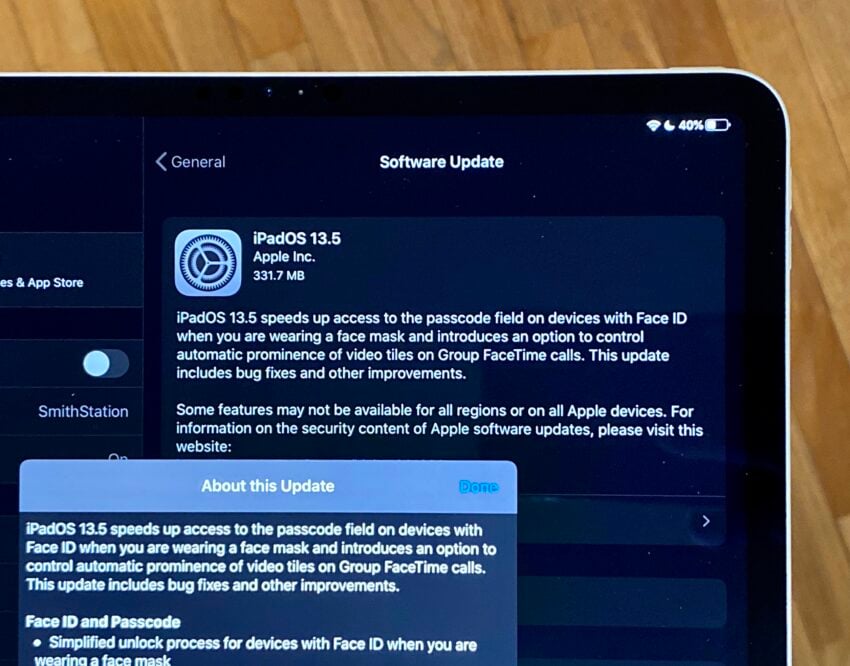 If you skipped iPadOS 13.6.1, iPadOS 13.6, iPadOS 13.5.1, and iPadOS 13.5, iPadOS 13.7 brings upgrades that could be useful during the COVID-19 pandemic.
iPadOS 13.5 included a small tweak to Face ID that makes it easier to skip Face ID unlock if you're wearing a mask.
With iPadOS 13.7, iPadOS 13.6.1, iPadOS 13.6, iPadOS 13.5.1, or iPadOS 13.5 on board your iPad Pro, your iPad, Face ID will be able to detect if you're wearing a mask.
If it detects that you're wearing a mask, it will immediately skip to the passcode screen. The passcode field automatically pops up after you swipe up from the bottom of the lock screen.
Apple says the feature works when authenticating with the App Store, Apple Books, Apple Pay, iTunes, and other apps that support signing in with Face ID.
The iPadOS 13.5 update also brought Apple's Exposure Notification API which supports COVID-19 contact tracing apps from public health authorities.
You can learn more about that right here.

This article may contain affiliate links. Click here for more details.