3 Reasons to Buy Fallout 76 & 7 Reasons to Wait
Buy Now If You Find a $200 Power Armor Edition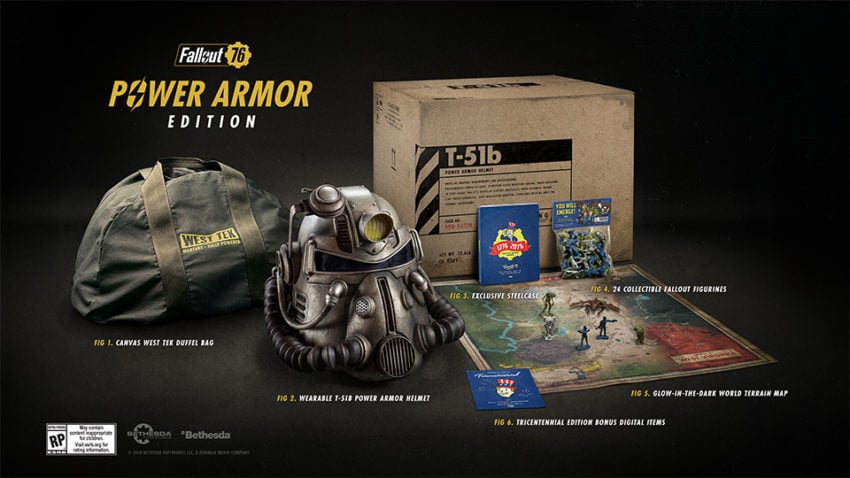 If you can find the Fallout 76 Power Armor Edition in stock you should buy now.
The Power Armor Edition is a $200 bundle that nets you a copy of the game and some unique items. These items include:




Full-Scale Wearable T-51 Power Armor Helmet with West Tek Canvas Carrying Bag: This wearable helmet faithfully replicates the in-game model and comes complete with voice modulator speaker, functioning LED head lamp and custom V.A.T.S. sound feature.




Glow-in-the-Dark World Terrain Map: This physical, fully-colorized 21"x 21" glow-in-the-dark vintage map showcases the six distinct regions of West Virginia complete with irradiated landmarks, towns and wildlife.




24 Collectible Fallout Figurines: Crafted from in-game 3D models, these detailed miniatures bring Fallout 76's Vault Dwellers, Power Armored Soldiers, Creatures and more to life.




Tricentennial Steelbook: Exclusive to the Power Armor Edition, this decorated metal case is the ultimate collectible celebrating America's 300 years of freedom.




Fallout 76 Tricentennial Edition Bonus In-Game Items: Celebrate 300 years of freedom with the all-new Fallout 76 Tricentennial Edition, commemorating the opening of Vault 76. Be the talk of the town when you emerge from Vault 76 fully prepared and patriotically styled in the new American frontier!
The bundle is currently sold out at many retailers with no word on when stock will return. Amazon recently got resupplied, but the stock sold out within hours.
If you really want this version of the game and you're able to find it for $200, you'll probably want to pull the trigger.
Once stock vanishes from retailers, you'll have to deal with resellers like Craigslist and eBay. Scalpers are already charging more than $250 for the Power Armor Edition and we could see prices go up as we approach the holiday shopping season.
Keep your eyes peeled for additional stock at Amazon, Best Buy, and GameStop as we push through the fall. If you have a chance to snag it for $200, do it. Otherwise you might have to wait for prices to drop in 2019.