4 Reasons Not to Install Galaxy S9 Pie Beta & 13 Reasons You Should
Downloading the Galaxy S9 Android Pie beta might be tempting, but many Galaxy S9 users should avoid the early version of the Android 9.0 and Samsung's new One UI.
After a bit of a wait, the highly anticipated Samsung Galaxy S9 Pie beta is live in South Korea, the United States, the United Kingdom, and Germany. The update is will also spread to China, France, India, Poland, and Spain though we don't have a specific date just yet.
If you want to join the Galaxy S9 Android Pie beta program, you'll need to signup via the Samsung Members app or the Samsung+ app if you live in the United States. The Galaxy S9 Android Pie beta is free and signing up will only take a few minutes of your time.
There are plenty of reasons to try the Galaxy S9 Android Pie beta if it's available for your device in your country. Samsung's version of Android 9.0 Pie comes with a long list of changes including the company's brand new One UI (formerly known as Samsung Experience and TouchWiz).
The Android Pie/One UI beta is a great way to get familiar with these features and to test performance on your device ahead of software's official release in January, 2019. Trying early software isn't for everyone though.
This is an early version of Android 9.0 and One UI and we the software is causing problems for a lot of beta testers. Samsung's fixed some of these issues in new versions of the beta, but if you depend on your Galaxy S9 or Galaxy S9+ to get you through the day, you should think about staying put on Android Oreo.
If you're on the fence, allow us to take you through the best reasons to install the Galaxy S9 Android Pie beta and the best reasons to avoid it.
Install the Galaxy S9 Pie Beta to Help Samsung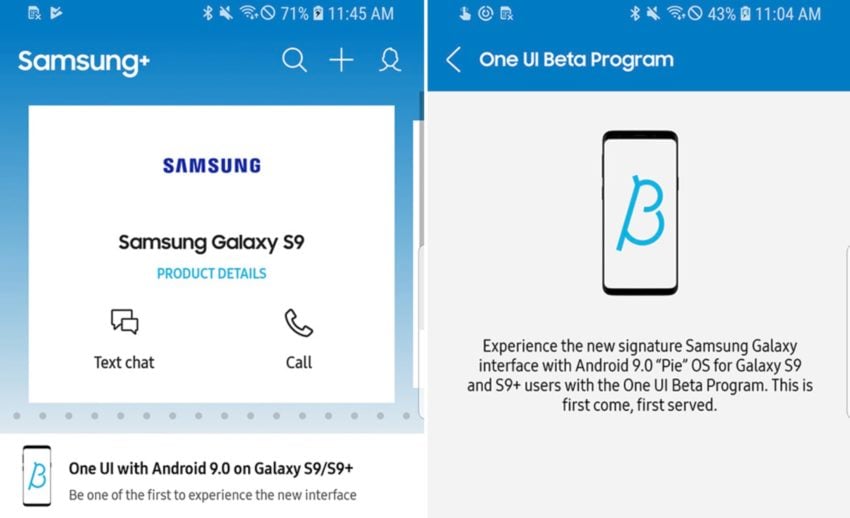 Trying new features before they're officially released is fun, but your testing will help Samsung improve Android Pie's performance for many others.
If you're sick and tired of dealing with Android problems on your device, think about trying the Android 9.0/One UI beta on your phone.
Your testing could help Samsung's engineers squash bugs and major performance issues before the official version is released to millions of Galaxy users in January.
Reporting bugs is extremely easy and your feedback, no matter how small, could help the company provide a much better experience for all Galaxy S9 users come January.
To send feedback about the Android Pie beta, you need to launch the Samsung+/Samsung Members and post your bug report(s) under the appropriate menu.
It only takes a few minutes and it could have a huge impact on the quality of Samsung's new operating system.