5 Things to Know About the macOS 10.15.1 Update
Apple just released the macOS Catalina 10.15.1 update for the Mac with new Emoji, Homekit Secure Video support, AirPods Pro support, and other changes. This is the first major update for macOS Catalina.
We've seen two supplemental updates fix some issues, but the macOS 10.15.1 update is one that many users were waiting for. While Apple adds in new Emojis and features, this is a bug fix and problem solver update as well. There is a chance that it will make macOS Catalina worth upgrading to for some users.
This look at macOS 10.15.1 runs through what's new, what you can expect from the release date and time as well as details about the beta and if it will make macOS Catalina worth installing.
macOS 10.15.1 Release Date
The macOS 10.15.1 release date is here now. You can find this update on your Mac by checking for updates. You may need to install the supplemental update first before this update will show up.
This shares some features with iOS 13.2, which arrived yesterday. There is a chance that it is paving the way for Apple to announce the MacBook Pro 16.
macOS 10.15.1 Release Time
The release time arrived at just after 10 AM Pacific. Apple normally releases new updates at this time, and if they choose to push out the update along with iOS 13.2, this will make even more sense. There's a breakdown of this time across other regions below.
Eastern – 1 PM
Central – 12 PM
Mountain – 11 AM
London – 6 PM
Moscow – 9 PM
New Delhi – 10:30 PM
Shanghai – 1 AM
Tokyo – 2 AM
Melbourne – 3 AM
Auckland – 5 AM
You should be able to download this update right now on your Mac.
macOS 10.15.1: What's New
We know about some of the new macOS 10.15.1 features and that there are bug fixes and improvements as well. Here's what's new in this update. We may add more as we have more time to go hands-on with the update.
Over 70 new or updated emoji, including animals, food, activities, new accessibility emoji, gender neutral emoji, and skin tones selection for couple emoji
Introduces support for AirPods Pro
HomeKit Secure Video enables you to privately capture, store, and view encrypted video from your security cameras and features people, animal, and vehicle detection
HomeKit enabled routers let you control how your HomeKit accessories communicate over the internet or in your home
Adds support for AirPlay 2-enabled speakers in scenes and automations
Privacy settings to control whether or not to help improve Siri and Dictation by allowing Apple to store audio of your Siri and Dictation interactions
Option to delete your Siri and Dictation history from Siri Settings
There are plenty of bug fixes as well, including;
Restores the ability to view file names in the All Photos view in Photos
Restores the ability to filter by favorites, photos, videos, edited, and keywords in Days view in Photos
Fixes an issue where Messages would only send a single notification when the option to repeat alerts was enabled
Resolves an issue that caused Contacts to launch to the previously opened contact instead of the contact list
Adds a two-finger swipe gesture for back navigation in Apple News
Resolves issues that may occur in the Music app when displaying playlists inside folders and newly added songs in the Songs list
Improves reliability of migrating iTunes library databases into the Music, Podcasts, and TV apps
Fixes an issue where downloaded titles were not visible in the Downloads folder in the TV app
We'll share more as we learn about the new macOS Catalina 10.15.1 features.
What's Next for macOS Catalina?
We will likely see a macOS 10.15.2 beta in the coming weeks as Apple continues to add in new features and work on bugs and the macOS Catalina problems.
While you may be tempted to install the macOS Catalina beta as soon as it comes out, the beta could bring more issues, especially in the first release.
Expect to see a developer beta of the next macOS update in November, and potentially smaller supplemental or point updates in the coming weeks.
Should You Install macOS 10.15.1?
At this point, if you are still on macOS Mojave, you may want to wait a few more days or weeks to go to macOS Catalina unless you absolutely need to. There are simply too many issues and problems with apps and features for most users to upgrade.
Even with awesome new features that are worth updating for, like Sidecar, there are simply too many problems and issues. The macOS 10.15.1 update may solve this issue, but it could bring other issues.
If you are already on macOS Catalina, then you should install this update, but if you are on Mojave, wait there for at least another few days.
7 Reasons Not to Install macOS Catalina & 14 Reasons to Install macOS 10.15.7 Today
Install for macOS 10.15.6 Fixes and Security Updates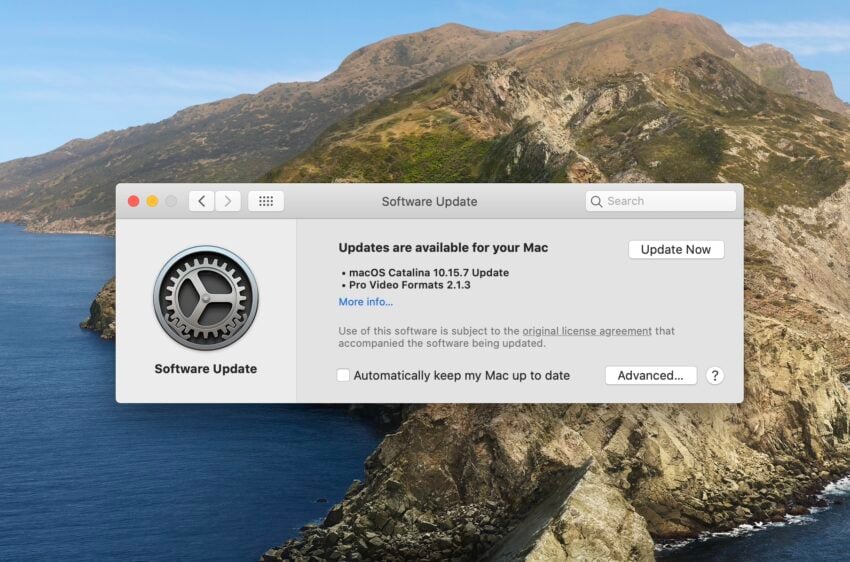 If you are on macOS Mojave or an older version of macOS 10.15, you should install this update to get the latest security fixes and new features that come with macOS. These include security updates that help keep your data safe and updates that patch bugs and other macOS Catalina problems.
The macOS 10.15.7 update includes the following fixes;




Resolves an issue where macOS would not automatically connect to Wi-Fi networks

Fixes an issue that could prevent files syncing through iCloud Drive

Addresses a graphic issue that may occur on iMac (Retina 5K, 27-inch, 2020) with Radeon Pro 5700 XT
We will also see a list of security updates in this, which are disclosed on this security page.