7 Reasons Not to Install macOS Catalina & 14 Reasons to Install macOS 10.15.6 Today
Should you install macOS 10.15.6 on your Mac? This is one of the last macOS Catalina updates that we expect to see, but it includes some important features and bug fixes.
There are a lot of important reasons to install this new macOS update and good reasons that you may finally want to go from macOS Mojave to macOS Catalina. Here's a look at the reasons not to install macOS 10.15.6 and the reasons you should.
Apple released the macOS 10.15.6 update on July 15th with Apple News updates including a new local news section in larger cities and the option to customize your daily newsletter. It also includes major fixes for issues relating to battery life, installing updates, and using USB mice and keypads. In late June Apple announced the macOS Big Sur beta, which users can try out right now, but it is still very early.
macOS Catilina is more stable than it was in late 2019 when it first arrived. That said, you should make sure that you pay attention to your situation and to early reports before you install this update. Many Apple Stores remain closed, so if you need support for a problem, it will not be as easy as going into a store.
The macOS 10.15.6 update is a significant update that will take time to download and install. Once you decide to install, make sure you follow these steps to prepare before you install 10.15.6.
There is still a good chance that you tun into macOS Catalina problems on any of the versions, even macOS 10.15.6. Here's how to fix many common macOS Catalina problems.
Our guide will help you decide if you should install macOS Catalina today, or if you are better off waiting a few days or weeks. It's still early to wait for the official macOS Big Sur release this fall, but you may want to try the beta out this summer.
While updating iOS may be a simple decision, the number of things your Mac can connect to and the new security restrictions could mean that you are better off waiting even if you normally install updates early.
Why You Should Install macOS Catalina
Install for macOS Fixes & Security
Install for Better Battery Management
Install for iCloud Drive Folder Sharing
Using Your iPad as a Display + Apple Pencil
Apple TV, Podcasts & Apple Music on Your Mac
If You Use Apple Arcade
Upgraded Photos App
New and Improved Notes
Reminders You Can Finally Use
For Screen Time on Your Mac
For Better Security And Privacy
So You Don't Lose Your Mac
For Better Apple Watch Integration
Better Accessibility
Sale
MacBook Pro 16-inch
Ninth-generation 6-Core Intel Core i7 Processor
Stunning 16-inch Retina Display with True Tone technology
Touch Bar and Touch ID
AMD Radeon Pro 5300M Graphics with GDDR6 memory
Ultrafast SSD
Why You Shouldn't Install macOS Catalina Yet
Don't Install if You Are Trying the macOS Big Sur Beta
If You Aren't Prepared
If you Rely on 32 Bit Apps
You Use Specialized Software or Hardware
If You Are Worried About macOS Catalina Problems
If Your Situation is Fluid
If You Are Using an Old Mac
If you're currently on the fence, this is what you need to know about whether the time is right to install the macOS Catalina update today or if you should join a growing number of folks that are holding off.
Read: Get the Best Work From Home Chair You Can Buy
Install for macOS 10.15.6 Fixes and Security Updates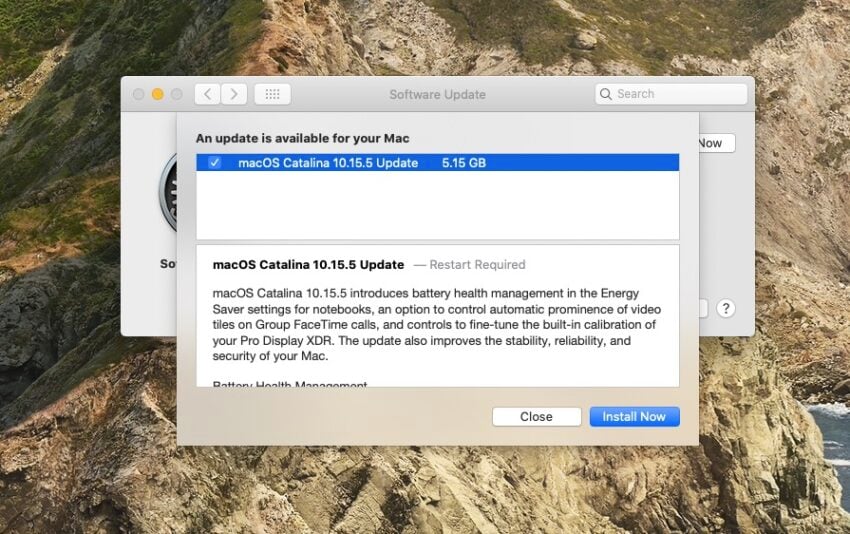 If you are on macOS Mojave or an older version of macOS 10.15, you should install this update to get the latest security fixes and new features that come with macOS. These include security updates that help keep your data safe and updates that patch bugs and other macOS Catalina problems.
The macOS 10.15.6 update includes the following fixes;

Adds a new option to optimize video streaming on HDR-compatible Mac notebooks for improved battery life
Fixes an issue where the computer name may change after installing a software update
Resolves an issue where certain USB mouse and trackpads may lose connection
We will also see a list of security updates in this, which are disclosed on this security page.
Last update on 2020-08-11. This post may contain affiliate links. Click here to read our disclosure policy for more details. Images via Amazon API