7 Exciting iPhone 6 iOS 9 Features
Apple's iPhone 6 iOS 9 update is due to arrive this fall and many users are already testing out the new iOS 9 features as part of a public beta. The iPhone 6s will likely get a few features that the iPhone 6 does not, but for the most part we will see a big upgrade to the iPhone 6. As we look into the future, here are the most exciting iPhone 6 iOS 9 features that you will be able to enjoy soon.
We already know a lot about iOS 9 thanks to the announcement at WWDC 2015 in June and the public beta that allows users to try it before the official release. iOS 9 replaces iOS 8 on the iPhone and iPad this fall. The iOS 9 update arrives for all devices running iOS 8, but there are some features that only come to the iPhone 6 and above.
[contextly_sidebar id="oVFifyrS4FjfoGfFgj5zQxjLi3cClqmB"]Thanks to a plethora of updates like iOS 8.4 and iOS 8.3, the iPhone 6 runs smoother than it did a year ago, but there are still many exciting features to come this fall. Here is a closer look at some of the new iOS 9 features that will help you avoid the temptation to upgrade to the iPhone 6s after just a year.
One common complaint about major updates like iOS 9 is that it can degrade battery life and performance on older devices, but this is not normally as much of an issue on newer devices even though users may feel like their device is slowing down after a year.
The iOS 9 release date is confirmed for the fall, and it will likely come just a few days before a new iPhone 6s release date so that iPhone 6 users get the latest features first.
After spending time using the iOS 9 beta on the iPhone 6 Plus, we want to share some of the exciting new iPhone 6 features coming this fall to iPhone 6 owners as part of the free iOS 9 update.
7 Exciting iPhone 6 iOS 9 Features
Better iPhone 6 Battery Life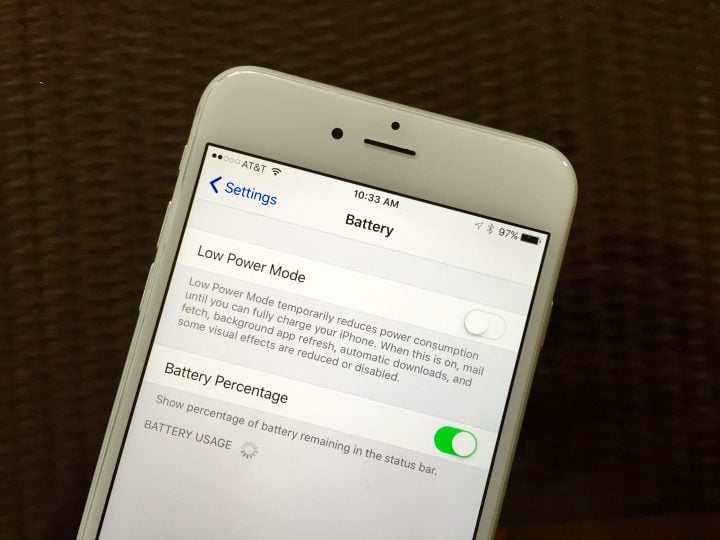 Apple will deliver two major improvements to the iPhone 6 battery life this fall that will add up to an hour of normal use to your iPhone 6 every day and a special mode that can add another three hours of use with a special low power option.
Instead of flipping options on and off so that you can get your iPhone 6 through the day, you only need to toggle the new iOS 9 Low Power Mode to on and the iPhone 6 will turn off battery sucking options to last another three hours without significantly changing how you use the iPhone.
In day-to-day use iOS 9 is more efficient, which means the iPhone 6 will last at least one more hour of regular use for most owners. Think about where your iPhone 6 battery dies now and then add an hour. For many of us, one more hour is all we need on an average day and three hours will get us through the longer and busier days.