7 Windows 10 Anniversary Update Problems & How to Fix Them
The newly available Windows 10 Anniversary Update, made for devices running Microsoft's latest operating system, isn't exactly the most exciting release to have come from the company these last few years. Windows 10 Anniversary Update is more medicine than sweetener. It's meant to add small things Microsoft didn't get around to finishing with the first Windows 10 update. There are new features in the update too, but they're outnumbered by convenient fixes and tiny upgrades advancements. Windows 10 Anniversary Update problems are also on the rise.
Since beginning its rollout on August 2nd, the Windows 10 Anniversary Update seems to have installed properly on millions of systems. Microsoft is rolling out the software update to everyone that's eligible gradually, there are over 300 million Windows 10 users today, some of which took advantage of the company's Free Windows 10 Upgrade Offer and others that simply purchased a new PC with the operating system running on it. Windows 10 upgrades aren't optional for most.
Read: Windows 10 Anniversary Update Review: Everything Necessary
As the launch has grown, Windows 10 Upgrade problems have grown too. Some of them are rather basic and involve Microsoft changing Windows 10's feature set. Others are more severe, and include everything Microsoft Edge being unstable to apps not opening.
Gotta Be Mobile has cataloged the most severe problems and tracked down fixes when possible.
Windows 10 Anniversary Update Problems: Getting the Update
Getting the update is simple; Microsoft isn't requiring users to download a utility or access it through the Windows Store. It's tied the upgrade to Windows Update, where millions of Windows 10 PCs will get it behind the scenes.
If you haven't gotten it yet, you can check to see if your PC is ready for it manually. Go to the Settings app, then select Update & Security. Next click on the Check for Updates button in the Windows 10 app.
Read: Should You Rush to Download the Windows 10 Anniversary Update?
Feature Update 1607 should be ready for download. If it's not, try manually downloading the upgrade from here.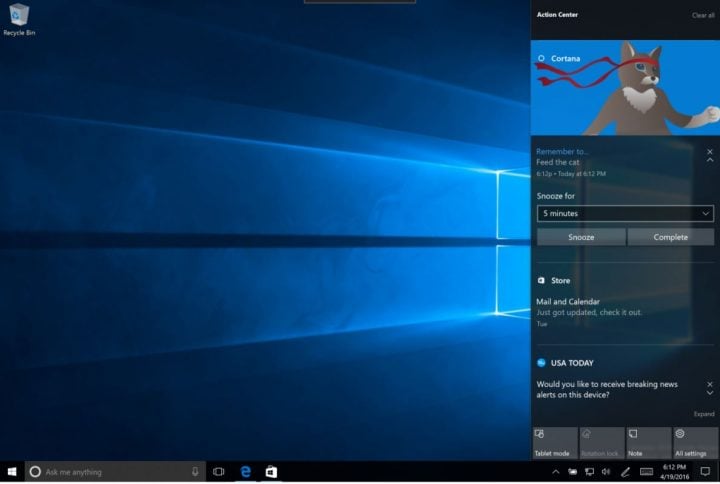 Windows 10 Anniversary Update Problems: Android Notifications Not Showing Up on Your PC
The Windows 10 Anniversary Update upgrades Cortana, this time with the ability to monitor Android smartphones and Windows phones for the latest notifications. She'll tell you when your phone battery is dead, plus alert you of incoming text messages, that you can reply to from the Action Center.
Read: 10 Tips for Windows 10 & Xbox Users
Windows 10 Mobile has this functionality built-in, but Android owners will need to download the latest version of Cortana from the Google Play Store. What's more, the Microsoft Account used in Windows 10 must be the same as the one used in the Android app.
Windows 10 Anniversary Update Problems: Microsoft Edge Crashing
A remarkable amount of people say that Microsoft Edge, the default browser that Microsoft added with last year's Windows 10 update, becomes less stable once the Windows 10 Anniversary Update is installed. We can confirm that this is absolutely the case; our upgraded PCs are suffering from Edge crashes and freezes at a pretty regularly.
Some have suggested that uninstalling any Edge Extension that you've added from the Windows Store fixes the problem. Microsoft doesn't install any Edge Extensions by default though, meaning that can't be what's behind the issue for most upgraders.
For now, we recommend turning to Google Chrome, Internet Explorer or Firefox for web pages that are giving you a hard time.
Windows 10 Anniversary Update Problems: Cortana Won't Open
After the Windows 10 Anniversary Update, Cortana can fail to open for some. We're not sure what the cause of this is, as Microsoft hasn't removed any territories are changed where it offers the personal assistant. It's absolutely a technical glitch, one Microsoft hasn't come up with a fix for yet.
Windows 10 Anniversary Update Problems: Installing Edge Extensions
It can be a little confusing to install a Microsoft Edge Extension. New for the Windows 10 Anniversary Update, Edge Extensions allow Windows 10 users to add new features to the browser. Extensions aren't made by Microsoft, but by third-party developers. Chrome and Firefox feature a take on Extensions too.
Read: How to Block Ads in Microsoft Edge for Windows 10
Right now, there aren't too many Edge Extensions available. You can download new ones – like AdBlock and a Reddit enhancement suite from the Windows Store here.
Windows 10 Anniversary Update Problems: Apps, Lives Tiles and Start Are Wrong Size
The Windows 10 Anniversary Update comes packed with behind the scenes changes for how the operating system deals with multiple displays and what appears to be a few scaling tweaks. When you first login to your PC, you may find that the size of some elements – mainly the Start Menu and some apps has changed.
Go to the Settings app and tap or click on System. Then select Display. Use the slider to get the size of on-screen elements just right. If this doesn't fix your issue, try looking for new display drivers by checking for updates from the Update & Security area in the Settings app.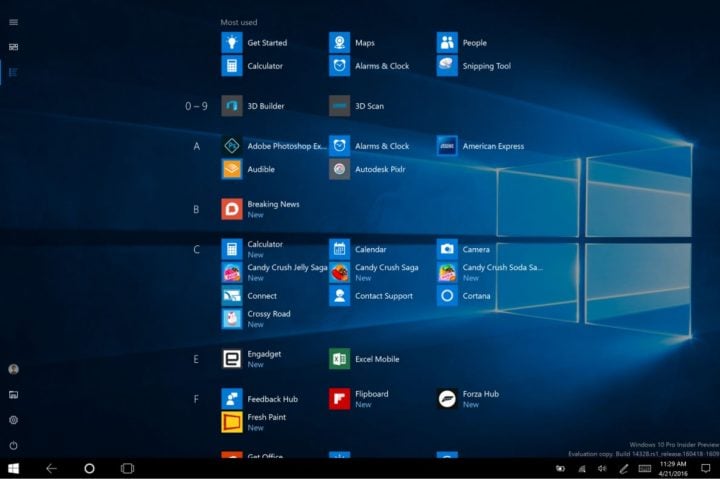 Windows 10 Anniversary Update Problems: Apps Won't Open
Windows 10 Anniversary Update shouldn't break your apps, but if you notice one not starting correctly, the update provides you with tools to fix it.
Go to the Settings app, then select System. Tap or click on Apps & Features in the menu. Now look for the app that's not working correctly in the list. Tap or click on that app, then select Advanced Options. Hit the Reset button on that app.
Gotta Be Mobile will continue to add Windows 10 Anniversary Update problems and fixes to this list as we learn more about them.
17 Anniversary Windows 10 Update Features
Cortana Upgrades
The procession of impressive new features begins with Cortana, Microsoft's digital personal assistant. With the first Windows 10 release, Cortana became cross-platform; there are apps for Android and iPhone now.
With this release, Microsoft is closely tying the assistant to Windows phone and Android. Cortana now stays informed of your device's battery life. She notifies users when your battery is low. She can be asked to track down your iPhone or Android device using its built-in GPS too. The personal assistant now sends directions` directly to your phone when you request them on your Windows 10 PC. The company says that it has improved the setup process for Cortana too.

As an Amazon Associate I earn from qualifying purchases.