Android M vs Android 5.1 Lollipop Walkthrough: What's New So Far
Android 5.1 vs Android M - Pulldown Bar Quick Settings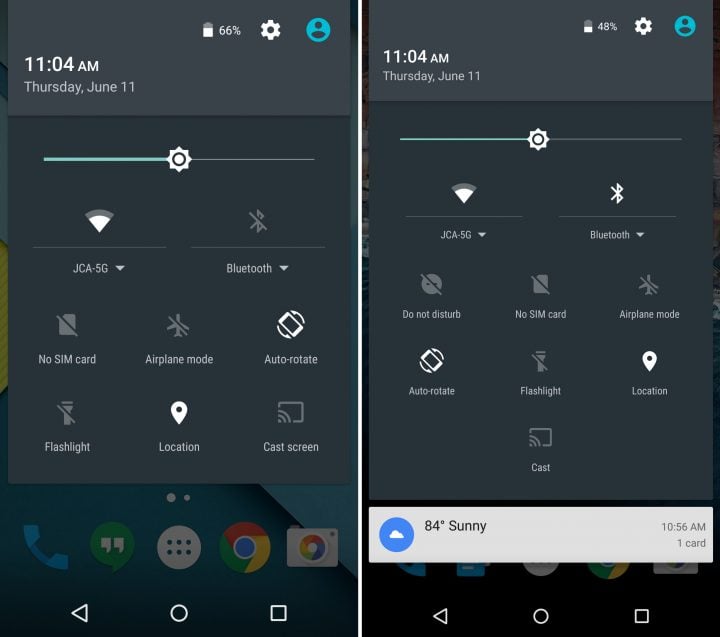 When you unlock into Android M the entire experience looks almost the same at first glance. Nothing on the main screen is any different, but there are changes. All the new additions are with permissions, do not disturb mode, quick settings, a dark theme for the settings menu, doze to improve battery life and more. Again, most of this isn't visual, so it's hard to see some of the changes at first glance.
The notification pulldown bar remains for the most part the same, but swiping down with two finger to access the quick settings has some changes. For one, the quick settings can be changed and rearranged like 3rd party manufacturers have been doing for years, but this is hidden in developer options and may not be an option when Android M is released.
However you'll notice a new "Do not disturb" quick setting in Android M. Tapping this turns off all notifications, even alarms, but lets you customize everything. The do not disturb mode has been improved with more user control with options for total silence with zero notifications, only allowing alarms to go off, or a customizable priority mode where only select contacts will be allowed through.
This is great for while at work, in meetings, or at night while sleeping.

This article may contain affiliate links. Click here for more details.