Apple Music vs Spotify: 5 Things You Need to Know
The new Apple Music service delivers better Siri support than the competition, curated playlists and more. Here's a quick look at the Apple Music vs Spotify comparison that you need to see if you are thinking of switching from Spotify to Apple Music for iPhone, iPad, Mac, Windows or Android.
Announced at WWDC 2015, the Apple Music release arrives with iOS 8.4 in late June and then comes to Android and Windows later this year. Apple Music is a streaming service, very much like Spotify, but Apple hopes that by adding in connections to artists and easy access for indie musicians to reach fans.
Read: 35 New iOS 9 Features
Here's what you need to know if you are thinking about quitting Spotify to switch to Apple Music, and why you'll have plenty of time to try the service out with a free Apple Music trial.
Apple Music vs Spotify
Apple Music and Spotify are very similar in key areas. Both of these services offer on demand access to huge catalogs of music. Spotify and Apple Music both claim access to over 30 million tracks.
You cannot stream every song in the iTunes library though. The Beatles are not part of Apple Music, and iTunes purchases remain the only legitimate digital avenue for buying The Beatles albums. Taylor Swift is on Apple Music, but not on Spotify, which is a win for Apple.
Apple Music combines your music and the streaming music in one place. Spotify allows users to add their music to the service, but does not sell music directly and the process is not as straightforward as simply buying a new Taylor Swift track.
Spotify and Apple Music both offer radio stations, but Apple Music stands out with a live radio station called Beats 1 with DJs in major cities across the world. This radio station will air music, interviews and other content.
https://youtu.be/0fZBqV_yMq4
Apple Music does not have the newest Spotify features that offer up the best music to listen to right now based on the current time of day. There is also no mention of anything that matches the Spotify Running feature that can match your music to the speed of your workout.
Spotify launched video support and podcast support, but is not offering music videos in the app like Apple Music does.
Read: Spotify Tips and Tricks
Spotify is available on Mac, Windows, iPhone, iPad and Android. Apple Music is available on iPhone, iPad, Apple Watch, Mac, PC, Android and Apple TV.
Price & Family Plans
Apple Music and Spotify both offer a similar price for single users, but Apple delivers a drastically better deal for families.
https://youtu.be/Y1zs0uHHoSw
Apple Music and Spotify are $9.99 a month for an individual user. Spotify offers  a free 1 month trial of Spotify Premium and a completely free Spotify radio service with ads and no on demand music. Apple Music offers a free three month trial, at least for the start. There is no free version of Apple Music, but iTunes Radio may survive in this role of delivering free music.
Apple Music includes a family plan that works for up to six people for $14.99 a month. The Spotify family plan is $14.99 a month for two users and it is complicated to set up if the other user already pays for Spotify Premium.
Following Artists
Both Spotify and Apple Music allow users to follow artists, but Apple Music is out in the lead with access to a full roundup of artist information that they share including behind the scenes looks, photos and more.
The Apple Music artist following includes a wide array of information and may include sneak peaks at upcoming tracks, favorite artists that musician is listening to and other posts. On stage this looks like a one stop shop for the artist's Instagram, Facebook, Soundcloud and other social media portals.
Following an Artist in Spotify does not deliver this level of access, but it's not clear if the majority of consumers value this connectivity.
Finding New Music You'll Love
When you sign up for Apple Music you'll tell the service about the genres and artist you like to get customized help in finding new music. On Stage Apple stated that this is about more than just algorithms, saying there are humans working on the playlists as well. This does not mean that you gain a musical advisor to help you find new music that you love.
Spotify offers radio for the algorithm approach to finding new music you like and also offers curated playlists that are accessible in Spotify Now, on searches by mood and through a global search.
It's too early to declare a clear winner in this segment, but despite the hype and the grandstanding from Apple, the promise they offer is not drastically different from Spotify at this time.
Siri Support
The biggest standout Apple Music feature is that it can tie into Siri in ways that Spotify simply cannot. Apple does not allow apps like Spotify to work with Siri in this same way, giving Apple Music an upper hand and locking out the competition from an excellent feature.
With Apple Music and Siri, subscribers can ask Siri to play the top song from a year or date, to play that song from a movie, your favorite song from an artist and more.
Spotify does not offer this type of support, due to Apple's closed off Siri access that will not allow users to play a specific artist, playlist or track in Spotify or other third-party apps.
15 Important iPhone 6s Rumors
iPhone 6s Release Date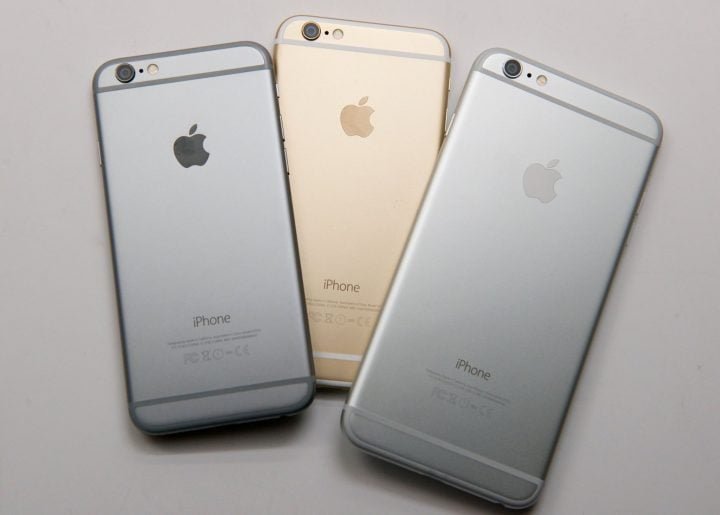 We know Apple plans an event for June 2015, but this is not where you should expect to hear about the iPhone 6s at this event. WWDC 2015 will more than likely focus on iOS 9 and a new version of OS X for Mac.
Expect an iPhone 6s announcement in fall 2015 at a special event dedicated to the iPhone, and possibly the iPod touch.
The last four iPhone release dates took place in a span of 30 days from late September to mid-October and we expect the iPhone 6s release date will arrive in a similar time. A best guess would be that the iPhone 6s release date will come on September 18th or September 25th, based on historical data only.