5 Common Apple Pencil Problems and How to Fix Them
Understanding why the Apple Pencil doesn't work can be tricky, but with out list of how to fix Apple Pencil problems you can solve issues and errors and get back to writing with your fancy stylus.
The Apple Pencil has no buttons, displays or indicators, which can solving a problem appear hard, but the simplicity of the device actually makes fixing problems a straightforward experience.
My Apple Pencil Doesn't Work
Has your Apple Pencil ever worked? If not, you likely need to pair it with your iPad. Or, it may be paired with another iPad in your house, and you need to connect it to your iPad.
Pairing the Apple Pencil to your iPad is simple. Take the cap of the top end and insert the Apple Pencil into the charging port of your iPad. You'll see a pop up notification asking if you want to pair the Pencil with the iPad. Tap on the pop up to agree. The Apple Pencil should now start working with your iPad.
If the Apple Pencil doesn't work, or you don't see the pop up, you need to check to see if your iPad supports the Apple Pencil. The Apple Pencil works with the 2018 iPad 9.7-inch and with all iPad Pro models. It does not work with any older models.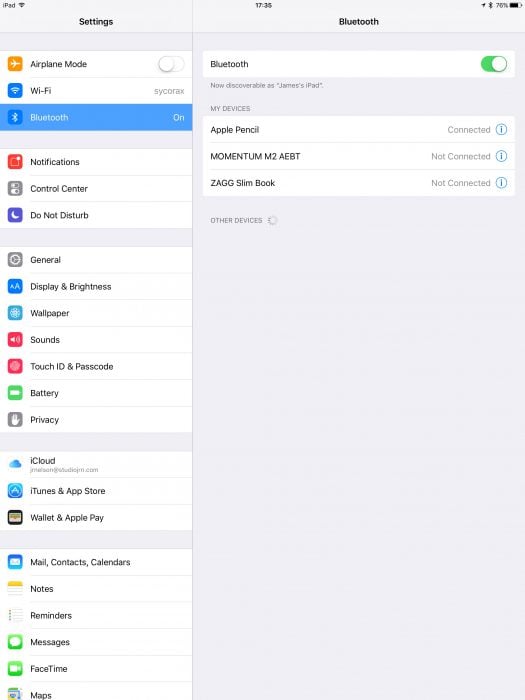 My Apple Pencil Stopped Working
Now you know what to do if your Apple Pencil doesn't work. But what about if it stopped working after using it for some time.
The first thing you need to do is tighten the tip of the Pencil. Hold the Pencil in one hand and then twist the tip clockwise to tighten it. Even if the tip looks like it is solidly in place, you may need to tighten it to make it work again.
Next up, check to make sure Bluetooth is turned on. You might accidentally turn off Bluetooth or turn on AirPlane mode. Swipe to open Control Center and then tap on the Bluetooth logo, it looks like a B, and make sure it is on. It should be blue it if it is on.
Another potential issue is that your Apple Pencil battery might be dead. To fix this, take the cap off your Apple Pencil and plug the Pencil into the Lightning port at the bottom of your iPad. Leave it there for a few minutes and then try using it. If that fixes it, you should charge it more soon, but you can start working right away. Just 15 seconds of charging is enough for 30 minutes of use, but you should top it off soon.
If everything else doesn't work, you may need to delete the Apple Pencil from your iPad and then re-pair it.
Open Settings
Tap on Bluetooth
Tap on the I next to Apple Pencil. 
Tap on Forget this Device.
If asked, confirm tap on Forget this Device again.
Once that is done, plug your Apple Pencil into the iPad and when prompted tap on the option to pair it.
Another simple step to try is restarting your iPad. Sometimes things just stop working, and turning it off and back on will fix it.
Hold the power button until there is an option to turn off the iPad. Do this and wait a minute or so while it turns off. Once it is done, wait a second or two and then hold the power button to turn it on. If this doesn't fix it, you may need to pair the Apple Pencil as outlined above.
If none of the above steps work, you'll probably have to get a new Apple Pencil. You can take it back to the store you purchased it from, if new, or head into an Apple retail store where they'll probably just exchange it for a new one if it is under warranty.
I Can't Tell How Much Apple Pencil Battery Life is Left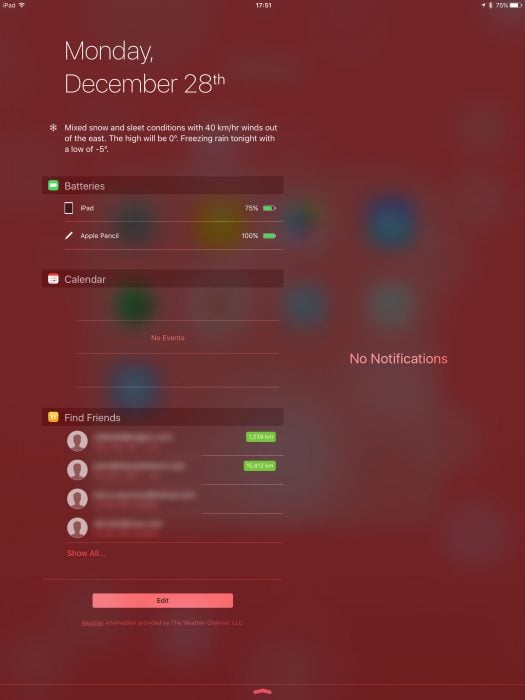 Apple hides the Apple Pencil battery life indicator in the Notification Center of the iPad.
To see it, you need to unlock your iPad and open the Notification Center by swiping down. Now you can swipe to the left to the Today View and look at the Batteries widget to see how much Apple Pencil battery life is left. If you don't see that widget, you can add it.
Tap on the edit button at the bottom of the today view.
Tap on the Batteries widget.
Tap and hold on the three lines and drag it up towards the top of your listings.
This will now show you the Apple Pencil battery life, as well as other Bluetooth devices at a glance.
The Apple Pencil Isn't Writing As Good As It Was
Over time the Apple Pencil tip can degrade and stop working as good as it once did. If you use it a lot you will need to replace it earlier than other users.
Hold the Apple Pencil in one hand.
Turn the tip counter clockwise until it comes off.
Install a new Apple Pencil tip by turning clockwise.
Apple includes a second tip in the Apple Pencil box. If you've already used that, or you've lost it, you can buy a four pack from Apple or Best Buy for $19.99.
My Apple Pencil Doesn't Work in This App
The Apple Pencil works in all iPad apps to select items like you can with your finger, but it may not work like you expect in every app.
If you cannot draw or write with the Apple Pencil, check to see if the app supports handwriting. Some apps may not support handwriting, and you might need to use the keyboard or look for a new app.
Best 9.7-inch iPad Cases (2017 & 2018 iPad)
STM Dux iPad Case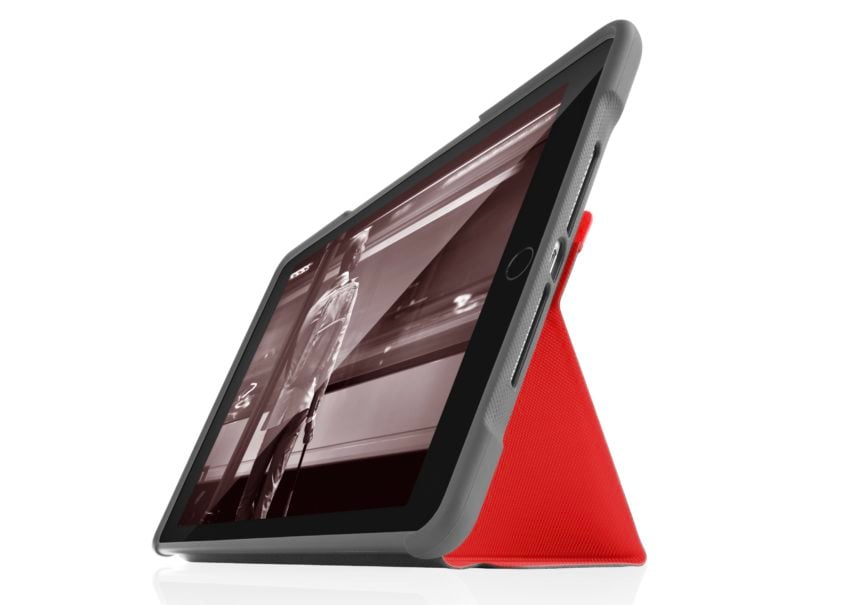 The STM Dux iPad case is an excellent option if you need a 9.7-inch iPad case that wraps up the iPad completely and can stand up to being used by a kid.
I handed this case off to a young tester to put through the paces and after about a month of use his iPad looks like new, despite it going almost everywhere and taking a drop or two during the test.
There is a front flap that protects the screen when carrying the iPad, and it folds up to allow you to use it as a kickstand that is pretty sturdy thanks to slots that lock it into place in kickstand mode.
This is an excellent iPad case, and one of the best options you will find if you are handing a kid a new 9.7-inch iPad.
$59.99 at Amazon