Apple's iPhone 6s Release Date Plans Revealed
If you plan to go to an Apple Store for the iPhone 6s release date on September 25th we now know what you can expect that morning. This information is useful if you plan to walk in to buy a new phone on the iPhone 6s release date or if you use the iPhone 6s reservation plan to secure an iPhone 6s or iPhone 6s Plus at your local Apple Store.
For the second year in a row Apple allows users to reserve the new iPhone for pickup on the release date, which is something you will not find at other retailers or carriers.
At this time you can still reserve the iPhone 6s in most colors and combinations at many retail stores for the iPhone 6s release date, but it is tougher to find the iPhone 6s Plus in stock for release date pickup.
While you can skip the iPhone 6s reservation and stand in line without an iPhone 6s release date reservation you run the risk of going home empty-handed, and you will be split into a separate line.
[contextly_sidebar id="TMOvQLQ1G1rbtVISBfQQwrWGEazAKRSh"]
Apple confirmed that the Apple Stores will open early at 8 AM local time on the iPhone 6s release date, and many carrier locations will as well, but the company did not outline how lines will work yet.
Here's what you need to know about the iPhone 6s lines and how Apple plans to handle the iPhone 6s release date at company stores on September 25th.
iPhone 6s Release Date Timeline & Plans
Once again a leak outlines what Apple Stores will do on the first day of in store sales. This year Benjamin Mayo on 9to5Mac shares the gameplan for September 25th at Apple Retail stores.
If you plan to buy on the iPhone 6s release date, here's what you need to plan for. There are three important times to keep in mind for most users, in addition to your specific iPhone 6s reservation, if you go that route.
6 AM Local Time – iPhone 6s Lines Split
While lines will likely start at many Apple Stores overnight, and maybe even earlier in the week, Apple Store employees will start to separate the lines at 6 AM local time. Unlike iPhone 6s pre-orders that started online at the same time in multiple time-zones — all the iPhone 6s release date times are specific to your local time.
Apple's iPhone 6s release date lines will include one for users with a reservation and one for users who still need a reservation, or as you might call yourself who want to buy an iPhone 6s without reserving one.
As we've seen with earlier Apple release date lines, expect some food and drinks to be provided.
7:45 AM – iPhone 6s Reservations for New Buyers
For users who lined up without making an online iPhone 6s reservation, Apple will start giving you a reservation 15 minutes before the store opens.
If your reservation is for a time later than two-hours from the store opening you can leave and come back, but if it is not Apple will ask you to wait.
8 AM – Apple Stores Open for Sales
What's clear about this plan is that if you will need a reservation of some kind to buy the iPhone 6s on release day. If you show up with one you will know when you need to be there, otherwise you will get one based on what is available. Even if you are the first person in line without a reservation, it sounds like you will not be mixed in with users who secured an iPhone 6s release date pickup reservation for 8 AM.
The plans are not specific about what time users with a reservation will need to show up, but it is unlikely that those with an 8 AM pickup reservation need to wait in line from 6 AM or earlier.
After you get in the store Apple will explain the various iPhone 6s buying options including carrier payment plans, contracts, paying the full price and the new Apple iPhone Upgrade plan. While it is not spelled out clearly it sounds like you can go online now and make a reservation for in store pickup even if you want to use a buying option other than the iPhone Upgrade Plan.
The report suggests that if Apple runs out of stock employees will help users set up a reservation for the future with daily iPhone reservations starting at 8 AM.
iPhone 6s vs iPhone 6: What's New
3D Touch Display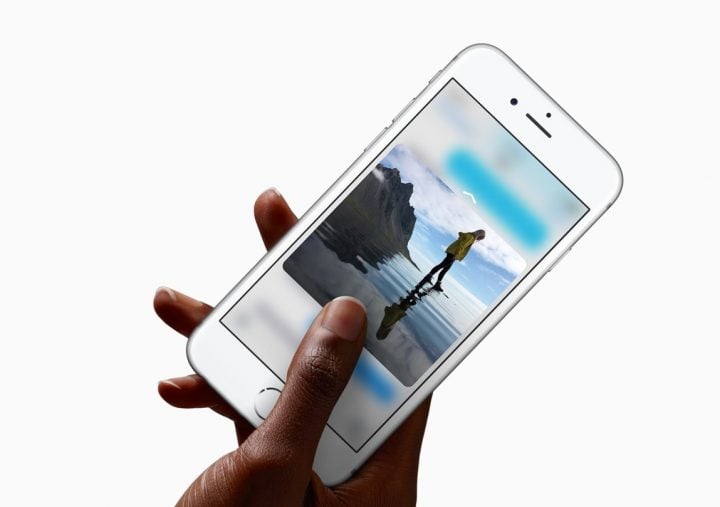 The new 3D Touch display on the iPhone 6s and iPhone 6s Plus makes a plethora of features possible, some of which we will break out into sections.
In short the new iPhone 6s display is the same size and resolution as the iPhone 6 display, but it can now tell the difference between a tap, a press and a deeper press. This allows users to call up secondary actions in many apps and on the home screen as well as in games.
The video above shows the new 3D Touch display on the iPhone 6s and iPhone 6s Plus. Even though the iPhone 6s display looks very similar to the iPhone 6 and both phones run iOS 9, you cannot use these new features on the old iPhone because the technology is not there.
3D Touch display actions work on the home screen, in Apple apps and in third-party apps.

As an Amazon Associate I earn from qualifying purchases.