April Star Wars Battlefront Double XP Details
If you're still trying to rank up to level 60, you'll probably want to take advantage of the April Star Wars Battlefront double XP weekend for PS4, Xbox One and PC.
Earlier this month, Star Wars: The Force Awakens arrived on Blu-ray and DVD giving fans the opportunity to watch the instant classic from the comforts of their own on home.
To celebrate, EA DICE is hosting a Star Wars Battlefront double XP weekend that gives Battlefront owners a chance to earn tons of experience over a two day period.
The April Star Wars Battlefront Double XP weekend is now active across all three platforms and it will extend until 1AM Pacific on Sunday giving Xbox One, PS4 and PC owners two full days to rank up quickly.
The Double XP weekend is available for everyone, even those that haven't picked up a copy of Star Wars: The Force Awakens. You simply need to start the game and get into the action to take get double the amount of experience points.
This is a golden opportunity to make some headway toward level 60. EA DICE recently upped the the maximum rank from 50 to 60 giving veteran players and newcomers a brand new goal to shoot for.
The April Battlefront double XP weekend comes just a few short days after the Outer Rim DLC release date. The first expansion pack is now available for all gamers worldwide and it brings new weapons, Star Cards, characters, and maps.
Before you fire up the game this weekend note that EA DICE is still working through a long list of problems brought on by the Outer Rim DLC and the 8GB Outer Rim update.
The company's issued two server-side hotfixes but there are still a number of lingering issues across all three platforms. Here's a running list of Battlefront problems that you should be aware of as you sit down and take advantage of this weekend's double XP madness:
As you play, you'll want to take note of any problems/bugs that you see and report them to EA DICE's engineers.
The developer is working on new hotfixes and updates though we don't know when the next bug fixer will roll out.
10 Things to Know About the Star Wars Battlefront Outer Rim DLC
Free Outer Rim Trial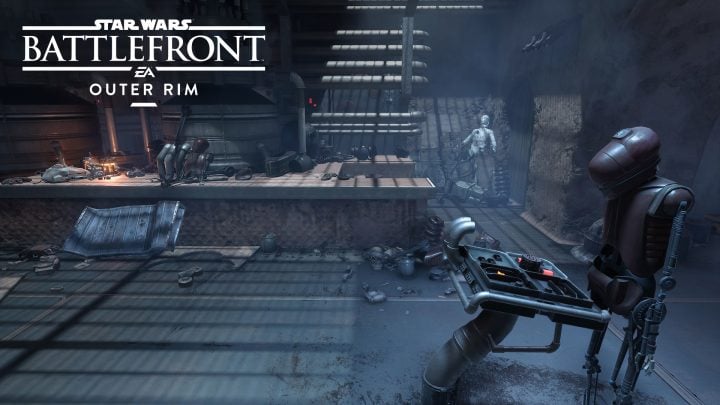 Now that Star Wars Battlefront has been out for several weeks, EA DICE is promoting it with a free trial.
The developer recently confirmed an Outer Rim free trial that will kick off on May 12th and last through May 15th. During those three days, all Battlefront players will have access to Outer Rim DLC content. Once May 16th strikes, you'll need to buy Outer Rim to enjoy the goods.
The company also notes that "while you will be able to access the free Hutt Contract weapons the Outer Rim specific weapons and Star Cards will only be accessible to our Season Pass and Star Wars Battlefront Outer Rim Digital Standalone Pass holders during the free trial event."
If you've been thinking about picking up Outer Rim, you'll definitely want to give the free trial a go to see if it's worth your time and money.

As an Amazon Associate I earn from qualifying purchases.