AT&T vs. T-Mobile: All The Things That Matter
Choosing the right wireless carrier can impact your life in ways you don't fully appreciate until you've made the wrong decision. That's why you need this AT&T vs T-Mobile guide. You don't want to realize you've chosen the wrong carrier after it is too expensive to undo your mistake.
No two carriers are the same, and America's two largest GSM carriers are a perfect example of that. Each has their own strengths and weaknesses. AT&T has a well-stocked line-up of new devices and bundles can save you money on cable and internet. T-Mobile has a slim selection of phones and a smaller network footprint. It makes up for that smaller footprint with faster speeds and customer-friendly perks, like free Netflix and T-Mobile Tuesday.

Here's how AT&T and T-Mobile compare based on plans, devices, pricing and perks. Use all this information to decide which of them is your next wireless carrier.
AT&T vs T-Mobile: Who Has the Best Plans & Pricing?
AT&T vs T-Mobile: Who Has the Best Phones?
AT&T vs T-Mobile: Who Has the Best Coverage?
AT&T vs T-Mobile: Who Has the Best Perks?
AT&T vs T-Mobile: Which Should You Buy?
AT&T vs T-Mobile: Who Has the Best Unlimited Plans & Pricing?
AT&T Unlimited Plans
The key to a great smartphone experience on any network is a solid unlimited plan. There are two AT&T Unlimited Plans for you to choose from, each with their own take on what unlimited really means.
With AT&T, you pay for a plan and pay a Device Access Charge to use that plan. Smartphones have a Device Access Charge of $20, and smart watches have a $10 fee.
Everyone that signs up for automatic payments saves $5 with an AutoPay discount.
Expect AT&T to slow these plans down if you use more than 22GB of data in a billing cycle.
AT&T Unlimited Plus – $70 with AutoPay Discount
Unlimited Plus offers unlimited talk, text, LTE mobile data and 10GB of mobile hotspot data. It includes calling and texting in Mexico and Canada. You can turn off AT&T's StreamSaver you to stream HD quality video with this plan.
A single Unlimited Plus line costs $70 a month after AT&T's AutoPay discount.
AT&T Unlimited Choice – $40 with AutoPay Discount
You get unlimited talk, text and data with AT&T Unlimited Choice, but know that this plan has some important limitations over AT&T's more expensive offering.
This $40 plan limits your video streaming to 480p. So, the video you stream from Netflix and other services will look less crisp and clear. In fact, this plan limits you to slower wireless data speeds altogether, so expect music and websites to take longer to load with this plan too. Finally, you can't share your internet connection with your PC or tablet with this plan because it doesn't come with mobile hotspot tethering.
AT&T Unlimited Plans
Separates cost of devices from the monthly bill.
Unlimited calling & texting and data.
$30 Activation Fee. $20 for Bring Your Own Device.
Upgrade fees of $20, even if you own the phone already.
Device Access Charges can add up.
Slows down after 22GB of data usage.
Have to turn Stream Saver feature off to get HD video with Unlimited Plus.
Discount with auto-pay and paperless billing.
AT&T Unlimited plans keep monthly prices predictable. Users have to remember that "unlimited" doesn't mean without all limitations. Subscribers that blow past 22GB of data usage will find themselves slowed down big time. Here's more on how the AT&T unlimited plans compare.
AT&T has Early Termination Fees of $325 for users that are still on contracts. This fee decreases by $13.54 each month users pay their bill. Those that take advantage of AT&T Next aren't charged an ETF. They do need to pay the remaining balance left on their phone purchase.
AT&T Mobile Share Flex Plans
AT&T's Mobile Share Flex plans let you purchase a block of high-speed data and share that data with family members. That's as well as unlimited calling and texting in the United States. If you go over your high-speed data, AT&T slows you down instead of charging you overage fees. Any unused high-speed data from the previous month rolls over to the next.
 1GB for $35
5GB for $60
10GB for $85
20GB for $110
Don't forget to factor in the Device Access Charge for every phone you add to these plans Mobile Share Flex Plans. For a smartphone, that's another $20 on top of the plan's base price. Expect a $10 discount if you use AutoPay and Paperless Billing with a Mobile Share Flex plan.
T-Mobile Unlimited Plans
T-Mobile One is T-Mobile's single unlimited plan for post-paid users. The price you see for these plans is the price you pay because they include taxes and fees. You can save $5 by signing up for AutoPay.
T-Mobile One Unlimited – $70 with AutoPay Discount
T-Mobile One gets users unlimited phone calls, text messaging and LTE data in Canada, the United States and Mexico. You only get unlimited calling and texting internationally though. Each plan also comes with 10GB of free 3G tethering for your tablet and an hour of in-flight Wi-Fi with GoGo.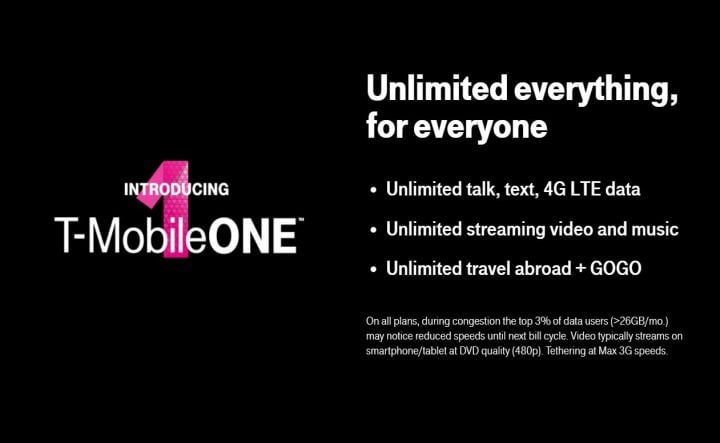 T-Mobile One has some important catches of its own. If you use more than 50GB of data, that data must be on your smartphone and not through a tethered device. Also, you can stream as much video as you want, but only if you like DVD quality video streams. The free tethering you get is only for 3G speeds, which are slower than LTE.
T-Mobile One plans start at $70 with an AutoPay discount, but can rise quickly thanks to two adds-ons that fix the base plan's issues.
T-Mobile One Unlimited Plan
Unlimited Talk, Text & Data in North America.
International Calling & Texting Internationally.
10GB of 3G Tethering.
1 Hour of Free GoGo In-Flight Wi-Fi.
Base Plan Only Includes Unlimited DVD Quality Video.
Save $5 with AutoPay.
Taxes & Fees Included.
No activation fees. Requires $25 SIM Starter Kit instead.
Pay an extra $10 a month for T-Mobile One Plus and you get unlimited HD video streaming and international data that's twice as fast in a different country. You also get 10GB of faster LTE hotspot data, unlimited in-flight Wi-Fi, an app that transcribes voicemail messages and caller ID.
T-Mobile One Plus International costs $25 extra each month. You get unlimited international calls to landlines in 70 countries and unlimited calling to mobile phones in 30 countries. This upgrade also unlocks unlimited LTE data in all of North America, unlimited HD video streaming, unlimited LTE mobile hotspot data, unlimited in-flight Wi-Fi and double the data speeds in countries outside of North of America. You also get the voicemail to text app and caller ID.
It costs $10 to add a smartwatch to a T-Mobile One plan and $20 to add a tablet.
T-Mobile Family Plans
T-Mobile's family plans build on T-Mobile One. In fact, they're the same, just with a sliding discount. Two lines cost $120 a month, and three lines cost $140 a month. You pay $140 a month for four lines, but this is a limited time offer that could disappear at any time.
AT&T vs T-Mobile: Who Has the Best Phones?
AT&T Next & Next Every Year
AT&T has a pretty impressive line-up of smartphones. They include everything from the Samsung Galaxy S9 to Apple's iPhone X. AT&T also sells smartphones from smaller firms, like LG and Motorola. All told, they offer a well-rounded line-up of high-end and mid-range phones.
You buy an AT&T phone with an AT&T Next plan that's added to your monthly bill. AT&T Next lets you skip the Early Termination Fee and pay for your phone in installments. You also get to update your device regularly, provided you trade-in your current one. An AT&T Next term lasts for 30 months. The shorter your AT&T Next term, the more your monthly payment for your phone is.
AT&T Next Every Year lets you pay for your phone in 24 monthly payments. You can upgrade phones once half of your device is paid for if you are willing to trade it in. That happens within a year thanks to the payments.
Use AT&T's down-payment system to pay a large chunk of your device off early. The bigger the down payment, the smaller the monthly charges.
AT&T Phones
Apple iPhone X with 64GB of storage: Monthly payments of $33.34 for 30 months. Monthly payments of $41.67 for 24 months with AT&T Next Every Year.
Apple iPhone 8 with 64GB of storage: Monthly payments of $24.34 for 30 months. Monthly payments of $29.17 for 24 months with AT&T Next Every Year.
Samsung Galaxy Note 8: Monthly payments of $31.67 for 30 months. Monthly payments of $39.59 for 24 months with AT&T Next Every Year.
Samsung Galaxy S8: Monthly Payments of $25 for 30 months. Monthly payments of $31.25 for 24 months with AT&T Next Every Year.
T-Mobile Jump
T-Mobile splits things between its Jump On-Demand plans and what it calls EIP or Equipment Installation Plans.
You are financing the total cost of your smartphone with an Equipment Protection Plan. The company does a credit check and decides how much of a down-payment you require. EIPs get paid in monthly installments with your wireless bill. Once they payments end, the phone is yours to keep.
With Jump On-Demand, T-Mobile owns your device. After you finish with the monthly payments, you can pay another fee to buy the phone outright or trade the phone in for another model. You can do this three times a year.
Cancel your service and your Jump On-Demand balance comes due, according to T-Mobile. Pay the rest of the monthly payments plus the buy-out payment to keep your device. Return the device and you pay just the remainder of the monthly payments.
T-Mobile Phones
Apple iPhone X with 64GB of storage: $279.99 down payment and 24 monthly payments of $30.
Apple iPhone 8 with 64GB of storage: $0 down payment and 24 monthly payments of $29.17.
Samsung Galaxy Note 8 with 64GB of storage: $150 down payment and 24 monthly payments of $30.
Samsung Galaxy S8 with 64GB of storage: $0 down payment and 24 monthly payments of $29.
Restocking Fees
Both T-Mobile and AT&T charge restocking fees. AT&T charges a maximum of $45 per device. It waves the restocking fee for Apple devices that are not opened. T-Mobile's return policy has shoppers paying more for what it calls "advanced devices." Buy a smartwatch, tablet or netbook and you can expect a $75 restocking fee. Smartphones have a $50 restocking fee.
Bring Your Own Device
You can use your unlocked smartphone on AT&T and T-Mobile. All you need is a SIM starter kit and an account. T-Mobile charges $25 for SIM cards. AT&T gives SIM cards away free to account holders.
Apple Care at No Additional Cost
As of March 2017, T-Mobile includes Apple Care insurance with its $12 a month Premium Headset Protection plan. Apple Care reduces the service charge of a screen replacement to $29. Any other damage costs you $99 to repair. Apple Care for the iPhone X costs $299 directly from Apple.
AT&T vs T-Mobile: Who Has the Best Coverage?
It's always hard to determine who has the best network coverage. T-Mobile and AT&T have vast networks with strengths and weaknesses. The only way to see how each network will perform in your area is to use the AT&T interactive coverage map and T-Mobile interactive coverage map to see how strong their networks are in the places you spend your time.
Here are two things to keep in mind as you look at each network's coverage map. Traditionally, AT&T has network coverage in more places than T-Mobile. That is, it's easier to get a signal in rural areas and highways with AT&T. That being said, OpenSignal's 2018 State of the Network declares T-Mobile's network the fastest of all the mobile carriers. If you have coverage on T-Mobile, music, video and web pages should load a little faster.
AT&T vs T-Mobile: Who Has the Best Perks?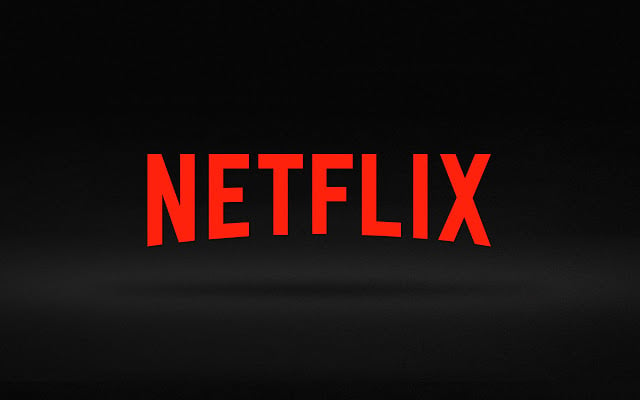 Wireless carriers are turning to promotions and add-on savings to help lure you to them. Right now, these deals focus mainly on video subscriptions and bundles.
Free Netflix with T-Mobile
You get a free Netflix subscription if you have a T-Mobile One plan with two or more lines. This saves you $10.99 a month if you already have a subscription to the service anyway. Single T-Mobile One lines don't qualify for Netflix on Us.
T-Mobile Tuesdays
T-Mobile Tuesdays is a smartphone app and website that gives subscribers free movie tickets, shopping discounts, magazine subscriptions and food. Any T-Mobile subscriber can take advantage of T-Mobile Tuesdays.
AT&T Bundles
Savings are available for AT&T customers thanks to AT&T bundles. DirecTV cable service and an Unlimited Plus wireless plan cost $110 with an AT&T Bundle, for example.
Free HBO for AT&T Unlimited Plus
Sign up for an AT&T Unlimited Plus plan and you receive free HBO access. HBO Now costs cord-cutters $14.99 a month.
AT&T vs T-Mobile: Which Should You Buy?
Choosing the right wireless network is a process. Now that you have all the information you need, it's time to figure out which network is right for you and your family.
Start with wireless coverage. Remember, T-Mobile works well in cities and has faster speeds, but AT&T has solid coverage in more places. Use the coverage maps to get a sense of each network's reception in your area. Pay attention to activation fees and SIM card costs because they add up.
Next, consider each network's plans and promotions. Look for the features you want and the extras that are important to you. For example, if you don't travel, T-Mobile's international talk, text and data aren't worth as much to you as free HBO Now and the solid reception on AT&T's network. On the other hand, T-Mobile's free in-flight Wi-Fi, international calling and texting and Netflix might be better for frequent travelers.
Finally, choose a smartphone. Examine how that carrier's buying options will change your wireless bill each month.
The network with the best coverage, cheapest phone price and most perks you care about is the network you should join. For some people, that network is AT&T. Others will find T-Mobile is what's best for them.
Best Android Phones Under $200 (2020)
Moto G6 Play
The Moto G6 Play arrived in May of 2018 and is hands-down one of the best phones for under $200. In fact, it's only $189. Motorola continues to impress at this price, and its latest phone is no different.
Keep in mind they have a few different versions of the G6, and the Play is the most affordable. It comes with a big 5.7-inch screen with small bezels, similar to the Galaxy S9 or iPhone Xs. You get a fast 8-core Snapdragon processor 3GB of RAM, 16 or 32GB of storage, a microSD card, and a decent 13 megapixel camera. There's an 8MP front selfie lens, Android 8.0 Oreo, front-facing speaker, and USB Type-C.
This phone doesn't look, feel, or perform like a phone this cheap. It looks far more expensive and feels like it too. Buy it for $200 from Motorola, or a little less online.
If you're lucky, you can find the Moto G6 Plus (highest model) for $199 on Amazon.

As an Amazon Associate I earn from qualifying purchases.