Battlefield 1 October Update Release Date Tips
DICE's confirmed a Battlefield 1 October update and these tips will help Xbox One, PlayStation 4, and Windows PC users prepare for its release date.
In September, DICE released two Battlefield 1 updates. The first patch arrived alongside the In the Name of the Tsar DLC and the second was an emergency update for connectivity issues. Its been several weeks since the last Battlefield 1 update and problems continue to plague the base game and the Battlefield 1 DLC.
Fortunately, DICE is working on a brand new Battlefield 1 update for the Xbox One, PS4, and PC. The developer's still silent on some of the more important details (release date, precise change log), but we do have some early details to share with you ahead of DICE's inevitable announcement.
DICE's October update won't be the highly anticipated Operation Campaigns update. Operation Campaigns is delayed until November.
Instead, the new update will focus on fixing bugs and tweaking the game balance. There's also a good chance it will deliver at least one brand new feature to the game.
With a release date getting close, some of you might want to start doing some light prep work. This guide will take you through some early steps to take before DICE pushes the Battlefield 1 October patch.
Watch the Live Stream
DICE's confirmed an October Battlefield 1 livestream for October 11th at 1PM Pacific and 10PM CET. There, the company will showcase the October patch for the first time.
If you're at all interested in Battlefield 1's future you'll want to tune in, if you can, to the livestream when it kicks off. You can watch the livestream on Twitch or on YouTube.
Battlefield 1 October Update Release Time
DICE hasn't confirmed an official release date just yet, but it appears the company was/is shooting for a release sometime in mid-October. We might even get a date during the live stream.
Going through final phase of testing right now. Will announce date once we are sure that the build is looking good for release.

— Jaqub Ajmal (@JaqubAjmal) October 7, 2017
The release date is difficult to nail down, but the release time isn't. You can expect DICE to take its Battlefield 1 servers down early in the morning on the update's release day.
While most of you are probably familiar with the company's roll out process, here's a quick reminder. Typically, the server downtime looks like this:
PC: Multiplayer offline starting at 07.00 UTC / 12.00 AM PDT.
PS4: Multiplayer offline starting at 9.00 UTC / 2.00 AM PDT.
Xbox One: Multiplayer offline starting at 11.00 UTC / 4.00 AM PDT.
If you don't want to stay up late or if you won't have time to download this update before you go to work or school, make sure you turn automatic updates on.
Clean Up Your Hard Drive
We don't know how big the next patch will be, but most Battlefield 1 updates are a few gigabytes. Even the emergency September update was huge for PC, PS4, and Xbox One. (365MB for PC in most regions, Xbox One was a 858MB download, PS4 was a 585MB download.)
If you have a ton of free space on your internal/external hard drives, you can probably skip this step. If you're nearing the threshold, use the time between now and the update's release wisely.
Sift through the files you're storing on your hard drives and delete the clutter. This way you won't have to worry about it when the developer releases this update.
If you're struggling with your internal storage we highly recommend picking up an external hard drive. There are a ton of inexpensive options out there, but this 2TB portable external hard drive from Seagate is one of our favorites.
How to Download the October Battlefield 1 Update
If you don't turn automatic updates on you'll need to manually apply the patch. You can expect the Battlefield 1 October update to be a mandatory patch for all three platforms.
Once the update is released you'll simply need to turn your console on and start up Battlefield 1. You should be prompted to install the latest patch(es). If you skipped any of the previous Battlefield 1 updates, you'll be forced to download them before you can get into the game.
The emergency update was tiny, but the In the Name of the Tsar update was massive for all three platforms. If you haven't played Battlefield 1 since the release of that DLC, you might want to go ahead and download that update right now.
Where to Find the Change Log
DICE typically releases the official change log after its done deploying the update across all three platforms. When it's ready, you'll be able to find the official notes right here.
Use the CTE
DICE periodically releases new, unreleased content into the Battlefield 1 Community Test Environment, also known as the Battlefield 1 CTE.
One of the more recent CTE updates included fixes and tweaks that could very well make it into the October patch. The developer could release new updates between now and the final release so make sure you keep an eye out for new updates if you're enrolled in the CTE.
If you're enrolled, make sure you supply DICE with feedback about the changes. Your feedback will help it improve upcoming base game updates.
Get Familiar with Frontlines
A more recent CTE update delivers a new map for one of the game's popular game modes.
DICE's slowly adding new maps to Frontlines and it looks like Suez is up next. The company hasn't reveal a release date, but we could see it arrive in this month's update.
If you don't own They Shall Not Pass and you haven't played Frontlines, it might be a good idea to get familiar with how it works. That way you're prepared.
The video above provides an excellent overview of Frontlines and it's worth a look if you're unfamiliar with the mode.
Get Ready for Problems
DICE is testing the October patch, but it won't be perfect. Old Battlefield 1 problems will linger and the patch could bring some new problems of its own.
There's a very good chance you'll run into a problem with update. Maybe it's a bug, an issue with performance, or maybe you notice a balance issue the developer needs to work out. Problems popup after every single Battlefield 1 update.
It's difficult to predict what problems you'll see so it's important to be ready. To help, we've put together a list of fixes for common Battlefield 1 problems. It's a solid resource and worth bookmaking.
If you happen to stumble upon a problem with the new patch remember to report whatever you see to the developer so that company engineers can get to work on a fix.
DICE plans to release two more updates before the end of the year including an Operation Campaigns November update and an update in December.
The December update will most likely accompany the Turning Tides DLC. For more on Turning Tides, take a look at our roundup below.
11 Things to Know About Battlefield 1 Turning Tides
Turning Tides North Sea Download Size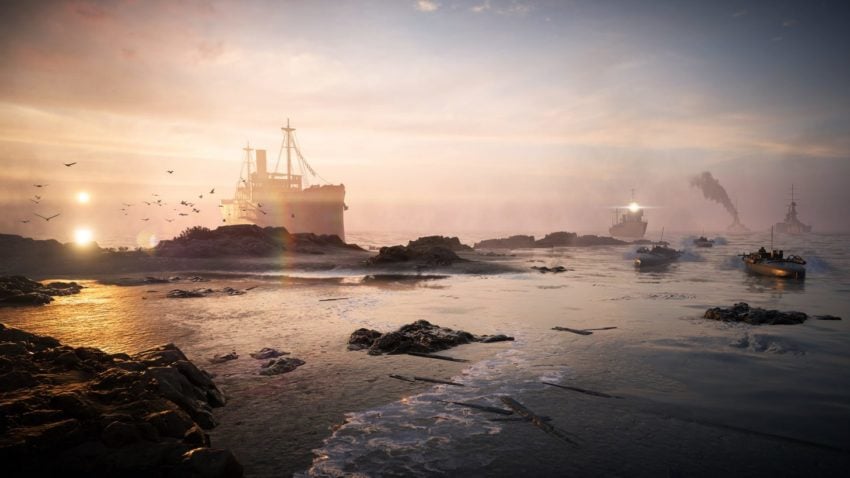 DICE's North Sea Turning Tides content has finally rolled out alongside the developer's January update. The January update, like the December update, is a big one for all consoles and all players.
If you plan on playing the game and Turning Tides North Sea you'll need to download a significant update to your console of choice. Here's what you can expect:

PS4: 6.5 GB
Xbox One: 6.9 GB
PC: 4.7 GB
Again, this Battlefield 1 update is a mandatory patch for all players, not just those who own the game's Premium Pass.

This article may contain affiliate links. Click here for more details.