Best 10.5-inch iPad Pro Accessories
With the best 10.5-inch iPad Pro accessories you can do more with your iPad Pro at home and on the go. While it uses the same Lightning connection, you can buy new 10.5-inch iPad Pro adapters that are faster thanks to USB 3 support. Whether you are upgrading from an iPad to the new iPad Pro or it is your first iPad Pro, here are the accessories you should consider buying.
Here are the best 10.5-inch iPad Pro accessories you can buy to supercharge your new iPad. Some of these are no-brainers, that Apple recommends when you check out or when you are at the store. Others are essential to on-the-go productivity and will help you get more value from the iPad Pro that you already spent a lot of money on.
Our favorite 10.5-inch iPad Pro accessories start at $30 and go up from there. While you won't need all of them, you'll certainly want to buy at least a few of these essentials.
Apple Pencil
The Apple Pencil is $99 and is one of the most essential 10.5-inch iPad Pro accessories that you can buy. While the iPad Pro performance is one reason to buy it, the Apple Pencil support is another huge reason to go with the Pro over the other iPad models.
While you can write on the screen with a normal stylus, it is nothing like using the Apple Pencil. This simple looking device connects wirelessly to the iPad Pro and supports way more pressure sensitivities than a standard stylus. The Apple Pencil is one of the best reasons to buy the 10.5-inch iPad Pro and it's definitely one of the best accessories you can buy.
The iOS 11 update adds, even more, reasons to buy the Apple Pencil with new features coming to your iPad Pro this fall.
$99 at Apple, Best Buy or Amazon
10.5-inch iPad Pro Smart Keyboard
The 10.5-inch iPad Pro is a powerful tablet and can replace your laptop for a good number of users thanks to new apps that leverage the screen and power. To get a lot of work done, you will likely need a keyboard. There's no comparison between typing on glass and typing on a keyboard. The Apple Smart Keyboard connects with a Smart Connector so there is no charging or pairing needed.
One downside is that it is not backlit, but if you don't need that feature it's an excellent accessory. When not in use it folds up and protects your screen so you don't need a separate case.
New Lightning Adapter with USB 3
Do you plan to use your 10.5-inch iPad Pro to edit video or photos that you shoot on a nicer camera? If you hate waiting around, it's a great idea to sell your old adapter and upgrade to the USB 3 version that supports faster file transfers.
This will make importing photos and videos from your camera to the iPad Pro much faster and you can even plug in a USB Ethernet adapter, audio/MIDI interface or a card reader for SD cards and MicroSD cards to quickly import your photos and videos and then edit them right on the iPad Pro.
$39 at Apple
Logitech iPad Pro Charging Base
When you are using the iPad Pro at your desk or simply charging it, you don't need to connect the Lightning cable to it. You can use the Logitech IPad Pro Charging base to prop it up at an angle and charge using the Smart Connector. This angle is perfect for watching movies and for FaceTime Video calls. It also leaves the Lightning port open to use with an adapter or to charge the Apple Pencil.
Portable Charger for iPad Pro
The Mophie PowerStation Plus XL and similar battery packs allow you to charge up the iPad Pro while you are on the go. The 10.5-inch iPad Pro battery life is already very good, but if you plan to go camping, on a super long flight or are on the go a lot, you may want to pack in portable power. The PowerStation XL includes a 12,000mAh battery that can add 14 extra hours to a tablet when watching video. There is a built in tip for Lightning and Micro USB, plus a second USB port so you can charge a phone or headphones at the same time.
$99.95 at Mophie
AirPods or Bose QC35
While Apple did upgrade the sound quality on the iPad Pro compared to the normal iPad, if you are working in public or traveling you will need headphones. We love the AirPods for the convenience they afford and the ease of use. They work to watch movies, listen to music and make calls. We especially like the ease of switching between devices and the ability to use just one when making a call. $159.99 at Apple or Best Buy
The Bose QC35 headphones are the best noise canceling headphones we've found. They deliver incredible isolation from annoying noises while working in public or on an airplane. If you travel often, this wireless model is a go to set that you'll love using with the 10.5-inch iPad Pro. You can connect to two devices at once, making switching between a video and a call simple. $349 at Amazon
10.5-inch iPad Pro Cases
Finally, you will need a good iPad Pro case. You'll need to buy a new 10.5-inch iPad Pro case since those made for the other devices will not fit this model. We've rounded up the best iPad Pro 10.5-inch cases available so you don't need to look very far to find useful protection.
Best 10.5-inch iPad Pro Cases
Apple Leather Sleeve for 10.5-inch iPad Pro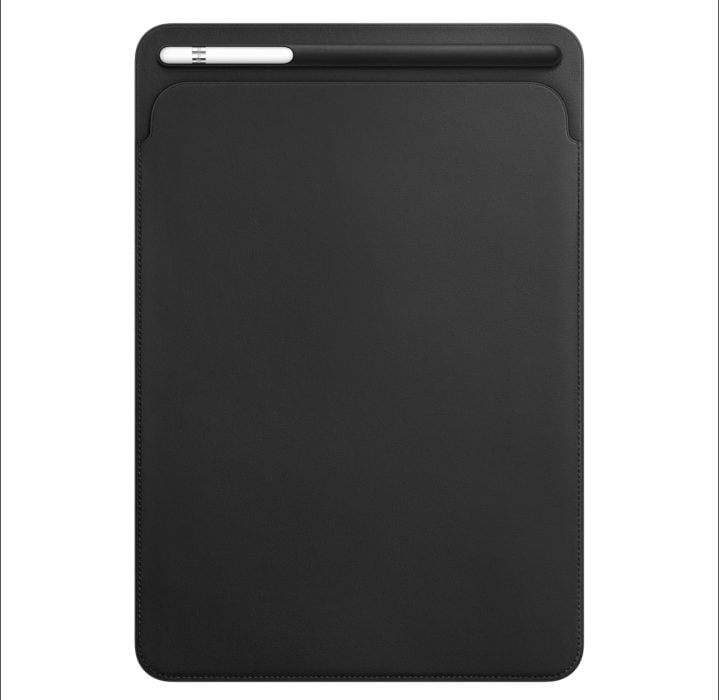 The Apple Leather Sleeve is a fashionable leather 10.5-inch iPad Pro case that holds your new iPad and the Apple Pencil. This is not a cheap iPad Pro case, clocking in at $129 and it will not protect your iPad Pro while you are using it.
Even with those limitations, it is one of our favorites due to the look and the protection that it provides to the Apple Pencil. The slip at the top allows you to store the pencil safely without worrying that the tip will break or the cap will disappear.
This total package is slim enough to slide into a backpack when you need to carry this on a trip, yet sturdy enough to function as a standalone case to go to the coffee shop or work.
$129 at Apple

As an Amazon Associate I earn from qualifying purchases.