Best 2018 9.7-inch iPad Deals
The 2018 iPad 6th generation is already on sale at several retailers, allowing you to pick up the 2018 9.7-inch iPad for just over $300, and for less if you have an iPad to trade in. If you are on the fence, here are the reasons to buy the new iPad, and the reasons to look for something else.
The new 9.7-inch iPad now supports the Apple Pencil and the Logitech Crayon for taking notes and drawing on the screen. The new model also includes a faster processor, stereo speakers and supports LTE if you want to connect even without WiFi.
Apple sells the new iPad for $329 with WIFi and $459 with LTE. It is available in 32GB and 128GB if you need more storage. The higher storage level is an extra $100 if you need that. You won't find as many deals on the 128GB model.
When you are looking you want to make sure you buy the 9.7-inch iPad 6th Generation or the 2018 9.7-inch iPad. The older model is on a deeper discount at some retailers as they clear out stock, but you don't get Apple Pencil support or the newer processor.
Best 2018 9.7-inch iPad Deals
The best 2018 9.7-inch iPad prices are at Best Buy where you can save $25 with an eGift Card, but there are some other options out there if you want to save. Here are the best deals you can get now.
$25 eGift Card with 9.7-inch iPad at Best Buy. This works for all storage sizes and even on LTE.
$20 Off for students at Apple. This works on all models and includes LTE.
$150 to $200 Off at Verizon. $150 off the LTE model with a 2 year contract. Extra $50 off when you buy an iPhone at the same time.
Keep an eye on Target and other carriers for limited time deals. You can also check out trade in deals at Best Buy and at Apple that can help you save by selling your old iPad directly to the store. Before you accept an offer make sure to check the value of your old iPad on Gazelle.
When to Expect Better 2018 iPad Deals
You can expect to see more iPad deals around Mother's Day and Graduation. We typically see big discounts on iPads and on the Apple Watch around those holidays and again during Father's Day and during back to school. We could see up to $50 off later in the year, but at this stage $20 to $25 off is a great deal.
Best 9.7-inch iPad Cases (2017 & 2018 iPad)
STM Dux iPad Case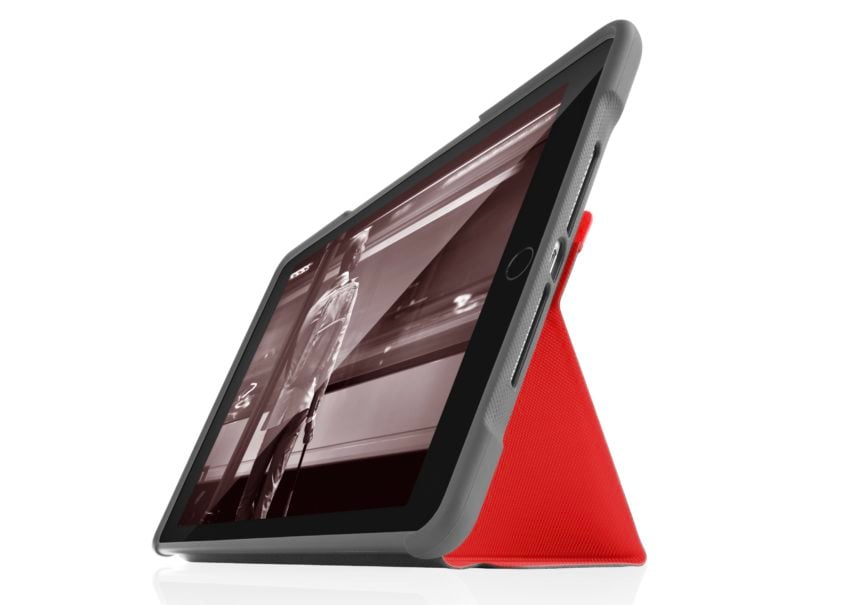 The STM Dux iPad case is an excellent option if you need a 9.7-inch iPad case that wraps up the iPad completely and can stand up to being used by a kid.
I handed this case off to a young tester to put through the paces and after about a month of use his iPad looks like new, despite it going almost everywhere and taking a drop or two during the test.
There is a front flap that protects the screen when carrying the iPad, and it folds up to allow you to use it as a kickstand that is pretty sturdy thanks to slots that lock it into place in kickstand mode.
This is an excellent iPad case, and one of the best options you will find if you are handing a kid a new 9.7-inch iPad.
$59.99 at Amazon