Best Alarm Clock Apps for Android in 2019
These are the best alarm clock apps for Android available in 2019. If you're like me you have a hard time waking up, and the alarm clock app that came on your phone just isn't good enough. If so, you'll want to try one of several Android alarm clock apps designed to get you moving.
Never have that panicked feeling of being late for work again because you accidentally shut off the alarm. That's what we'll help you avoid.
For many people, an alarm clock is a crucial tool each and every morning, like coffee. And after a restful night of sleep, the last thing you want to do is ruin it with an old-school beeping sound. If your alarm clock app is lacking in features, check out our list below.
If you are a light sleeper and can jump out of bed with ease, good for you. Most of us don't have that luxury, and some people can sleep through the loudest of alarms. Alternatively, a lot of people just have a tendency to tap the snooze button over and over again. Our apps solve all of those problems and then some.
The Android alarm clock apps we've found have a slew of features and sounds. From loud noises, peaceful water sounds, to mini-games that will prevent you from accidentally hitting snooze or turning the alarm off when you're half awake. Realizing you have to be at work in 8 minutes is the worst feeling in the world, so here are a few solutions and apps to prevent it.
Best Alarm Clock Apps for Android
Alarm Clock Extreme & Timer
Alarmy
Good Morning Alarm Clock
Timely
I Can't Wake Up
Sleep As Android
There are literally hundreds of alarm clock apps on the Google Play Store, and half of them don't do anything special or are filled with ads. Even Dwayne "The Rock" Johnson has one, but it's more of a motivational tool and alarm clock in one.
Either way, if you're looking for a better way to start the morning and live your best life, give these apps a try.
Alarm Clock Extreme & Timer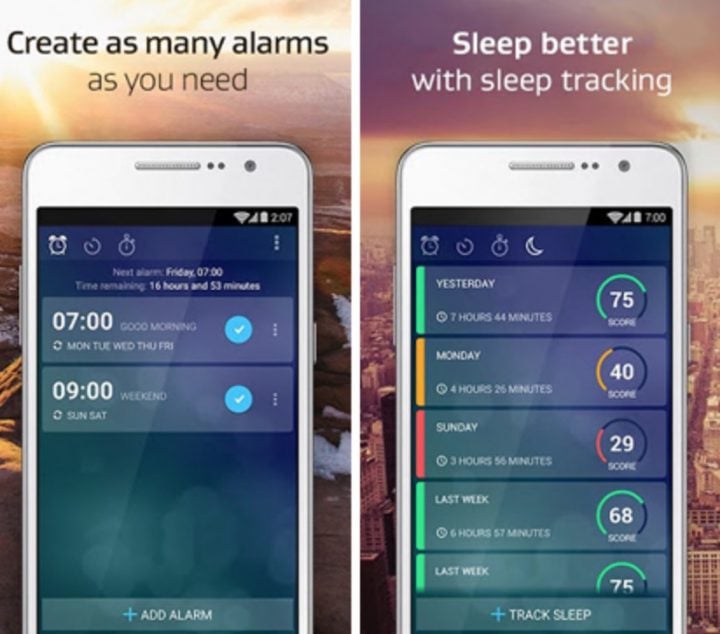 Alarm Clock Extreme is one of the most popular alarm apps, because it has plenty of features. So much in fact, that it may have too many features for some. That's a good thing though, right?
I've used Alarm Clock Extreme for years, and is still my go-to app. It has everything from pleasant sounds and basic alarm functions, to the choice of making any sound louder over time. Meaning you'll wake up peacefully instead of so abrupt. Additionally, you can use your own music, and you'll never miss the snooze button as it's huge.
At the same time, they've bundled a slew of tools and features in for those who hit snooze too many times, a nap-timer, auto snooze controls, and even a sleep tracker.
One of the most popular features is the built-in mini-games and math problems. Meaning you have to be fully awake and answer questions or math before the sounds will stop. Be careful though, it's frustratingly effective. I like the decreasing snooze controls so timing gets shorter to get you out of bed. There are apps, but a paid version is also available.