10 Best Android Camera Apps
These are the best camera apps for Android that will improve your photography. The best camera you have is usually the one in your pocket, your phone. And while most Android phones come with a pretty capable camera app, these Android camera apps will deliver more options and better results.
It's not about megapixels either, the camera software is half the battle, as we've seen with Google's capable single camera system on the Pixel 3 XL. Getting a good camera app can add new features, different shooting modes, GIFs, or even composition overlays. See the benefits?
Whether you're looking for more features, pro modes, extra filters, or just want to try something else, a new camera app is a great place to start. These are some of our favorites and what they each have to offer. Helping you take your photography skills to the next level in 2019.
Best Camera Apps for Android
If you have a new phone like the Galaxy S9+ or an LG V40, you already have a capable camera and great software. However, some of these can still add benefits to your usage, depending on the situation. Then, those with older phones can really benefit from trying a 3rd party application.
Our list is in no particular order, as each camera app has different strengths or features. These are the Android camera app replacements worth considering or spending a few bucks on.
Camera Zoom FX
First up is Camera Zoom FX, an app that's been available on the Google Play Store for more than a few years and has plenty of fans here. Zoom FX is perfect for those that want a simple camera experience, and more serious stuff all at the same time. It has a clean interface, nice controls, and a large shutter button.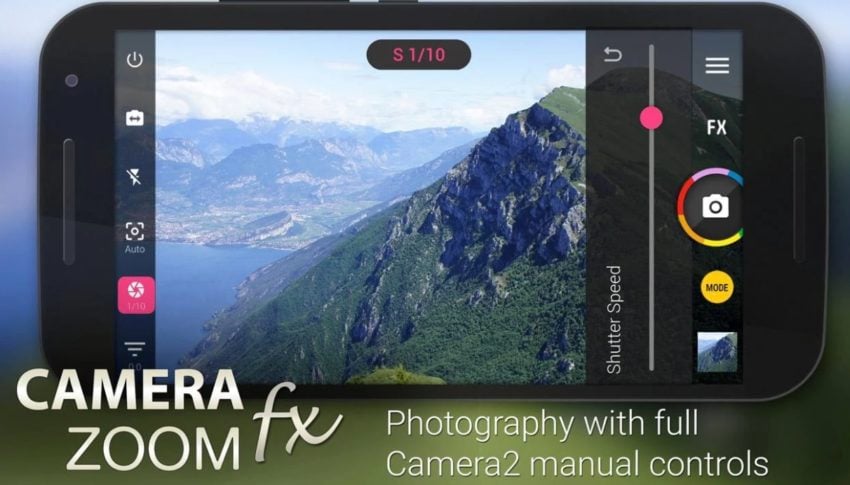 With Camera Zoom FX you'll get your typical filters, HDR options, and multiple photo modes. Then, more experienced users will enjoy manual controls like ISO, shutter speed, exposure levels, and other small adjustments. This app has more features than most, and you can even unlock more for in the pro version for only $3.49
Download – Camera Zoom FX
Google Camera
Of course, we had to include Google's Camera app in our roundup. Not just because it comes from Google, but because it's actually a highly capable and powerful camera app. I mean, it's what the highest rated smartphone camera on the market uses, the Pixel 3 XL.
Google Camera delivers an exceptionally clean and simple experience, with some nice features sprinkled throughout. Those include lens blur mode, slow motion (on supported devices), photo spheres, video stabilization, Night Sight and auto HDR. This app allows the Pixel 3 single camera to do what Apple and other manufacturers need dual, or even triple cameras to achieve.
However, only select devices can take advantage of everything, and if your device is too old, and runs software older than Android 7.1.1 Nougat, it won't benefit from Google Camera. However, it's still a good app for the features, and anyone can benefit by trying it.
Download – Google Camera
Camera FV-5
If you're looking for a camera with those full manual DSLR-type controls, this is our first recommendation. Camera FV-5 is pretty powerful and almost has too many options. Basically, you'll want to know what you're doing before paying $3 for the Pro version of this app.
Skip the free version and go right to FV-5 Pro for $3.95 and enjoy all the benefits. You'll get full manual controls and the option to shoot in RAW. Then, use full automatic exposure bracketing, composition grids, exposure controls, ISO levels, timelapse, burst mode and other choices. Yes, you can do a little of everything, or keep it simple with a quality auto mode.
Download – Camera FV-5 
Cymera
Everyone wants to take great selfies, right? Cymera delivers thousands of filters, stickers, collages, frames and other effects to spruce up your selfie game. Perfect for the selfie and portrait mode phase of 2017-18.
The biggest reason people download Cymera is the Beauty mode, which instantly changes skin tone similar to popular effects on Samsung smartphones. It makes you prettier with silky smooth skin. You can also add a mole, remove moles or freckles, or remove red marks from your face and body.
Download – Cymera
Camera MX
Another extremely popular camera, possibly one of the best, is Camera MX. It's a basic point-and-shoot camera app for Android, but then they've filled it with lots of extra features. Take time-lapse photos or videos, share and create GIFs, add filters (live filters), and much more.
We enjoy the built-in photo editor, creating GIFs, and the slew of filters. It's a pretty well-rounded all-in-one camera app that does a little of everything. Camera MX is one of the highest rated options on the Play Store, too.
Download – Camera MX
Open Camera
We also recommend Open camera for those that are professional photographers or need a few more features than most. In fact, it's pretty feature-complete, free, and even has a remote app for those who need remote control access to snap the perfect photos.
Open camera gives you most of the advanced controls of other cameras, as well as a few extras. These include a manual mode, exposure and brackets, timers, screen modes, color effects, white balance, ISO, and even external microphones in some cases.
As you can see from the name, it's completely open source. So other versions with varying features can likely be found on Github or other popular sites. Give it a try today.
Download – Open Camera
DSLR Camera Pro
If you're looking for pro-level DSLR controls, as the name implies, this application is perfect. One of the features we love the most is the two-stage shutter controls. Press to focus, and release to take the photo. Giving you extra control over what and when you focus, and where. It's pretty powerful and very helpful for getting the best shot.
The best part though is the fact that nearly every option or setting (and there's a lot) is just a tap away. As you can see from the image above, everything is in one simple and easy to find and use place.
Rather than explain all the features this camera has, we'll just direct you to the Play Store to see for yourself.
Download – DSLR Camera Pro
Footej Camera
When I think of a new-age smartphone camera experience, I think of Footej. This app has a beautiful yet simple user interface, easy controls, and lots of options. And while it's great for a beginner, it also has more than enough for someone more advanced or even a professional wanting to take better photos.
The main feature is RAW photos if your phone supports it. Then, enjoy exposure and ISO controls, full manual mode, you can shoot GIFs, histogram, slow-motion video recording and more. One big benefit of Footej is this uses Google's latest Camera2 API's too, for the best experience on newer devices. You'll like the Footej Camera Gallery too.
Download – Footej Camera
Manual Camera
As the name implies, this app is all about full customizable manual controls on Android smartphones or tablets. In fact, it takes full advantage of the latest Camera2 API from Android Lollipop to deliver the most manual controls for any camera app on the Google Play Store. This does a little of everything,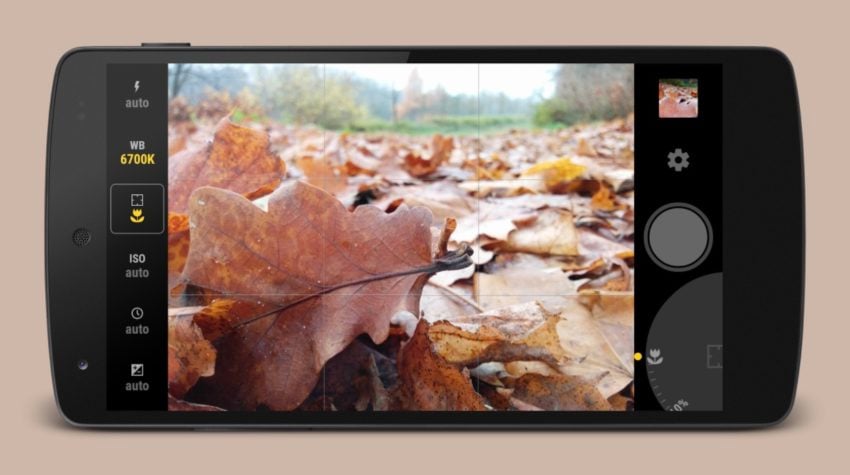 As long as your phone has some sort of manual controls or manual mode, and runs Android Lollipop or newer, which most do, this app is perfect for you. Take control over manual shutter speed, focus distance, ISO, white balance, exposure comps, and a few other things.
You'll also enjoy GRID lines, Geo tagging, RAW support and an insanely fast camera experience overall.
Download – Manual Camera
ProShot
Last but not least is one of our favorites, ProShot camera. This once popular Windows Phone camera app came to Android a few years ago, and it's a refreshing change of pace. While most camera apps for Android look, feel, and work the same, ProShot is completely different. From the looks, the way you interact with the controls, change ISO levels, add grid lines and more.
As you can see from the image above, all the controls are very neat and simple. From the color scheme to the obvious buttons and different modes. It's unlike anything else, and in a good way.
When it comes to feature-complete camera apps, ProShot is right up with the best of them. And while it does cost $3.99, it's worth every penny and will have you shooting photos and changing settings just because you can. Honestly, ProShot camera is one of our favorite Android camera apps of the year.
Download – ProShot Camera
Final Thoughts
These are some of our favorite camera apps for Android. Delivering the best features, RAW support, manual controls, or tons of beauty modes and filters for any social butterfly. We have a little of something for everyone.
A few honorary mentions go out to VSCO Cam, Pro Capture, A Better Camera, Google Cardboard Camera, or Simple Camera if you just want to take photos with no distractions. Find one from our list and enjoy taking better photos on your phone right away.
While you're here learn about these 5 best photo editing apps for Android.