10 Best Clear Cases for the Galaxy S9
These are the best clear cases for the Samsung Galaxy S9. That way you can protect your fancy new phone without covering the premium design. With big curved screens and glass covering both sides of the Galaxy S9 or S9+ you'll want a case, but you don't need to cover its beauty at the same time.
Read: 9 Best Galaxy S9+ Screen Protectors 
While we've already shared a list of great Galaxy S9 and Galaxy S9+ cases, some buyers prefer clear cases. As a result, we've found some excellent clear cases starting as low as $3.99, which is cheaper than spending $180 to repair a broken display. Then, some of the more popular brands have clear cases for around $12-15 with added protection. Additionally, we have very rugged and durable clear cases for the outdoorsy people that still want to show off their phone.
We get the same question with each new Galaxy release. Do I show it off, or keep it safe with a durable case? Our answer is simple, yes and yes. Show off the elegant design and protect your phone from life's daily hazards with these minimal, durable, or rugged clear cases. We have something for everyone in the slideshow below.
While we recommend investing in a quality case from Samsung or a reputable brand, even a cheap $4 TPU case is better than nothing. Especially if you don't plan on using a screen protector. TPU cases offer plenty of protection in a thin package, and the material absorbs the impact from drops or accidents.
Read: How to Turn Off the Galaxy S9 Always On Display
Keep in mind that the new Galaxy S9 and S9+ are IP68 dust and water-resistant. That means you don't need a waterproof case. As a result, a nice clear case is more than enough for most.
A case will help prevent damage or scratches to the dual cameras on the back of your phone, make it easier to hold and keep those curved edges safe. With this much glass on the front and the back, we recommend everyone gets a case for Samsung's newest phone. Here are some of the best clear cases from brands we trust like Spigen, Speck, Lifeproof, MoKo and more.
Spigen Ultra Hybrid Clear Case for Galaxy S9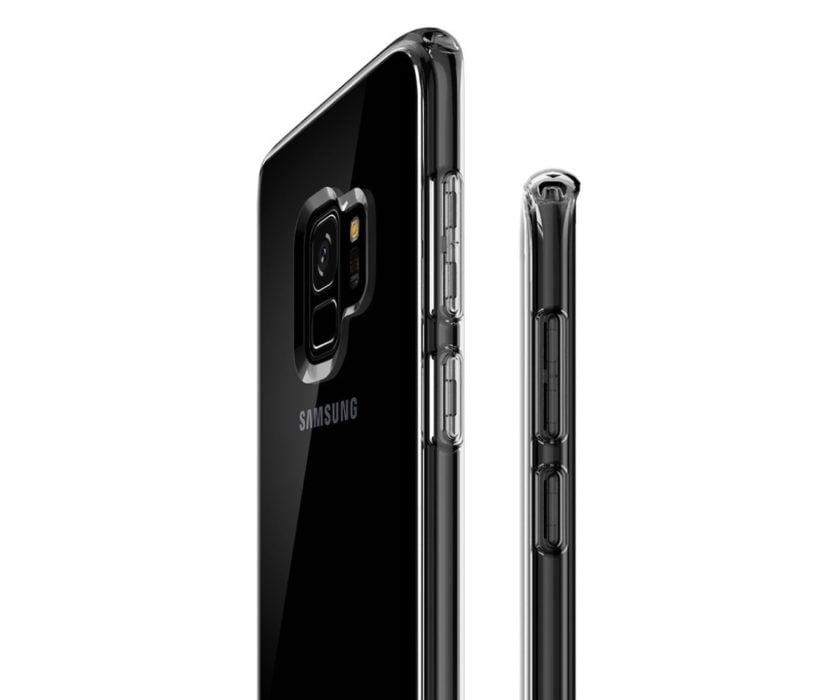 Our first recommendation is the Spigen Ultra Hybrid clear case. This is one of the most trusted brands in the industry, the case is completely clear, and they use a hybrid design for added durability.
With the Ultra Hybrid, you get a soft and flexible TPU material covering the front and sides of the device. This helps it absorb impacts from drops and keeps the buttons soft, tactile, and easy to press.
However, Spigen then adds a hard polycarbonate plastic clear shell to the back. Making the case more rigid and strong without sacrificing the design, style, or adding bulk. It's a great all-around case for a low price.