20 Best Galaxy S7 Edge Cases
These are the best Galaxy S7 Edge cases to protect your phone and keep it looking nice and new. With curved edges and glass on both sides of the device, a case is highly recommended. Our buying guide below shares a list of some exciting cases worth considering.
Cases for the Galaxy S7 Edge come in a slew of different styles, colors, and materials so you can get exactly what you need. Some are very robust and durable, some are super thin, while others offer extra features like a kickstand or wallet. Each case we recommend comes from a brand we know, use, and trust.
Read: 45 Samsung Galaxy S7 Edge Tips & Tricks
We've found cases priced under $7, which is far cheaper than spending $190 to replace a broken screen. More reputable brands, durable materials, or extra features like a kickstand will increase the price to over $10. Furthermore, we have official Samsung cases, cases with kickstands, leather cases and more to fit any users needs.
While spending a few bucks on a cheap thin TPU case is better than nothing, a case from a trusted brand is the best route. That being said, TPU is very durable, absorbs impacts from drops, and affordable. For more protection, you can get a case that's rugged or comes with a screen protector built-in. Remember, the Galaxy S7 Edge is IP68 dust and water-resistant, so you don't need a waterproof case.
We've also found cases that are extremely thin, or clear cases to show off the fancy color and premium design of the Galaxy S7 Edge. Additionally, popular case styles for any device include ones with a built-in kickstand or a wallet case. We have a few of those along with cases made from real leather, wood, and much more. There's something for everyone.
Read: 8 Best Galaxy S7 Edge Screen Protectors
In closing, a lot of buyers see overpriced cases in a carrier or retail store and skip one completely. Don't do that. The Galaxy S7 Edge is durable, but it's not scratch or shatterproof. A case will protect your phone from life's daily hazards and keep those curves safe.
If you're skipping the Galaxy S9 and keeping the S7 Edge, or just got one at a discount, you'll want a case. Our recommendations are from big names including Speck, Spigen, VRS, Supcase, Incipio, Otterbox, and others at affordable prices. Get a case today and enjoy your phone for as long as possible.
Galaxy S7 Edge S-View Flip Cover (Clear)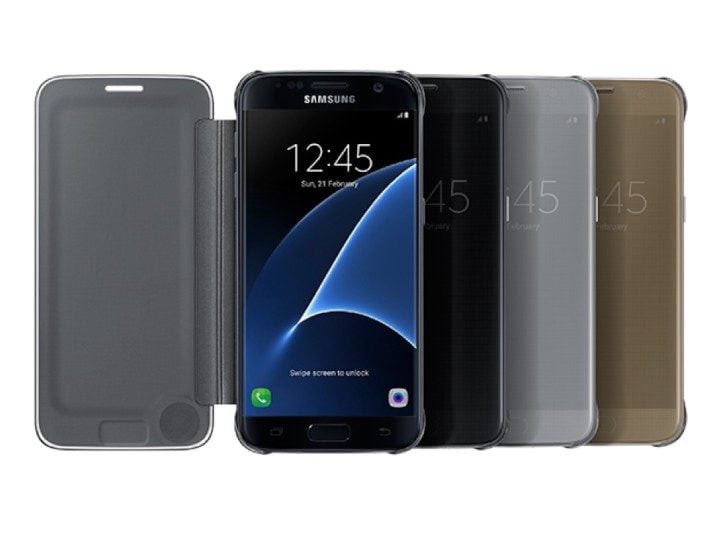 Our first recommendation is the official Samsung S-View flip case. For the S7 Edge, Samsung has three different S-View Flip cover cases. There's the traditional flip cover with a window like previous years, a clear model, and a LED flip case. Our favorite is the clear case, as it will display all the information on the always-on display. This offers a full view of the entire screen even while the case is shut and keeping things safe.
The S-View case gives you quick access to information on the screen at any moment. You can answer a phone call, see the weather or answer phone calls without opening it. It also wraps around all four corners to protect the Galaxy S7 Edge without getting in the way of using Edge screen features.

As an Amazon Associate I earn from qualifying purchases.