Samsung Galaxy S9 vs Galaxy S7: What We Know So Far
The Samsung Galaxy S9 release date is only a few weeks away. As a result, potential buyers have some important choices to make. If you're looking to upgrade, you must decide if you want the Galaxy S8 or to wait for the new Galaxy S9. With that in mind, we'll go over everything we know so far about the Galaxy S9 release, and how it compares to Samsung's older phone.
Based on everything we've seen so far we know the Galaxy S9 will be a familiar device. A phone that looks nearly the same as the Galaxy S8. However, the company made some noteworthy changes that will give it a title of the best Samsung phone ever released.
Read: Galaxy S9 Leak Reveals All Ahead of Release
If you have the Galaxy S7 or S7 Edge, the Galaxy S9 or S9+ is a big upgrade worth considering. Not just for the bigger screen, but for everything else it includes. So while it might look like the Galaxy S8, changes to the camera, fingerprint scanner, battery and more make it a big upgrade. You'll just need to decide if it's worth waiting for.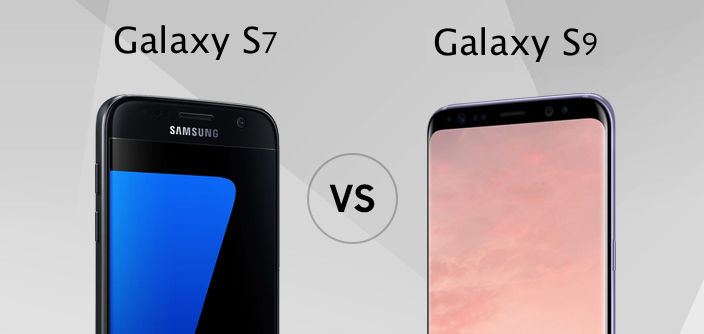 In 2017 Samsung released the Galaxy S8 and the Galaxy S8+. Both phones had big 5.8 and 6.2-inch curved screens with small bezels, a sleek design, powerful cameras, and basically the same features throughout. This year we're getting something similar, but with big changes sprinkled in everywhere. Rumors suggest the bigger Galaxy S9+ will even have more to offer than the smaller S9. Meaning your decision might be even more difficult this year.
And while we don't know everything quite yet, the main focus is on the camera, software, and of course, that big display. Everything about the Galaxy S9 is better than the Galaxy S7. So while you might be considering the S8, we recommend waiting.
If you're eligible for an upgrade and are trying to decide on what's available now, or to wait, we're here to help. That said, we wouldn't recommend getting the Galaxy S7, or even the S8 right now. Not until we see what Samsung has in store next. Why get the Galaxy S8 when a new S9 is just weeks away and has more to offer? Even with the lower price tag, monthly payments make it a hard sell. With that in mind, we'll go over everything each phone brings to the table. Then, explain what is changing on the Galaxy S9 so you can make the right decision.
Whether it's a decision based on price or someone looking to upgrade, we have all the details. Check out the slideshow below full of helpful information, photos and more.
Galaxy S9 vs Galaxy S7: Display
The first thing we need to talk about is the Galaxy S9 and its big screen. Even if you have the Galaxy S7 Edge, Samsung's smallest phone in 2018 will have a bigger, better, more enjoyable display.
Any way you look at it, the 2018 Galaxy S9 or Galaxy S9+ will be better. The only potential downside, for some, is that the screen is curved.
Samsung's Galaxy S7 has a 5.1-inch Quad-HD screen that looks pretty good. The Galaxy S7 Edge is 5.5-inches and curved on the sides. They're both decent, but also starting to show some age.
The new Galaxy S9 will deliver a stunning 5.8-inch curved Infinity Display with tiny bezels on the top, bottom, and both sides. Making almost the entire front of your phone all screen. You won't have the huge bezels at the top and bottom of the phone anymore. It's so small in fact, that there's no longer a front fingerprint scanner.
Then, the Galaxy S9+ gets you an even bigger 6.2-inch Quad-HD curved Infinity display that's even better.
Oh, and that huge Galaxy S9 screen is in a package the same size as the Galaxy S7. You won't have to deal with a giant phone, as they're roughly the same size. Basically, there's no reason not to upgrade, as you're getting all benefits and no cons. Unless you don't like the curved screen.