Best Google Pixel 2 and Pixel 2 XL Deals
These are the best Google Pixel 2 and Pixel 2 XL deals available. As we push further away from the release date, more savings continue to surface. These are two impressive phones with a lot to offer, but they're pretty expensive. Below is our continuously updated list of the best Pixel 2 deals, including 50% off from Verizon.
Google's new phones have a lot to offer, but they aren't perfect. A few complaints about the screen emerged early but were quickly fixed with the November Android Oreo update. As we get closer to Black Friday, expect more deals to arrive.
Read: 10 Google Pixel 2 Features You'll Love
Our link above goes over some neat features on the Pixel. And while some might be hesitant to buy a Pixel 2 because of potential screen problems, it's still a really good phone. If you decide you want one you'll be happy to know there are a few great deals floating around.
Potential buyers have the choice between two phones again this year. The regular Pixel 2 looks very similar to last years model. It features a 5-inch 1080p display with typical big bezels, a stunning camera, and everything the bigger phone has to offer. The only difference is the size of the screen, the bezels, and battery life. Meaning you don't have to buy the bigger phone to get the best features. However, the big 6-inch edge-to-edge screen of the Pixel 2 XL sure is enticing.
Both of Google's new devices have dual stereo front-facing speakers, 64 or 128GB of storage, and an exceptional 12.2 Megapixel f/1.8 camera with Optical Image Stabilization. In fact, it received the highest camera rating from DxoMark.
Free Google Home Mini
For a limited time, get a free Google Home Mini with the Google Assistant just for buying the Google Pixel 2 or XL. Once you get your phone, here's how to redeem the free Home Mini.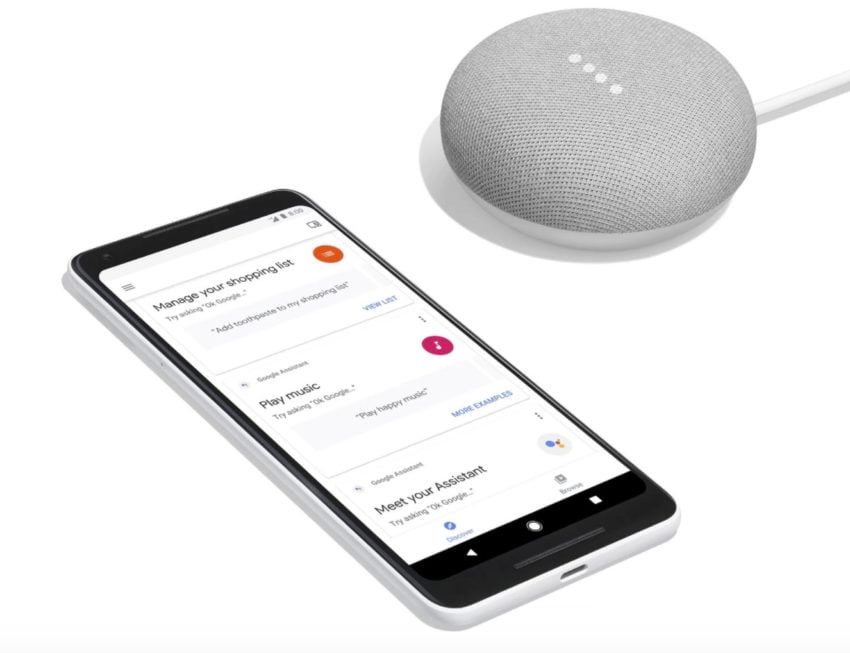 This deal is available from any official retailer. Buy the Pixel 2 from Google, Verizon, Best Buy or other retailers, wait for it to ship, then use the code from Google to buy the Home Mini for $0. You'll get everything the Google Home has to offer, in a smaller form factor. The retail value is $50, but you get one for free. This deal is still available in select regions, like Canada, but expired in the United States.
T-Mobile Pixel 2 Deal
Get 50% off the Pixel 2 or Pixel 2 XL just for taking it to T-Mobile. This is hands-down the best deal around, and even better considering T-Mobile doesn't even carry the Pixel.
The Pixel 2 is only available from Verizon Wireless in the United States. No other carrier has the phone in stores. However, the unlocked model sold on the Google Store or at Best Buy works on all carriers, including Verizon. We recommend buying the unlocked model so you can take it anywhere.
So, while T-Mobile isn't a launch partner with Google, they're getting in on all of the action.
Here's how it works. Buy one from an official retailer and take it to T-Mobile. This is available to new or existing customers. Once you show them your Pixel 2 and add a new line on T-Mobile within 30 days of your purchase, you'll receive a pre-paid Visa card for 50% off of the Pixel 2 XL 64GB. For those wondering, that is $425 you'll get BACK from T-Mobile, just for taking it to their network. Here is more information.
Best Buy Pixel 2 XL Deals
The big box retailer Best Buy has a few deals on Google's new phone too. For one, you'll get a free Google Home Mini with your purchase, where that deal still applies. Additionally, Best Buy is giving buyers up to $100 off (in the form of a Best Buy gift card) when they pre-order and activate Google's new phone.
We aren't seeing too many details regarding the "up to $100" in savings, or how exactly that works. From what we're seeing you're basically getting the 128GB for the 64GB model price. Then, Best Buy will give you up to $300 off for qualifying trade-ins, like Verizon is offering.
And now just a week after the release date, Best Buy slashed $100 off the price of the smaller Pixel 2. You'll instantly save $100, plus you're still eligible to trade-in an old phone worth up to $300. You can also save $50 on select WiFi printers when you buy a Pixel 2 or 2 XL.
Best Buy offers up to 50% off with select trade-ins, but the list is pretty small.
Verizon Google Pixel 2 Deals
The only carrier in the US officially offering the new Pixel is Verizon Wireless. And sadly, they don't have any good deals to share. Well, aside from the free Google Home Mini worth $50. Each buyer will get a free Mini 4-6 weeks after their phone arrives.
However, just like any other smartphone release, Verizon does have some trade-in deals and incentives. Trade-in any recent smartphone and get $300 off the Pixel 2 or 2 XL. Additionally, on November 8th Verizon announced a brand new trade-in deal. Giving you the chance to get a Pixel 2 for 50% off. Yes, we've seen this from other carriers and Best Buy, but Verizon's list of eligible devices is actually fair. Meaning, you'll likely have an old phone that will get you 40-50% off. Here's the full list.
As you can see, old phones like the Galaxy S7, Pixel from 2016, or even an old iPhone 6s will get you 50% off the Pixel 2. Then older devices qualify for 35% off, which is better than you'll get selling an old Galaxy S6 on Craigslist.
We recommend checking your trade-in value at the Google Store first, as they're offering more money for most devices. Google will give you $410 for the Pixel XL from 2016, and put that money toward your new device. Although, make sure you follow Google's trade-in rules exactly, as we're seeing reports that users aren't getting the full amount they expected.
That same $410 trade-in option works for those interested in getting the Pixel 2 on Google's Project Fi.
Sprint Pixel 2 Deals
Yes, Google's new phone works with Sprint and they're offering something like T-Mobile. Basically, this is Sprint's "bring your own device" deal.
Buy the Pixel 2 or XL and take it to Sprint, add a new line, and you'll receive a $200 gift card. It's not as much as T-Mobile, but every little bit helps. This actually works for any phone from a competing carrier, not just the Pixel.
Other Details
These are just a few of the deals available so far. Google's new phone is still only a week old, and we expect more deals to surface in the coming weeks and months. Then, potentially even bigger savings on Black Friday.
It's worth noting the phones work great on AT&T, Cricket, MetroPCS, and many other regional carriers. Just buy one from the Google Store unlocked, and take it to any carrier you'd like. As soon as we see more Pixel 2 deals we'll update with all the details.
While you're here, check out these 20 best Pixel 2 XL cases.
20 Best Google Pixel 2 XL Cases
Google Fabric Cases
First up is an official case directly from Google. These are available at its online store, and they're made almost entirely from fabric. It sounds weird, but the result is a case that's amazingly soft and comfortable to hold and use. Then, the inside has a hard polycarbonate shell that keeps the phone safe and resists damage from drops.
Google lines the inside of these cases with a soft microfiber too, so the metal and glass stay nice and new. Also, before you ask, most cases should work with the Active Edge squeeze feature for the Google Assistant. As long as the case isn't too bulky, it will register the squeeze.
Personally, fabric cases are my favorite over the past year, with Incipio (on this list) making one of the best. Google's are expensive, but they're made inside and out by Google, just like the phone.