5 Best iPhone Fast Car Chargers
These are the best fast car chargers for your iPhone X, iPhone Xs Max, or iPhone Xr and why you'll want to use one. Whether you have an iPhone 8 or something newer, Apple's phones are capable of fast charging. Essentially letting your phone charge from 0-50% in under 30 minutes while you drive to work.
However, cheap wall plugs and car chargers don't offer these fast speeds. Instead, Apple requires owners to buy a special cable or expensive power bricks to use at home. So, if you want these crazy fast charging speeds in your car, here are some worth buying.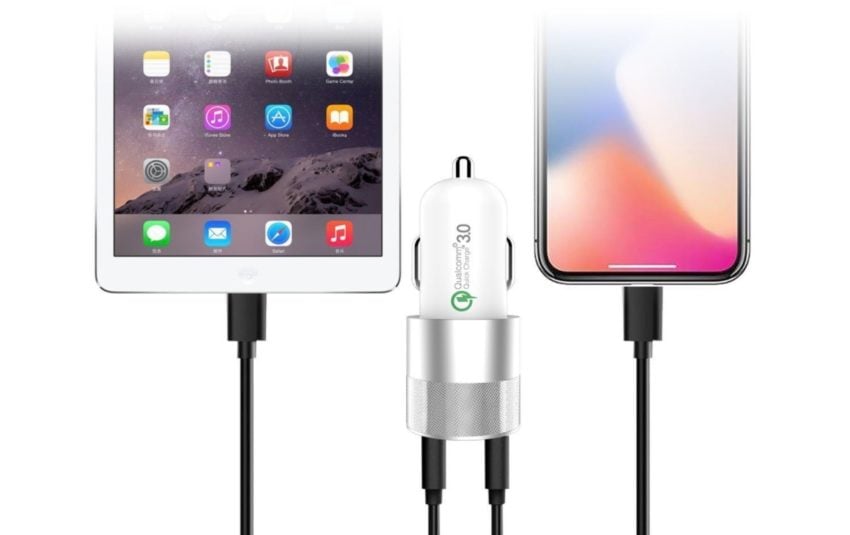 All you need is a USB Type-C to Lightning cable and the right charger from Amazon. Get those two things, and you'll be able to fast charge your iPhone in the car. We've found some for under $10 so you can enjoy this benefit without breaking the bank. Or, you can buy official Apple cables or multi-port car chargers for a few more dollars.
Whether you're trying to fix bad iPhone Xs battery life or just want a faster charge, this is the easiest method. Keep in mind that buying any random car charger or cheap gas station chargers will not work. They won't deliver enough power. You need a USB Type-C charger, which is designed to deliver up to 30w of power. That's enough to recharge a Macbook, too.  It's this technology that allows your iPhone 8, iPhone X, Xs Max and more to go from 0-50% in 25-30 minutes.
Being able to charge your phone to 50% that fast is a big deal. This saves you from being tethered to wall outlets while you travel, and you are basically gaining hours of battery life just from the quick drive home or while heading out to meet friends. See the benefits?
With that all said, don't use an old car charger you have lying around or what you've used for the last few years. Instead, choose an iPhone fast car charger from our list of reputable brands below. These will keep your phone and battery safe while delivering the fastest recharge possible.
USB Type-C to Lightning Cable
First things first, you'll need a new cable if you want to take advantage of fast charging on the iPhone. That's because only USB Type-C chargers deliver enough power to turbo-charge your battery.
And of course, Apple sells an official USB Type-C to Lightning Cable for around $35. If you have a new MacBook Pro chances are you already own a few of these. If not, you'll need to get one.
Personally, we recommend you just buy one from Amazon instead, like this Aukey USB Type-C to lightning for only $14. Once you get your cable, buy a fast car charger from the rest of our guide.