Best iPhone Trade-In Deals to Save on the iPhone X
If you are upgrading to the iPhone X, or deciding the time is right to buy the iPhone 8 and iPhone 8 Plus, you can lock in some great iPhone trade in values to get the most for your old iPhone without hassling with selling directly on Craigslist, Facebook or eBay.
You can easily lock in around $400 for your iPhone 7 Plus and well over $300 for the iPhone 7. The iPhone 6s and iPhone 6s Plus are also worth a good deal from trade-in sites and from carriers who are paying a premium for your old iPhone right now.
Here are the places you need to look to find the best iPhone trade-in prices and where you can get a 10% bonus.
Best iPhone Trade-In Deals
With most of these online sources you can lock in an iPhone trade-in price today and keep your current phone for 30 days. Gazelle offers this and if you use this link you will get a 10% trade-in bonus through November 7th. Even if your iPhone X isn't shipping for a few weeks, it is a good idea to lock in your trade-in price with that 10% bonus. Here are some of the prices you can lock in;
iPhone 7 256GB – up to $335 + 10% promo = $368.50
iPhone 7 Plus 256GB – up to $360 + 10% promo = $396.00
iPhone 6s Plus: 128GB – up to $215 +10% promo = $236.50
These are very good prices and in some cases will beat what you can get from your carrier. You should check this out before you sign up to trade your iPhone in at a carrier or a retailer. Gazelle offers no contract, so if you change your mind later there is no penalty.
Nextworth is another option to checkout, but an iPhone 7 256Gb is only worth $288 when we checked the value. The price differs between each of the carrier models and storage options so check yours at both sites before you lock in.
eBay will pay you straight up for your old iPhone so that you don't have to handle any sales or shipping to an unknown buyer. You can get more than Gazelle for the iPhone 7 256GB going this route. eBay offers $513 as soon as eBay verifies the device matches your description or $expect to get around $3538 if you sell it yourself. In this case we'd go with the quick sale option. To get the highest price you need the original box and accessories, which you don't need for other trade-in services. You can still get a good value without those on eBay.
You can get up to $350 for your old iPhone at Verizon, Sprint and T-Mobile when you trade it in towards the purchase of a new iPhone. Here's what you can get from your carrier when you trade in an old iPhone. Here's a breakdown of these offers in our best iPhone X deals roundup.
Verizon Trade In Details: Eligible for $300 off: Apple:  iPhone 6S, 6S Plus, 7, 7 Plus; Eligible for $200 off: Apple:  iPhone 6, 6 Plus, SE; Eligible for $100 off: Apple: iPhone 5, 5C, 5S;
Sprint Trade In Details: $350 Eligible trade in –  iPhone 7, iPhone 7 Plus, iPhone 6 and 6 plus, iPhone 6s and 6s Plus
T-Mobile Trade In Details: $300 off when you trade in the iPhone 6 or newer
AT&T Trade In Details: $300 off when you trade in the iPhone 7 Plus; Up to $200 off when you trade in the other iPhones.
With these options you may need to choose the trade in when you buy pre-order the phone and you will need to either send it in right after you get your iPhone or hand it over in the store. Research the options when you buy to make sure you get the best deal.
The Best iPhone X Cases
x-doria Defense Lux iPhone X Case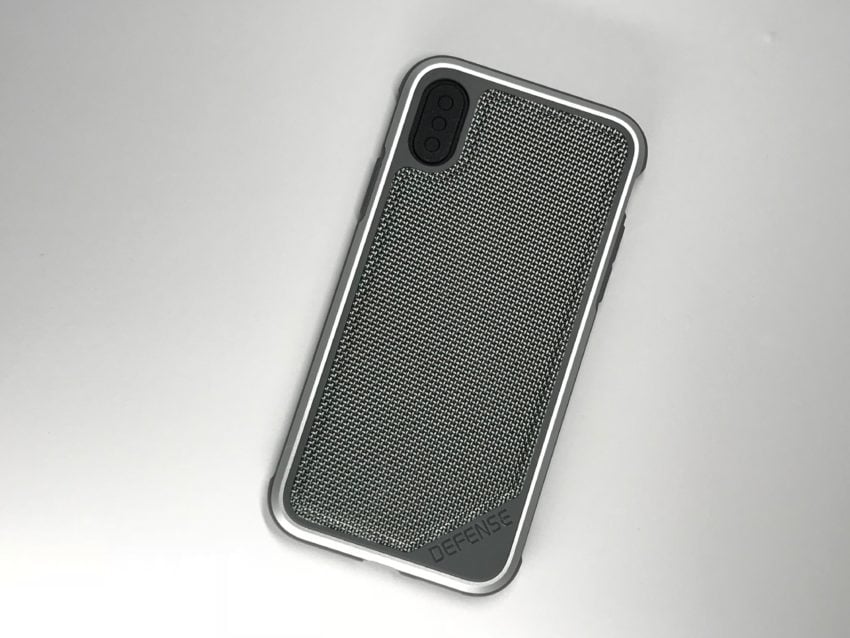 The x-doria Defense Lux iPhone X case is amazing. This case looks great, feels awesome and offers military grade drop protection without adding much bulk.
We love the look of this case in Ballistic Nylon and Black Carbon on the iPhone X. These cases not only offer a cool look, but the back is actually textured like the material listed. The Ballistic Nylon case has a soft, but grippy feel to the back just like you'd expect from looking at it. The Black Carbon feels like textured carbon fiber and looks awesome.
We didn't mean to, but we did drop our iPhone X in this case and our doorbell camera caught it on video. The case iPhone survived without any problems.
x-doria designed this case to protect your phone from drops up to 10 feet on concrete and there is . sound channel to direct the speaker towards you instead of straight out the bottom. The raised edge keeps the screen safe when setting the phone face down on a table.
$34.99 at x-doria

As an Amazon Associate I earn from qualifying purchases.