Best Samsung Galaxy Note 8 Deals
These are the best Galaxy Note 8 deals for those looking to buy Samsung's big phablet. To help you save money below is a continuously updated list of the best deals or free accessories. As the release continues, so do the deals. Including a free Gear VR, free DeX station, and plenty of discounts.
The Galaxy Note 8 is available now on all major carriers in the United States and around the globe. You can find it at Target, Best Buy, Wal-Mart and Sam's Club retail stores. Not to mention Samsung's own website.
Read: 10 Best Galaxy Note 8 Screen Protectors 
At the beginning, every buyer received their choice of two free gifts. Now a few months later those deals are gone. That said, there are still multiple options from carriers, Samsung themselves, Best Buy and others. Here's how you can save some money.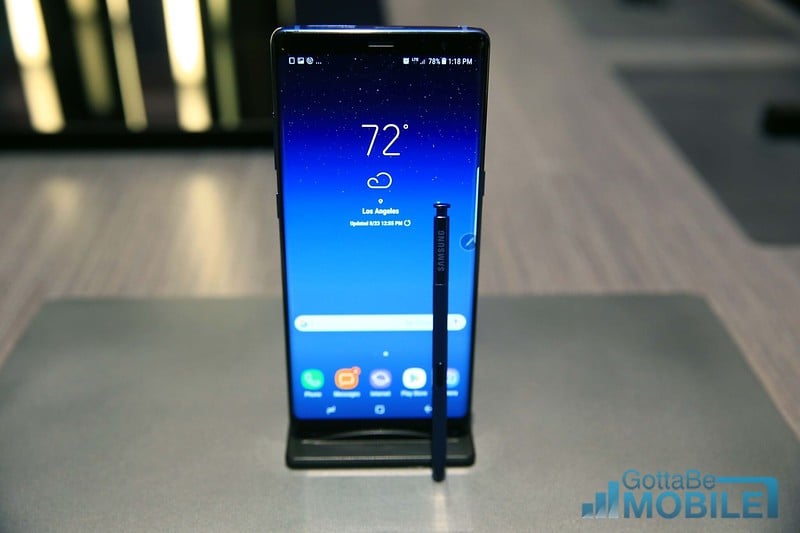 These are the Galaxy Note 8 deals you'll want to know about. Best Buy and Sam's Club have the best option so far, but we're expecting more in the coming weeks. Additionally, T-Mobile has the lowest price out of all four major US carriers. They're asking $930 outright or monthly payments. As a comparison, the Galaxy Note 8 is $960 from Verizon and $951 on AT&T. When you buy it from Best Buy on T-Mobile, you'll pay only $780.
Samsung Galaxy Note 8 Deals
First things first, is the Samsung deal. As expected, Samsung has some free goods for everyone like we mentioned above. If you pre-order the Galaxy Note 8 between August 24th and September 24th, you get one of two free gifts. This deal has expired, but Samsung's still offering some nice incentives you can see below.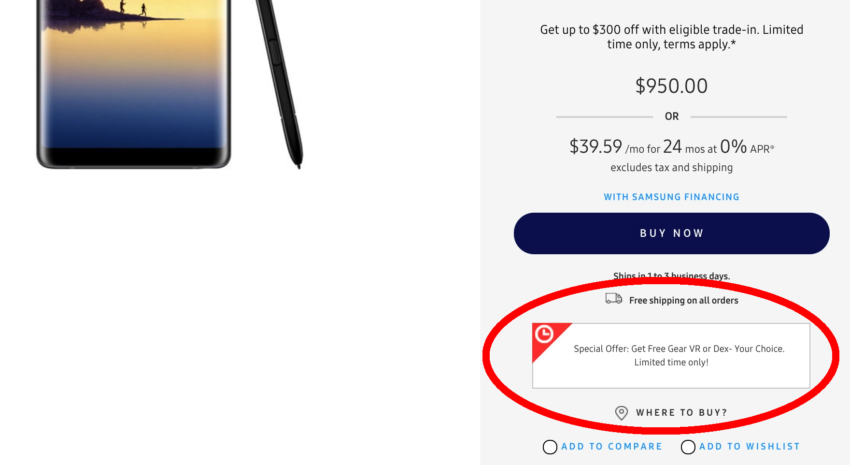 While the free wireless charging deal is no longer available, Samsung has others to take its place. Right now buy the Galaxy S8, Galaxy S8+, or the Galaxy Note 8 and get your choice of two free gifts. Samsung's giving every buyer a free Gear VR headset with a motion controller, or the Samsung DeX dock. The latter docks the Note 8 and turns your phone into a full desktop-like experience. Choose from either option at Samsung.com
Best Buy Galaxy Note 8 Deals
Next, and probably the best deal we've found so far, is the savings from Best Buy retail stores. Simply buy or pre-order the Galaxy Note 8 from Best Buy and you'll save $150. This is in addition to the free gifts above, and on top of any deals carriers may or may not offer.
The way this works is you buy the Galaxy Note 8 at a Best Buy store on the carrier of your choosing. However, instead of paying $40 a month at Verizon or $32 a month for 30 months at AT&T, Best Buy simply asks you to pay less each month. Here's the pricing from Best Buy that saves each buyer $150 on Samsung's new phone. You don't save $150 instantly, you save it over time by paying less each month.
You can still trade-in a qualifying device for a discount at Verizon, or get discounts on other Samsung products sold by AT&T when you buy at Best Buy. All the options from carriers carry over. Read on for carrier-specific deals.
Best Buy is also offering the unlocked version of the Galaxy Note 8 on September 15th with 24-month financing.
AT&T Galaxy Note 8 Deals
For a limited time, when you buy an AT&T Galaxy Note 8 and get DirecTV, you'll get $750 in credit added to your AT&T account. This goes towards a second Galaxy Note 8 (or any Galaxy device) for free. Meaning you basically get $750 absolutely free. As a result, a second Note 8 on AT&T will only cost you about $200. Although this requires a subscription to DirecTV.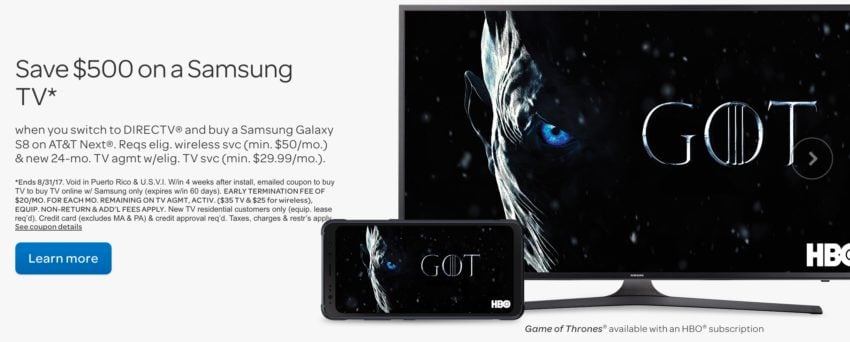 Another aspect of this deal is the opportunity to buy a Samsung HDTV for $500 off when you get a Note 8 and DirecTV from AT&T. This actually applies to any Galaxy S8, S8+, S8 Active or Note 8.
Additionally, AT&T will give you up to $200 off the Galaxy Note 8 with a valid smartphone trade-in. And finally, you can also get a free Galaxy Tab E when you buy the latest Galaxy online from AT&T.com.
Verizon Galaxy Note 8 Deals
Sadly Verizon only has a few ways to save money, not any actual deals. Buy the Galaxy Note 8 on a device payment plan and trade-in an eligible smartphone for the chance to save up to 50% off. This discount varies based on the device trade-in value.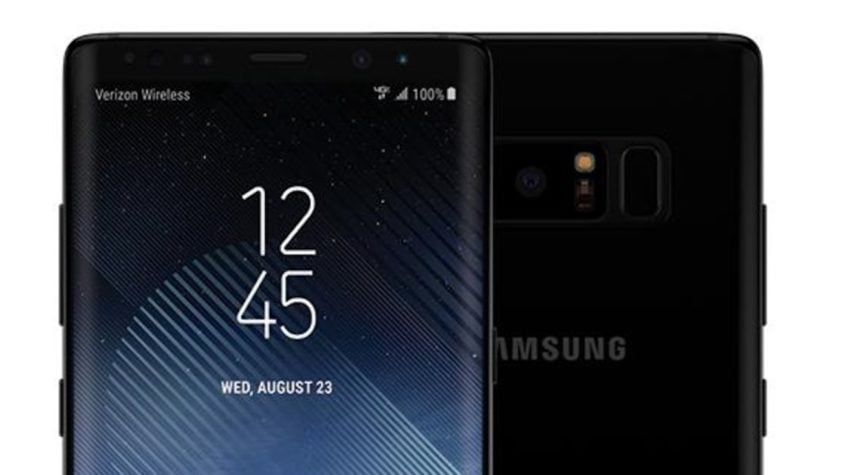 Then, Verizon will give anyone who buys the Note 8 the Samsung Gear S3 smartwatch for $100 off. Don't forget, you are still eligible for the free gifts from Samsung mentioned at the top of the page when you buy the Note 8 from a carrier. This applies to everyone, not just Verizon.
Sprint Galaxy Note 8 Deals
Next are some potential deals for those on Sprint. And while they have a pretty compelling option, you need to remember that Sprint payment plans are a "lease" and you don't own the Galaxy Note 8. Instead, after 18 monthly payments, you can pay the remaining balance and own the phone, trade it in for the next Galaxy, or simply keep making monthly payments until you decide what to do.
It's not the best option around, but if you plan to upgrade once a year it's potentially a great way to save money. Switch to Sprint and lease the Galaxy Note 8 and you'll only pay $20 a month for 18 Flex Lease payments. This is 50% off what regular customers will pay for the phone. After those 18 payments trade it in for the Galaxy Note 9 or something else.
Additionally, Sprint offers something called the Galaxy Forever program, where after just 12 payments at $20 a month you can trade in the Note 8 for something new, like the Galaxy S9 or Note 9. This ends up being cheaper than other carriers, you just won't actually own the phone. Read more about Sprint leasing terms here. Sprint's website claims pre-orders ship starting September 5th, so it might arrive earlier than the release date.
T-Mobile Galaxy Note 8 Deals
One of the best deals we've seen so far is from T-Mobile. Not only is the uncarrier asking the lowest price, just $930, but they're offering it for $130 off for the beginning of November. At T-Mobile, the Galaxy Note 8 is $30 per month for 24 months after a $210 down payment. 
For a limited time, buy the Galaxy Note 8 at T-Mobile and get $200 when you use Samsung Pay. This is on top of the already low price, and $130 price drop. Once you get the Note 8 sign up for Samsung Pay, join the rewards program and you'll get a $200 credit to use anywhere.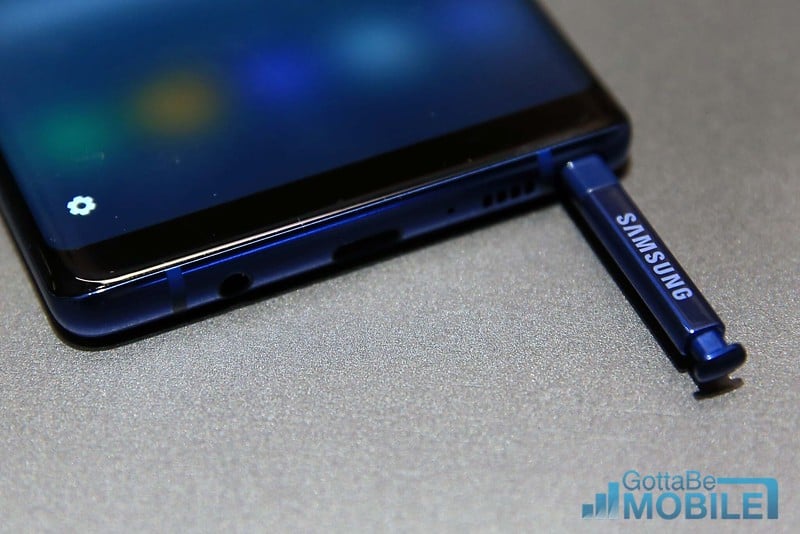 US Cellular Galaxy Note 8 Deals
Another potential option for some users in select regions is buying the Galaxy Note 8 from US Cellular. This smaller regional carrier will give you $300 off the Galaxy Note 8 if you switch to them from any competing carrier. So, if US Cellular is available where you live, keep that in mind and get the Galaxy Note 8 for only $650.
US Cellular also has unlimited talk, text and data plans starting at just $40 a month if you sign up with four lines of service.
Other Details
Following the September release date Samsung and its parterned had lots of deals and discounts. And while most of those have ended, others took their place. You can still find big savings from Samsung, T-Mobile, Best Buy and other retailers.
Additionally, we expect more discounts in the coming weeks and months. Not to mention promotions for Black Friday, and then others as we push into the holiday shopping months. Again, we'll continously update this post with any and all Galaxy Note 8 deals as they're announced. Get one today.