How to Claim Your Free Gear 360 Camera with Galaxy Note 8
We have some good news for those that pre-ordered the Galaxy Note 8. Samsung is giving all buyers a free Gear 360 camera or a free 128GB microSD card and Fast Wireless Charger Stand. Here's how to claim your free Galaxy Note 8 gift. If you received your phone early, you can do this today.
Earlier this year with the release of the Galaxy S8 everyone received a free Gear VR headset with a controller. Samsung's doing something a little different for the Galaxy Note 8. Instead, Samsung's letting you choose one of two free gifts. Your Galaxy, your choice.
Read: Best Samsung Galaxy Note 8 Deals
For eligibility, you must pre-order between August 24th and September 15th, 2017 to qualify. Or buy the Galaxy Note 8 before September 24th from a carrier or store. That said, some carriers like Verizon may extend this beyond the 24th like we saw with the Galaxy S8 release. Read on for more details, and how to get a free Gear 360 camera or Galaxy Foundation Kit.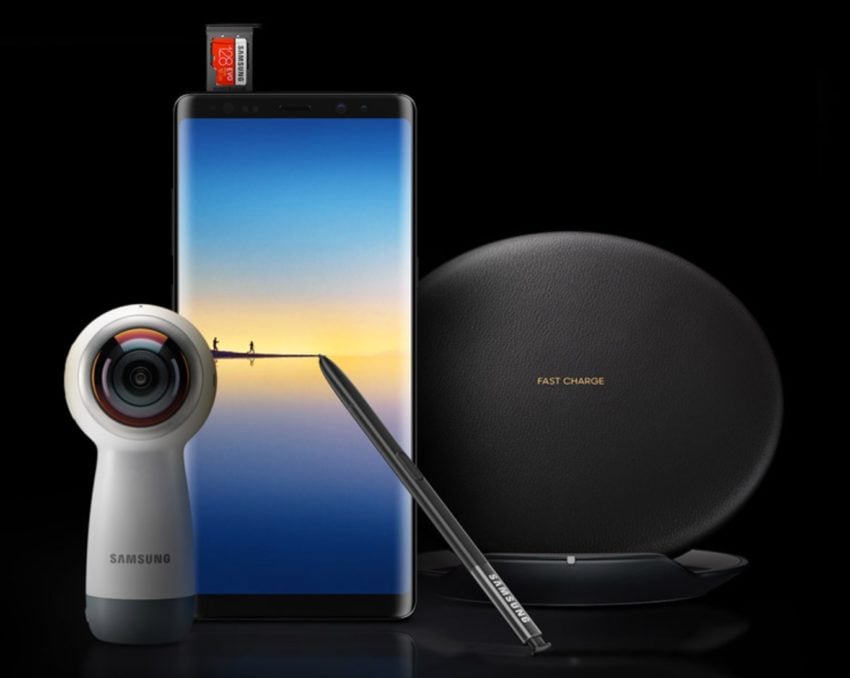 Along with these free gifts, everyone that buys the Galaxy Note 8 will get Samsung Premium Care free for 60 days, and Platinum status for Samsung Pay rewards. Premium Care is similar to Apple Care with in-home tech support and easy same-day screen replacements.
How to Claim Your Free Gear 360 Camera or MicroSD & Charger
Redeeming the free Gear 360 camera or wireless charger and microSD card is extremely easy. In fact, it's easier than last year because there's a simple website or dedicated app to complete the process.
Head to Samsungpromotions.com for more details.
You need the Galaxy Note 8 physically in your hand to claim your free gift. Next, once you receive your Samsung Galaxy Note 8 you just have to fill out an order form with details provided on the receipt. If you received it early, you can redeem your gift right now. Users will need to find the "Shop Samsung" app on the phone or download it from the Google Play Store to get started.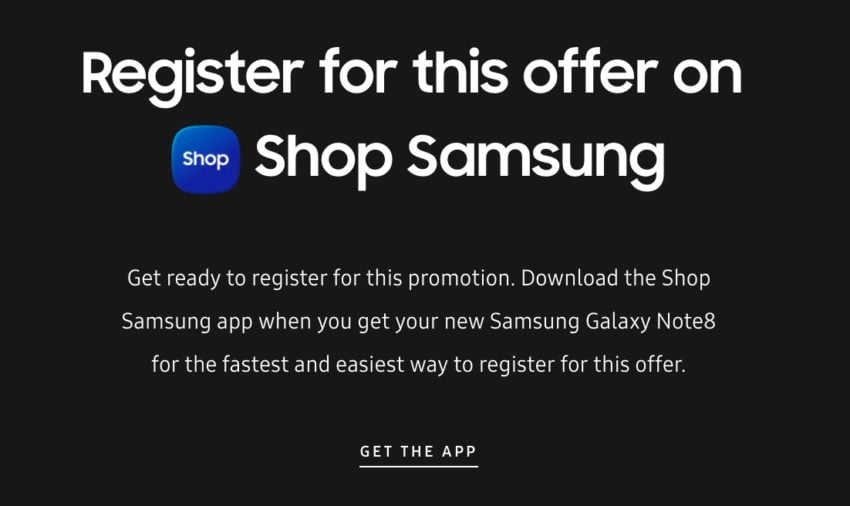 Launch or download the dedicated "Shop Samsung" app and navigate to the "Discover" or "Offers" tab. In here is where you'll register and redeem the free Gear 360 or 128GB microSD card with all Galaxy Note 8 pre-orders. Look for "REGISTER NOW for the Samsung Gear 360 Camera" or "REGISTER NOW for the Galaxy Foundation Kit". Click one of those to get started.
Register for Free Gifts
Fill out the online form and provide a few details from your receipt. This information includes the device IMEI number, MAC Address, your name, number, email and physical address. You can also find these details in the settings menu on the phone. Additionally, you'll be required to take a picture of your receipt and attach it to the claim form. It only takes a few minutes, and you're all set. Register for the gift inside the Shop Samsung app right on your new Galaxy Note 8 or online at the Samsungpromotions site. Samsung will not ship to PO boxes.
Keep in mind that you must choose between one of the two free gifts — you don't get both. The choice is either the Samsung Gear 360 camera ($229.99 retail value) or a free Galaxy Foundation kit. Which consists of a Samsung 128GB EVO+ microSD card and Fast Wireless Charging Convertible ($189 value) Stand.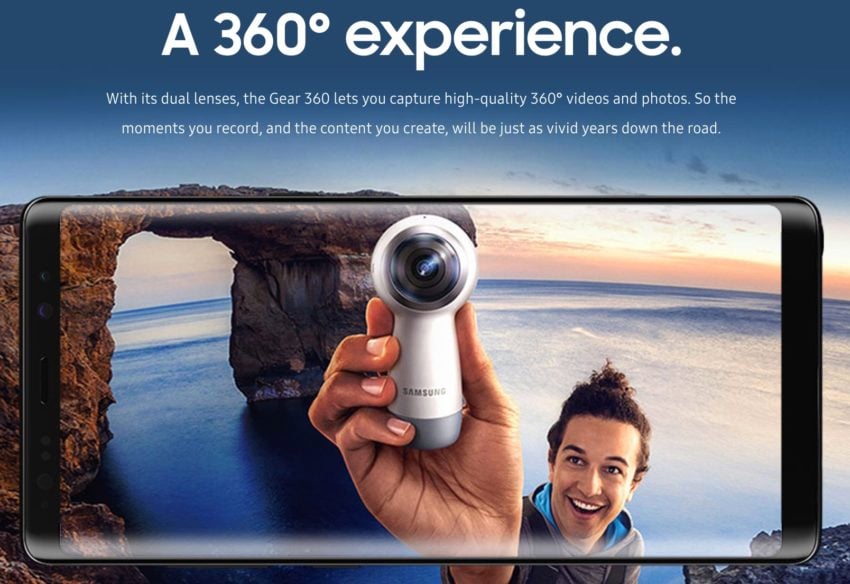 Samsung's website mentions that those who use the Shop Samsung app will get 200 points for Samsung Pay Rewards absolutely free. Not to mention get platinum status with 4x points. You can redeem these points for gift cards, or to enter drawings for more free gifts and vacations.
When To Register For the Free Gear 360 or Kit?
According to the official terms and FAQ report, there are specific dates that all buyers must register by. Failing to submit your receipt and information will result in you missing out on this free gift.
Purchase period is August 24th – September 24th
Submit Offer Claim Form between September 5th – October 14th, 2017
Samsung reserves the right to extend the cutoff date beyond Oct. 14th
If a mistake occurs the resubmission deadline is – October 21st, 2017
You're eligible to submit one claim for each Galaxy Note 8 purchased. So if your family or business ordered three Galaxy Note 8 phones, you can receive three Gear 360 cameras. One gift per device IMEI number and receipt. Again, Samsung will not ship to BO boxes.
Other Details
Inside the Shop Samsung app users must select one of the two different gifts to get started. One is the free Gear 360 camera that has two wide-angle 13 Megapixel cameras.  The other is worth $189 and includes one Samsung 128GB EVO+ microSD card and Samsung Fast Wireless Charger Convertible Stand. Samsung may include other add-on options or replace items with a gift card if supplies run out. We don't expect that to happen, as Samsung usually has plenty on hand.
While the Gear 360 is the most expensive gift most users will benefit more from the microSD card and wireless charger. Giving you more room for apps, games, movies, and music and letting you charge your phone with ease.
In closing, your free Gear 360 camera or microSD card bundle will take anywhere from 6-8 weeks to ship from Samsung. You can head to SamsungPromotions.com at the bottom right to check the status and delivery estimate. That's it, there are no strings attached. Now just sit back and wait for your free gifts. While you're here, take a look at some of the best Galaxy Note 8 cases from our slideshow below.
25 Best Samsung Galaxy Note 8 Cases
Samsung Protective Kickstand Case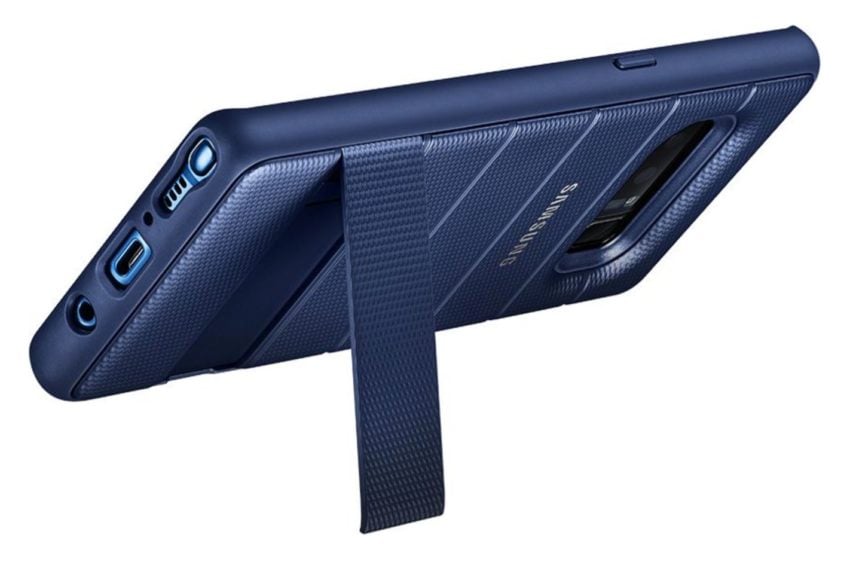 First up is a new case from Samsung themselves. The Rugged Protective Cover is Samsung's new military-grade case for the Note 8. Meaning it's certified for some serious tumbles like drops from 8-10 feet. Basically, this is one very durable case.
Then, to make things even better Samsung added a fold-out kickstand for hands-free viewing. The kickstand will also detach if you put too much pressure on it to prevent damage. Simply snap it back in and you're good to go. This is one of the first cases we recommend, as it's extremely durable and has extra features.

As an Amazon Associate I earn from qualifying purchases.