8 Best Surface Laptop Cases, Bags and Sleeves
The best Surface Laptop cases, bags and sleeves will keep your PC looking brand new. One drawback of the slim, good looking Surface Laptop is that it's difficult, if not impossible to repair if you damage it. We recommend buying protection for the Surface Laptop as soon as you can.
Microsoft makes the Surface Laptop out of the same materials it uses for its Surface Pro and Surface Book. Gorilla Glass protects the touchscreen panel inside the notebook. Magnesium keeps the Surface Laptop's body from flexing when opened or closed. You could crack your new notebook's Gorilla Glass screen if you drop it. That's why you need a bag. The magnesium frame will scratch if it meets something sharp or rough. That's why you need a skin or a sleeve to protect it.
Owners of the blue, gold or red devices need Surface Laptop cases, bags and sleeves more than anyone else. These notebooks get their color from the paint covering their magnesium frame. One scratch reveals the silver shell underneath. Their bold paint colors will make that silver scratch stand out.
Read: 7 Best Surface Laptop Accessories
Don't expect to easily repair your Surface Laptop if you break it or scratch it. iFixit declares the notebook unrepairable in its recent teardown. Only glue and some small screws hold the entire laptop together.
You will need to make an insurance claim if it gets damaged because it wasn't in a bag or sleeve. That's if you purchased Microsoft Complete protection when you ordered the notebook. Microsoft will charge you full price for another Surface Laptop if you didn't get insurance.
Get one of these Surface Laptop cases, bags and sleeves to protect your new notebook.
Best Surface Laptop Cases, Bags and Sleeves
Microsoft Surface Sleevecase
Collins Vertical Messenger Bag
MoKo 13.5-Inch Sleeve Bag
Decal Girl Windows Laptop Skin
Kopack Slim Business Backpack
Tylt Energi Backpack
Skinit Surface Laptop Skin
Moshi Arcus Backpack
Microsoft Surface Sleevecase – $69.99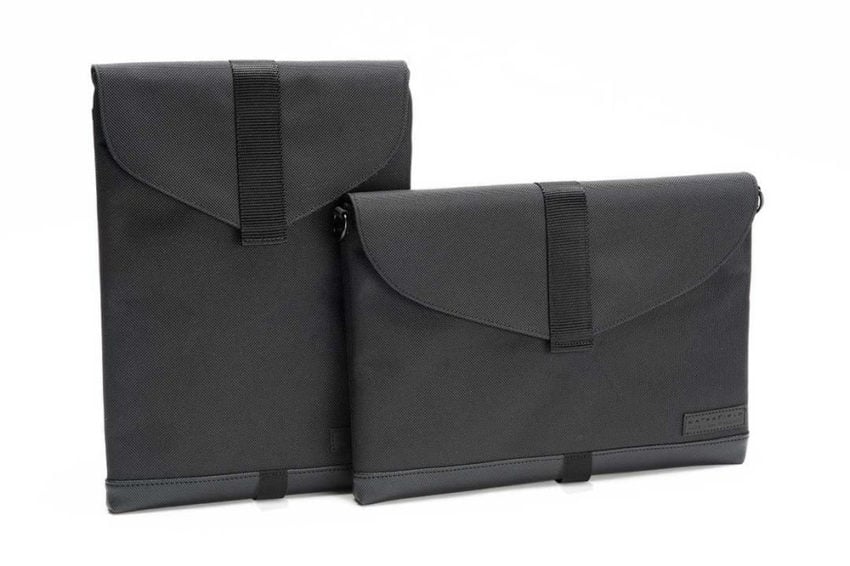 Microsoft Surface Sleevecase from Waterfield has lots of options. It comes in two orientations. One lets you put your Surface Laptop in horizontally just like you would a briefcase. The second lets you insert your Surface Laptop like you would a piece of paper in an inter-office envelope. It's this version that's best for sticking into other backpacks.
Your Surface Laptop will fit snugly inside the padded inner sleeve. The outer pocket can hold your charger, adapters and cables.
The Waterfield Microsoft Surface Sleevecase costs $69.99. You can choose from Black with Micro Trim or Waxed Canvas with a brown leather trim. Adding strap rings costs an extra $5. The optional suspension strap is another $22.

Buy the Microsoft Surface Sleevecase from Waterfield for $69.99

As an Amazon Associate I earn from qualifying purchases.