5 Best Texting Apps for Android Tablets
This guide details some of the best texting apps for Android tablets and why you might want one. While everyone sends texts on their phone, there are situations where texting from a tablet is useful. Additionally, this is perfect for those that only own a tablet but still want to keep in contact with friends and family.
Some of the obvious apps come to mind, like Facebook Messenger or WhatsApp, but those aren't your only choices. Not everyone chooses to use Facebook, while others want a more phone-like texting experience.
Our guide details apps that work across all of your devices, including tablets. Create a new phone number and text from your tablet, or sync messages between your phone and tablet so you never miss a message. Many of these even work on a computer, allowing you to text friends and family whenever and wherever. More importantly, you can receive texts too.
Every one of these Android text apps works great with tablets. Most offer tons of customization, cross device sync, backup services and more. It's worth noting that these apps all require a WiFi internet connection to work. Instead of sending text messages through a mobile carrier, you're using the internet.
Read: 100 Best Android Apps for 2017
Additionally, these apps all work on Android smartphones. Meaning you can use your Android device without a SIM card if you'd like, and still send and receive texts.
Best Texting Apps for Android Tablets
Pulse SMS
mySMS
Text Free
Handcent Next SMS
MightText Tablet SMS
Pulse SMS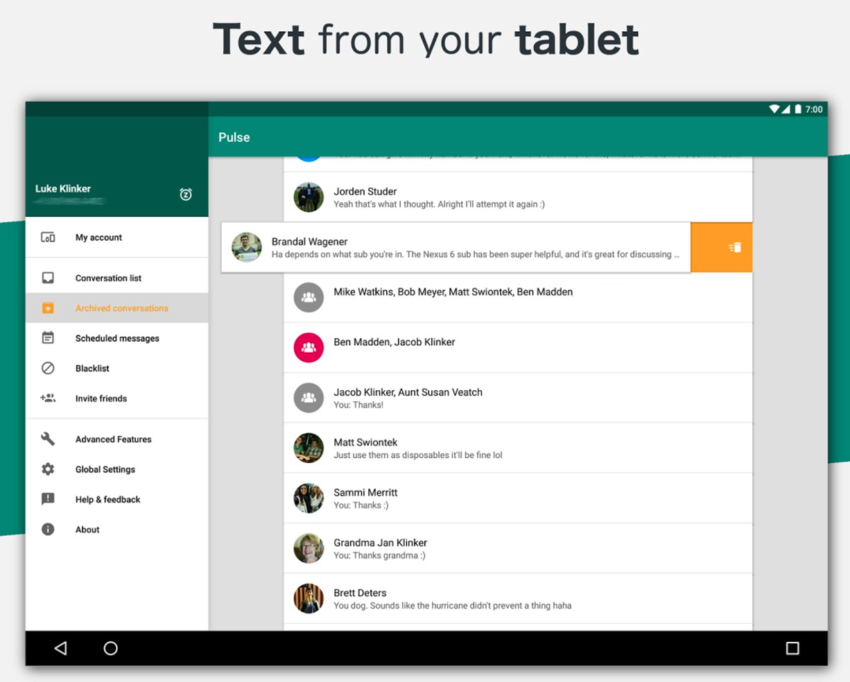 First up is a relatively new app called Pulse SMS. This app is fast, secure, customizable and packed full of features. The best part of Pulse (aside from the design) is the fact that it works on your phone, tablet, and PC. Giving you the same experience across all of your devices.
In fact, Pulse works on just about any device with a web browser. From your watch to the TV. Simply create a Pulse account on your phone, then login to Pulse apps or web clients on any device you'd like.
Pulse has all the basic features one would want for sending and receive text messages, along with most advanced options too. Like syncing from device to device, a light and dark theme, and endless custom themes to fit your personal style. You can get a sent or received notification, snooze notifications, delay sending messages, archive conversations, blacklist numbers and even send a GIF. So yeah, we'd say this is pretty feature-complete.
The tablet interface makes use of the extra space, while the watch interface is perfectly small. Additionally, everything is end-to-end encrypted for security reasons. Give it a try today.