Clash Royale Gold Rush Mode: What You Need to Know
The first big Clash Royale gold rush is finally here after being announced back in October. In the last update, the developers teased tons of daily quests and new game modes. Essentially promising players more ways to earn gold and upgrade the game. The Clash Gold Rush is here, and this is what you need to know.
Clash Royale is still one of the most popular mobile games on the planet. However, not without its share of problems and complaints. One of the biggest, however, is the lack of gold. Players can't upgrade or improve in the game without spending real money. Gold is simply too hard to earn or save.
Read: Common Clash Royale Problems & How to Fix Them
That's what the October update wants to fix. These new daily quests give players more way to earn troops and gold. The most exciting part of the announcement is Gold Rush, which people were impatiently waiting for. Well, now it's here, although Supercell will still limit how much gold you can earn.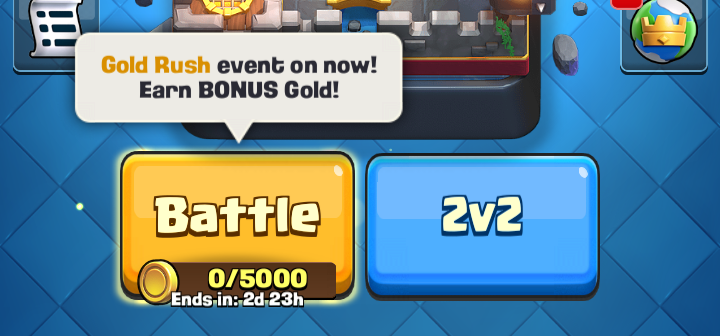 The November Clash Royale Gold Rush gives players the chance to earn an extra 5,000 gold a day, which is way more than ever before. Additionally, you can buy a special offer in the shop and extend your daily limit to 8,000 gold. As expected, Supercell still found a way to inject in-app purchases into the fun.
What is the Clash Royale Gold Rush
It's simple. The Clash Royale Gold Rush is Supercell's way of giving back to players. On top of earning a little bit of cash each time you win a battle, players now can now earn hundreds per battle.
By playing classic 1v1 multiplayer battles you'll win gold each time you take out an opponent's tower. Each player has three towers, and if you get a 3-crown victory you get an even bigger bonus.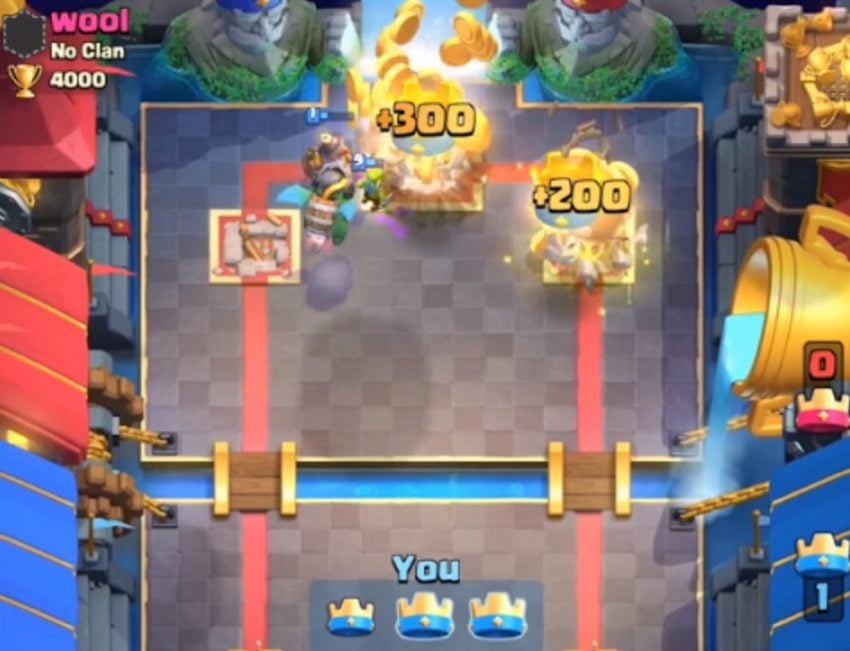 Destroy One Tower in 1v1 battle: 100 Gold
Destroy Two Towers in that battle: 200 Gold
3-Crown Victory in that battle: 300 Gold
Max Cash per battle: 600 Gold
The breakdown above is the starting reward for winning battles or taking down a tower in Clash Royale. These increase based on trophies and the Arena you battle in. For example, I'm above 4,000 trophies so I received 200 gold for the first tower I destroyed.
Supercell confirmed there is no limit to how many battles you can do, but you'll stop earning gold after 5,000 per day.
Gold Rush Special Offers
However, the fun doesn't stop right there. Supercell also added three brand new Special Offers to the in-game shop. Players can spend gems to buy exclusive boosts or increase the Gold Rush limit.
By spending 300 Gems you can increase the gold reward for battles by 300 Gold, double the cards and gold you get from opening Crown chests, or open chests twice as fast. While they aren't the best offers, they will help players earn more from the Gold Rush event. Being able to open chests twice as fast means you can do more battles, and earn more gold without wasting chests you win in each battle.
Stack the special offers with the in-game mode and you can earn lots of money and new troops. Some on the forums suggest you can earn over 21,000 Gold during this three-day event.
Other Details & What's Next
This is the first Clash Royale Gold Rush, so we don't know exactly what to expect. That said, so far it seems limited to 1v1 battles only. Meaning you can't earn more gold while doing challenges or the exciting 2v2 mode. Additionally, we're hearing Supercell could offer different special offers each day during the event.
During the October announcement Supercell confirmed that Gold Rush wasn't the only idea they had in store. We're expecting a "Gem Rush" sometime in the near future, potentially around Christmas or in early 2018. Either way, take advantage of the added gold while it's available.
The Clash Royale Gold Rush ends on November 6th and only lasts for three days. While you're here, take a look at these 7 things we want next in Clash Royale.