Galaxy S8 and Galaxy S8 Plus Are Bigger Than You Think
The Samsung Galaxy S8 and Galaxy S8 Plus are bigger than you expect. Despite leaks suggesting Samsung is making the new phones smaller, new evidence points to bigger Galaxy S8 and Galaxy S8 Plus phones that are taller to accommodate the new displays.
By removing the fingerprint scanner and buttons from the front and slimming down the bezels, the screens will be very big. Our source sent over images suggesting something a little different than other reports. Both phones will be bigger than their predecessors.
We've heard and seen a lot about the upcoming Samsung Galaxy S8 and S8 Plus. From leaked photos and video, cases, renders and more. At this point we know they will be big with 5.8 and 6.2-inch screens, but just how big will they actually be? Newly acquired 3D renders are giving us exactly that. Full dimensions along with size comparisons of the Galaxy S7 vs Galaxy S8 and Galaxy S8 Plus.
Read: Galaxy S8 Release: Everything Buyers Need to Know
Case manufacturers use these 3D renders to build accessories before phones are released. Meaning they should be relatively accurate. Rather than just teasing the design this time, we're seeing a full comparison of the size difference between these phones. Giving buyers an idea of what to expect before the release.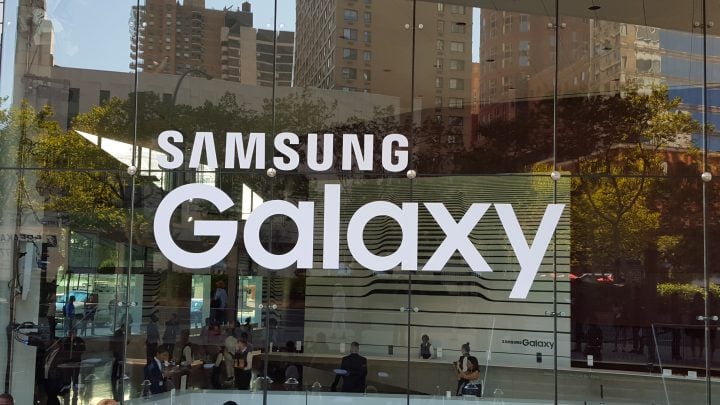 Full spec sheets and dimensions have been floating around for months, but are they right? We're not sure. Leaks by popular sources such as Evleaks on Twitter have all but confirmed the Galaxy S8. What we have now though, is a comparison showing just how much bigger they'll physically be. Both phones are big, with small bezels, and may be bigger than the Galaxy S7 and Galaxy S7 Edge.
These images are screenshots of the full Galaxy S8 design and 3D renders sent to case manufacturers. Giving them a blueprint to follow. What you see here are both new models being compared to last years phones, then each other.
Galaxy S7 vs Galaxy S8
Earlier reports claimed the Galaxy S8 would be smaller than the Galaxy S7 despite having a much bigger screen. Tiny bezels and a wider screen would allow for the sleek design. Our case makers photos show something else. Showing Samsung will use an 18:9 aspect ratio where the phones are slightly thinner than before and much taller.
This visualizes the difference in size and design between the two phones. Not only showing the Galaxy S8 will be slightly thinner and taller, but matches other leaks with the big window on back. This is to house three things: sensors, camera and rear-mounted fingerprint scanner. Shown in blue is the older Galaxy S7.
Read: Galaxy S8 vs Galaxy S7: What We Know So Far
As a reminder, these are only leaked images sent to case manufacturers. Samsung has been trying to prevent leaks, so anything is possible until both phones are announced.
Dimensions
Galaxy S7: 142.4 x 69.6 x 7.9 mm (5.61 x 2.74 x 0.31 in)
Galaxy S8: 148.8 x 67.8 x 8.1 mm (5.86 x 2.67 x 0.32 in) (Rumored)
According to this information the Galaxy S8 will be a little taller, not quite as wide and slightly thicker. Which will house a bigger battery and keep the camera hump to a minimum. It might be a larger phone physically, but only by a little bit. As a result, the Galaxy S8 is rumored to have a huge 5.8-inch quad-HD curved display. Compared to the 5.1-inch flat screen on the Galaxy S7 in 2016.
Galaxy S7 Edge vs Galaxy S8 Plus
This year rumor has it that both of Samsung's phones will have a curved display. As a result there won't be an "Edge" model. Instead Samsung will go with the Galaxy S8+ as the final name.
Again our source indicates something similar to what's shown above. Only this time the S8 Plus is bigger across the board. Being taller, wider and thicker overall. Even if only by a little bit. Below is a Galaxy S8 Plus render with the Galaxy S7 Edge overlaid on top as a comparison.
Dimensions
Galaxy S7 Edge: 150.9 x 72.6 x 7.7 mm (5.94 x 2.86 x 0.30 in)
Galaxy S8 Plus: 173.2 x 73.2 x 8.1 mm (6.82 x 2.88 x 0.32 in) (Rumored)
By being taller and having the fingerprint scanner located on the back, to the right of the camera sensor, we'll have to wait and see just how user-friendly these devices are once they're released. It may take some getting used to.
Galaxy S8 vs Galaxy S8 Plus
And finally, just for good measure we have another render provided by case manufacturers showing both new phones. This doesn't give us any new information, other than compare the size of both devices for potential buyers. The Galaxy S8 will have a bigger screen than any Galaxy Note released, so some may choose not to get the bigger of the two once they're released later this year in April.
Overall the Galaxy S8+ doesn't appear to be too much bigger, even if the screen is massive. Just a little wider and taller to accommodate the new 6.2-inch Quad-HD Infinity display.
However, the image does reportedly confirm a few other details. Similar to other reports Samsung will place the fingerprint scanner on back, use USB Type-C for charging, and keep the speakers in the same location as past devices. This render also shows a 3.5mm headphone jack on the bottom left of the phone. The photo is looking at the devices from the rear. Port and speaker placement will remain the same as last years models.
Galaxy S8 Specs
In closing, this is everything we know about the upcoming Galaxy S8 and S8 Plus in terms of specs. Adding the final touches in regards to what's under the hood and what Samsung will have to offer.
Galaxy S8 Specs (Rumored)
5.8 and 6.2-inch 2560 x 1440 Quad-HD AMOLED Curved Infinity Display
Qualcomm Snapdragon 835 or Samsung Exynos Processor
64GB of internal storage, 4GB RAM & Micro-SD slot included
Android 7.1.1 Nougat with Samsung TouchWiz
12 Dualpixel Rear Camera – OIS, phase detection auto-focus, f/1.7 aperture
8 megapixel front camera with auto focus
Fingerprint and Iris Scanners
IP68 dust & water resistance
3,200 and 3,500 mAh battery with Fast & Wireless Charging
Improved Always-On Display
Samsung Pay
USB Type-C, 3.5mm headphone jack, more
If accurate, these photos will give potential buyers an idea of what to expect from Samsung's new phones. In terms of the overall size, design changes, and how they differ from the S7 series released in 2016.
We're expecting these phones to be announced at an event in New York City on March 29th, and be released in the following weeks. Reports are back and forth on the date. Most likely on or around April 21st. Stay tuned for more details.

This article may contain affiliate links. Click here for more details.