Fallout 4 Automatron Beta: 5 Things to Know
The first batch of Fallout 4 DLC is on the way to Xbox One, PS4 and PC and Bethesda will give some gamers a chance to try it out early via its Automatron beta.
After months of silence, Bethesda's finally spilled the beans. Last month, the company outlined its first three pieces of Fallout 4 DLC and some new details regarding the Fallout 4 Season Pass.
The developer's first Fallout 4 DLC, Automatron, will arrive in a few short days. It's included in the Fallout 4 Season Pass though gamers will be able to buy a standalone version of it for $10.
Bethesda finally outlined a specific Automatron release date though some people will be able to play it earlier than its March 22nd release date.
Bethesda's confirmed a Fallout 4 DLC beta and today we want to take a look at the most important things you need to know about it now that the Automatron release date has been confirmed.
Closed Fallout 4 DLC Beta
The Automatron beta is not an open beta like the PC betas Bethesda's released for its free updates. This is a closed beta. What does this mean?
@dalelansley they will help test each DLC, as needed.

— Pete Hines (@DCDeacon) February 16, 2016
Well, it means that not everyone is going to be able to gain access to the Fallout 4 DLC beta. Several weeks ago, Bethesda noted that it would "be selecting applicants in the upcoming weeks" and that "players accepted into the beta will receive a code to redeem the content."
Those invites are going out right now and you now have good reason to check your inbox for an invite and perhaps, an NDA agreement.
Check your inboxes. #Fallout4 DLC Beta invites for Automatron have sent #MoreFour pic.twitter.com/orajN1p4n0

— Fallout (@Fallout) March 14, 2016
It's not clear what criteria the company used to select Fallout 4 DLC beta participants and we may never know.
One thing that we do know is that you need to be 18 years old to sign the NDA agreement that Bethesda is sending out to successful applicants.
If You Didn't Get an Invite to the Automatron Beta
Automatron beta invites have been sent out but you should still sign up because there's a chance you could be selected future Fallout 4 DLC.
@4JDangerKennedy sign up so you have a shot at future ones if they pull more names to test mods or DLC

— Pete Hines (@DCDeacon) March 14, 2016
Signing up for the Fallout 4 DLC beta is easy. To throw your name into the hat, you'll want to head on over to Bethesda's website.
There, you'll need to fill out a quick form that asks you a series of questions. Bethesda wants to know if you own the Season Pass, what platform you're playing on, if you play with Fallout 4 mods, how many characters you have, and more.
The application process should take you no more than a few minutes to complete. Once you're done and you've checked a few boxes, you'll be able to submit your candidacy for the upcoming Fallout 4 DLC add-ons.
The company notes that you need to "answer accurately" so that it can "send you a code that fits your platform and language." There's no reason to lie.
Full Version
If you were successful and got an invite to the Automatron beta, you'll be sent a code to download the DLC content. It's worth noting that beta testers will get access to the full version of the DLC.
This means that you'll be able to customize robots, complete achievements, and battle the evil Robobrain in the beta.
Automatron DLC Free with Beta
The Automatron beta is free and Bethesda won't charge for any of the upcoming beta releases.
You do not need to be a Season Pass owner or even a prospective Fallout 4 DLC buyer to be a part of the Fallout 4 DLC beta. It's free and it's open to anyone and everyone that owns a copy of Fallout 4 for Xbox One, PS4 or PC.
You won't have to buy the Automatron DLC at the end of the beta period either. That's huge if you're not into paying for the Season Pass or spending money in general. Automatron is $10 on its own.
This why you'll want to consider putting your name in, even if you didn't get selected the first time around.
The upcoming Wasteland Workshop is only $5 but Far Harbor is much larger and will be sold for $25 on its own.
Fine Print & NDA
Before you sign up for the Fallout 4 DLC beta, note that you'll need to sign an agreement with Bethesda and that that agreement comes with some do's, don'ts, and some smaller details that you need to be aware of.
Here are a few highlights:
ZeniMax reserves the right to reset the Game, Your Game account (if any), Your characters, inventory items, achievements, and/or in-Game settings at any time during the Beta Trial.
An access key can be used only once. You agree that You will not provide any such Software (including any access key) to any other person or entity.
You may provide comments to ZeniMax from the perspective of an end user consumer concerning the features or related elements of the Game. You agree to perform such tasks as ZeniMax shall direct related to the Beta Trial in a timely manner as requested by ZeniMax.
Confidential Information includes, but is not limited to, all Feedback and all other information relating to the Beta Trial, Your selection as a Beta Trial participant, the Game (including but not limited to information and ideas relating to the Game, software, software code, designs, graphics, rules, playing strategies, artwork, visual depictions, plot, theme, settings, characters, characterizations, skills, emails, screenshots, marketing emails, marketing and promotional plans, current, future or proposed products or services of ZeniMax, written or printed documents, announcements or prereleases, product samples, artwork, graphics, promotional and/or marketing items).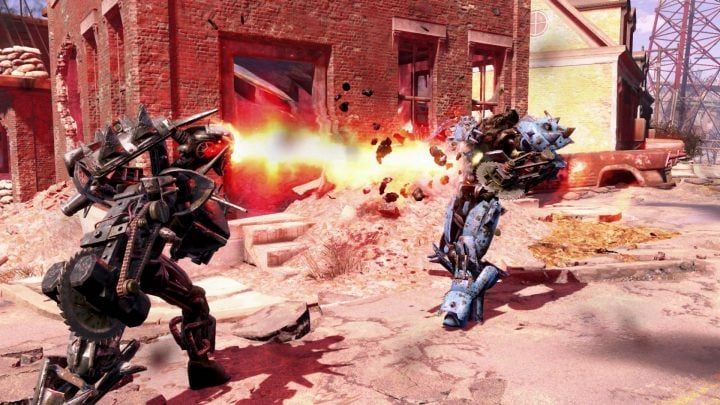 You must not discuss the Beta Trial with anyone associated with a competing videogame, any videogame publisher or developer, any news or information service (whether television, magazine, online, newspaper or otherwise), or review, report, Game footage, online blog, or in any online forum or chat room, other than the official Beta Forum or specifically designated private ZeniMax forum.
You shall not copy, alter, modify, disassemble, reverse engineer, or decompile the Game, Confidential Information, or any materials received during the Beta Trial or otherwise attempt to derive source code from the Game without the prior written consent of ZeniMax.
Cliff notes: You'll want to share feedback about the DLC with Bethesda and you probably won't want to share beta DLC details with the media or anyone else.
The company doesn't want you to modify the beta in any way and you'll only be able to use your beta access key once so don't share it with anyone else.
@NickMartino131 @Fallout it is under NDA that folks agreed to when they signed up to be a tester. anyone that breaks it will be removed

— Pete Hines (@DCDeacon) March 14, 2016
Break the rules, and you'll be removed from the Automatron beta, probably for good.
Automatron Fallout 4 DLC Release: 5 Things to Expect & 4 Not To
Expect These Automatron Achievements
Earlier this month, Bethesda released its Fallout 4 1.4 update for the PC. The update brought bug fixes, improvements to settlement attacks, and some new items for settlements. It also delivered support for Automatron.
The Fallout 4 1.4 patch adds support for Bethesda's upcoming DLC add-ons which meant that it needed to come to the Xbox One and PlayStation 4 before the Automatron release. Bethesda already confirmed that that would be the case.
Last week, Bethesda finally released the 1.4 patch for the Xbox One and PS4. The 1.4 update for console (like the PC update) delivered achievements for Automatron. Expect these to stick after the release on March 22nd:
- Headhunting: Complete Headhunting.
- Mechanical Menace: Complete Mechanical Menace.
- The Most Toys: Build 10 Robot Mods.
- Restoring Order: Complete Restoring Order.
- Robot Hunter: Unlock 10 Robot Mods.

This article may contain affiliate links. Click here for more details.