Fallout 4 Release: 7 Things We Learned in July
July was a busy month for Bethesda's Fallout 4 release for PS4, Xbox One and PC. With the month wrapping up, we want to take a look at the details you should know if you've already ordered the game or if you're planning to put in a pre-order ahead of the Fallout 4 release date in November.
Last month, Bethesda hosted an E3 showcase that served as the launch pad for several new titles including Doom and Dishonored 2. The star of the show though was undoubtedly Fallout 4 for PS4, Xbox One, and PC. The game is a follow-up to Fallout 3 and it's a game that fans of the Fallout series have been wanting for several years now.
June was the source of many important Fallout 4 release details. The company confirmed the release date for November 10th, it confirmed numerous gameplay details including crafting and customization, and it outlined its coveted Fallout 4 Pip Boy Edition. Bethesda and Fallout 4 didn't slow down in July.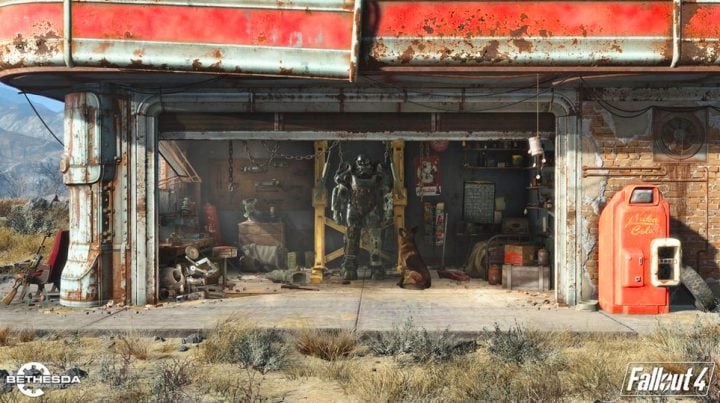 This month, we've seen tons of new and exciting Fallout 4 release details emerge for Xbox One, PS4 and Microsoft Windows. Some of these details built on things that we already knew while others were completely new. All of them are important.
This week alone has produced a ton of brand new information and today we want to take a look at those and we want to recap some of the key things we learned about the Fallout 4 release in July. Here's what you should take with you as we enter the month of August.
Expect More Fallout 4 Deals
The Fallout 4 release date won't land for several months but we continue to see new Fallout 4 deals emerge for Xbox One, PS4 and PC.
Best Buy is home to two of the more intriguing Fallout 4 deals for PS4, Xbox One and PC though there are plenty more where those came from.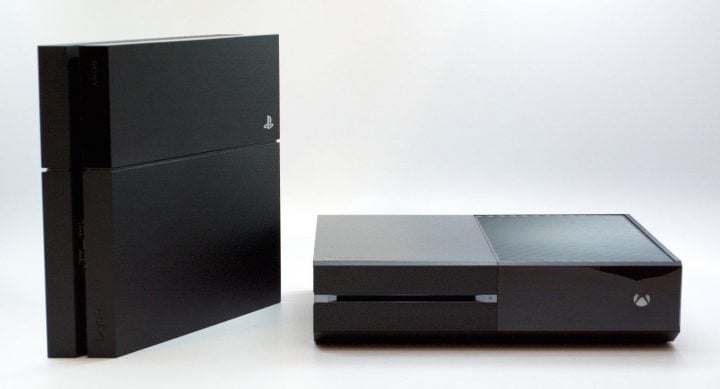 Amazon is knocking $7 off Fallout 4 for Amazon Prime members and it has also discounted the price of some Fallout 4 accessories.
We saw one killer PS4 Fallout 4 deal emerge in July and it's a sign that we could see retailers continue to try and one up each other as we push deeper into the year, closer to the game's release.
Some deals like Best Buy's will be static. Others will likely pop up at random in the future. So if you're looking to save a few bucks, you'll want to keep an eye out in the month of August. We're bound to see more Fallout 4 deals emerge for all three platforms.
Don't Expect Fallout 4 Pip Boy Edition to Return
In July, we saw a number of new and important Fallout 4 Pip Boy Edition release details emerge. Some good, some bad. We'll start with the bad news.
The bad news is that Bethesda recently reconfirmed that it will not be making any more Fallout 4 Pip Boy Editions ahead of the game's November 10 release. The company's manufacturing partners are at capacity and they won't make any more. Not now, not after the release, not ever.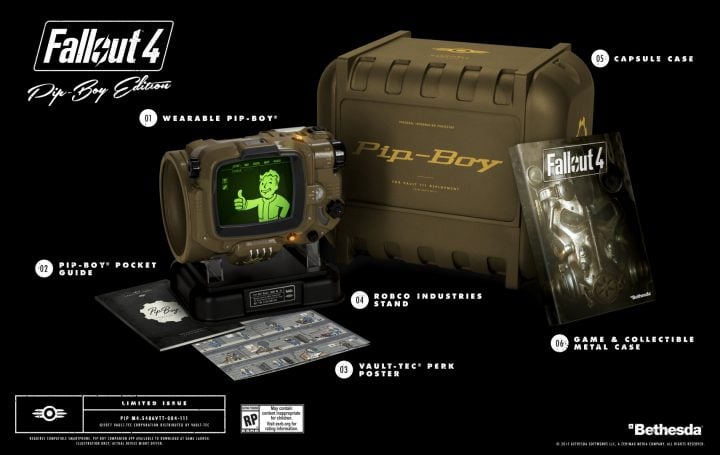 What this means is that if you didn't get your hands on a pre-order, you have three options as we move into August. One, you can keep an eye out for more stock. Two, you can pay for one on eBay or Craigslist. They are going for $300 a pop which is more than double the game's official price tag. Or three, you can buy a Pip Boy alternative.
We have seen Fallout 4 Pip Boy Edition stock emerge for foreign retailers though we did see one lone Pip Boy Edition go on sale at Walmart on July 9th. This probably won't happen very often between now and November 10th.
Exciting Fallout 4 Bundles
July saw the release of several Fallout 4 bundles and a PC exclusive bundle for those interested in catching up with the Fallout series.
Bethesda will be releasing a Fallout Anthology for PC on September 29th. This bundle comes with a unique mini nuke case and every Fallout game not called Fallout 4. The case will, however, come with a space to store a copy of Fallout 4.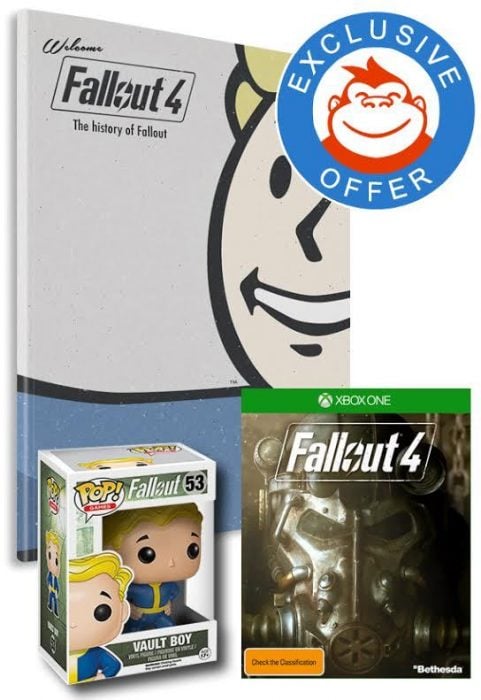 Bethesda hasn't announced any Fallout 4 bundles of its own but we've seen retailers take the initiative. There are currently two exclusive Fallout 4 bundles out there, each with their own set of perks.
There is the Fallout 4 Mighty Bundle which comes with a figurine and coffee table book and there's the Fallout 4 Nuke Pack. The Nuke Pack's highlight is a lunch box. Both of these are limited to retailers in specific parts of the world.
Fallout 4 Loot Crate
There is another interesting Fallout 4 "bundle" that emerged earlier this week.
Lootcrate and Bethesda have teamed up to offer a unique and limited edition Fallout 4 Loot Crate that will come with a ton of special items of interest for fans of the series.
Crack open a Nuka Cola and start saving your bottle caps because Loot Crate and Bethesda are teaming up to bring you an EPIC Fallout 4 Limited Edition Crate, packed with rare and EXCLUSIVE gear and collectibles from your favorite post-nuclear video game franchise! The launch of this new, specialty crate will coincide with the release of Fallout 4! Supplies are limited, so add your email address to the vault and we'll alert you when it's time to order.
Details are scarce at the moment but it looks like it will be released on November 10th and that it will go on sale ahead of that day. Those who are interested will want to head to Lootcrate's website and put in a working email address.
This doesn't guarantee a pre-order but it does mean that Lootcrate will tell you when pre-orders will be available. No word on the cost of the crate
Fallout 4 Mods & Their Release Date
In June, Bethesda confirmed that Fallout 4 would support mods from the Fallout community. Furthermore, the company said that these PC mods would become available to owners of the Xbox One and the PlayStation 4. This was, and is, a huge development for console owners.
While we've seen Fallout 4 mods emerge ahead of the game's release date, it's clear that the platform is still very much a work in progress.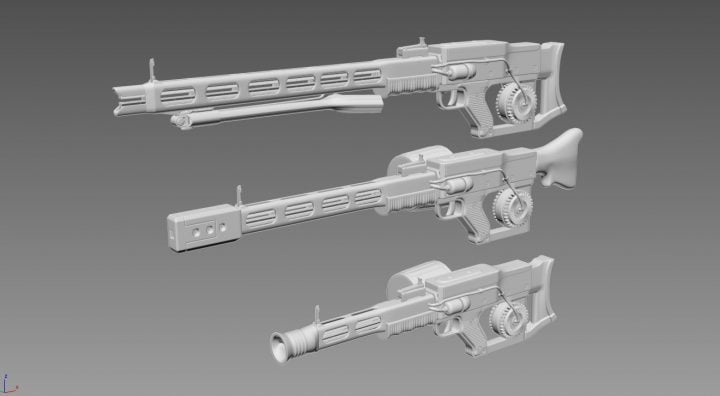 At E3, Bethesda's Todd Howard revealed that Fallout 4 mods would come via a Fallout 4 Creation Kit that will be released for the PC next year. The company did not say exactly when, only that it would come to PC in early 2016.
Howard also confirmed that Xbox One would get mod support before the PlayStation 4. And now we know that mod support for consoles could come much later than support for PC.
According to a Bethesda executive, Fallout 4's mod tools don't even exist yet. The company is reportedly focused on finishing the game before it starts working on the mods.
The idea is that [the tools] will work on all platforms, but the truth is the system doesn't exist. It's still being built and worked on and it's going to take awhile. It's going to take clearly into next year because we can't even start it…
If you're not at all familiar with Fallout mods or how they might work with Fallout 4, take   look at this piece from Kotaku which runs down many of the important details.
Fallout 4 Guide Books
The Fallout 4 release is obviously much bigger than the game itself. And throughout the month of July, we've seen a number of new Fallout 4 accessories and collectibles emerge that should be of interest to average gamers and Fallout enthusiasts alike.
Amazon, GameSpot and Best Buy are all selling two versions of Prima Games' official Fallout 4 Guide Book. One of them is a collectors edition that will apparently have a limited print run. The $40 collectors edition comes with a long list of features including:
Premium Hardcover book—a must have for any Fallout 4 fan!
Includes exclusive bonuses only found in the Collector's Edition.
This limited edition guide will only be printed once, when it is sold out they will be gone forever!
This staggeringly complete guide is stuffed with all the information you'll need to survive and thrive inFallout 4.
Your ultimate Wasteland companion: walkthroughs and detailed maps give you all the strategies, locations, items, and loot.
Specs and reference data for all the perks, armor, weapons, items, and creatures you'll encounter.
Complete crafting and workshop references detail cthe thousands of items you can collect, upgrade, and build.
Free Mobile-Friendly eGuide—Unlock the enhanced eGuide for access to updated content, all optimized for a second-screen experience.
Bethesda is also selling Fallout 4 related merchandise including unique lithographs. Those of you interested in buying more than just the game should keep an eye on Bethesda's store for more Fallout 4 accessories as we move into August. We're bound to see more go on sale next month.
Tons of Fallout 4 Gameplay Details
And finally, thanks to Bethesda and the company's demo at QuakeCon in Texas, we've learned a whole lot more about the game itself. These details include:
These new details include:
You'll meet your dog Dogmeat early in the game  and you'll be able to send him out to find useful loot.
You'll be able to join Preston Garvey's Commonwealth Minutemen faction. You'll also meet a character named Piper near Fenway Park.
Bethesda says that there are a dozen companions including Piper, Garvey, Dogmeat, and Mr. Handy. You can play without a companion if you want and you can romance them if you choose.
There are 75 perks and each perk has a set of five ranks. In other words,
Lexington and Quincy are two cities in the game.
Fallout 4 features several different play styles including a non-violent play style for those that want the Fallout experience without the gore.
Base crafting in Fallout 4 has more customization than Skyrim.
Bethesda is done with Fallout 4 and it's now focused on stamping out bugs and problems.
Those are the most important things we learned in July and we're expecting to hear a lot more come August.
PC Fallout 4 Release: 10 Important Details
PC Fallout 4 Deals
The Fallout 4 release for PC is still weeks and weeks away but we're already seeing tempting Fallout 4 deals emerge. The best Fallout 4 deals probably won't arrive until after the Fallout 4 release date but there are a few that're worth looking at right now.
Best Buy is still offering 20% off the game if you join its Gamers Club Unlocked program. The program isn't for everyone and it does require a membership fee but it might be worth it if you pre-order a ton of games or frequently shop at Best Buy.
The retailer also has another Fallout 4 deal going on. If you join the My Best Buy program, you will get $10 in rewards just by pre-ordering the game. This is a nice little perk if you do a lot of your shopping at the retailer.
Amazon is offering $7 off Fallout 4 to Amazon Prime members. That drops the price down to $57 including tax. That's not a huge discount but it's one of the only price cuts that we've seen in recent weeks.
The retailer is also offering some discounts on Fallout 4 accessories. Amazon is offering The Art of Fallout 4 for 13% off its usual price. and it's also featuring price cuts on Prima Games' official Fallout 4 strategy guides including the collectors edition.

As an Amazon Associate I earn from qualifying purchases.